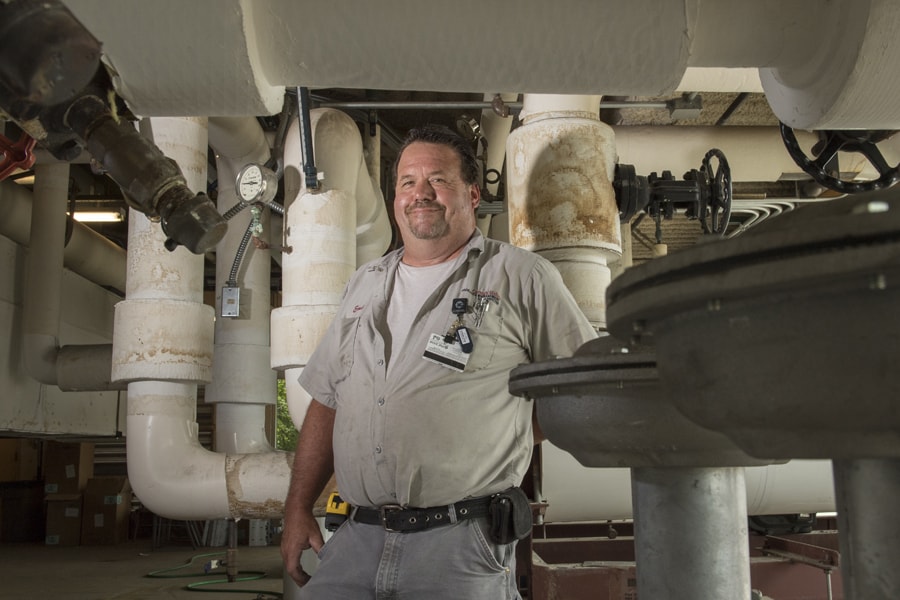 August 02, 2017
Schultz Makes Sure the Heat is on at CMU
By Bruce Gerson bgerson(through)cmu.edu
Emil Schultz makes sure the heat is on at Carnegie Mellon University.
"We take care of anything that has to do with heat," said Schultz, one of nine steamfitters in Facilities Management Services. "Even in the dead of summer, you need to heat the air. The air conditioning dehumidifies and chills the air to about 45 degrees and then we reheat it to about 65 or 70 degrees. Heating plays an important role in cooling."
Schultz, who began working at Carnegie Mellon more than four years ago, is assigned to the west side of the Pittsburgh campus, which includes Warner, Cyert, Wean, Doherty, Scott, Roberts, Hamburg and Hamerschlag halls.
Schultz primarily handles heating-related tasks and in between service calls performs preventive maintenance on pumps, couplings, valves and filters. He recently responded to a call about a faulty heating valve that made four offices too cold.
"People are more forgiving when they're cold than when they're hot," he said.
A native of Mars, Pennsylvania, Schultz learned his trade from his father, who owned a commercial heating and air conditioning company. He ran the operation for 25 years.
Schultz said he enjoys the working environment at CMU, which allows him to work independently and as part of a team.
"Everybody's nice, and my co-workers are great. We're like a family," he said. "When someone needs a hand everyone jumps in to help."
In his spare time, Schultz enjoys helping at a family firm that makes custom-made iron gates and railings. His grandfather started the company, and he worked there as a child painting railings. It is now owned by his son.
"That's where I go to play," he said. "When he needs something done, I can help."
Have a suggestion for the Staff Spotlight? Send it to piperweekly@andrew.cmu.edu.