August 03, 2017
News Briefs
2017-2018 Academic Calendars Now Available
The 2017-2018 academic calendars are now available at the University Store. Academic Calendars can be purchased on the lower level of the University Store at $2.09 each. For bulk orders (over 50) or orders for off-campus locations, details can be sent to art-store@andrew.cmu.edu.
More information about calendar orders is available online.  
Group Travels To Witness Poland's Past and Present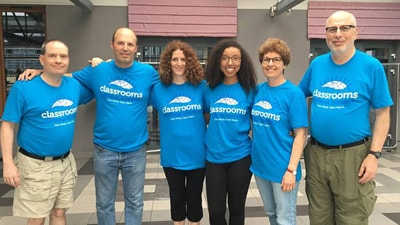 The soft smile on the face of Holocaust survivor Howard Chandler at a heritage festival was one of this summer's memorable moments for 2016 alumna Laurnie Wilson. She imagined he had moments in his life when he thought smiling would never again be possible.
Wilson, a freelance writer, and CMU professors Laurie Zittrain Eisenberg, Paul Eiss, Michal Friedman, John Weigel and Roni Rosenfeld spent eight days traveling through Poland on a Classrooms Without Borders (CWB) tour. CWB tours focus on experiential learning — participants meet people personally affected by the course of history who then demonstrate how the events resonated.
"Everywhere we went we met a person with a compelling story. To be there in the place where it happened is so powerful. It really engages your brain, your heart, your senses and your imagination — it was just a phenomenal educational experience," said Eisenberg, teaching professor of history.
Pictured are (l-r); John Weigel, Paul Eiss, Michal Friedman, Laurnie Wilson, Laurie Zittrain Eisenberg and Roni Rosenfeld.
Movie Filming in Gates Hillman, Aug. 7-8
Annapurna Pictures will be filming scenes for an upcoming major motion picture in the Gates and Hillman centers Aug. 7-8. "Where'd You Go Bernadette?" is being filmed in various locations throughout the buildings.
Parking on Frew Street will be reserved for production crews, Aug. 7-8, but the street will be open to local traffic. Wiegand Gym in the Cohon University Center will be used for catering on filming days.
CMU is working closely with the production company to ensure the university, its students, faculty and staff will benefit from the movie-making experience with minimal disruptions to normal operations. It is expected that references to CMU will be made in the movie and opportunities will be afforded to students while the movie is filming in Pittsburgh this fall.
The movie, based on the novel by Maria Semple, revolves around 15-year-old Bee, who discovers her mother's troubled past in her efforts to find her after she disappears.
Jumpstart Your Idea: I-Corps Applications Due Sept. 8
The Swartz Center for Entrepreneurship has announced that the National Science Foundation I-Corps application deadline is Sept. 8.
CMU teams — faculty, staff, students and recent alumni — looking to jumpstart their science, technology, engineering and math (STEM) business ideas may apply. Benefits of the program include:
Up to $2,500 to further your business venture through customer discovery;
Access to six entrepreneurial workshops focused on agile innovation;
Become part of the Project Olympus incubator;
Access to a dedicated Swartz Center mentor to help hone your business idea;
Priority opportunities to showcase your venture at LaunchCMU and Olympus Show & Tell; and
Guidance in writing proposals for the national I-Corps Team program, SBIR/STTR grants, regional accelerator programs and other external funding.
Applications must be submitted online.
Remembering Randy
This September marks 10 years since Randy Pausch delivered his Last Lecture, a talk that went on to inspire millions of people. Are you among them? We are looking for individuals who were in the audience for the lecture to interview in celebration of the anniversary. These interviews will be packaged into a video piece for Carnegie Mellon's social media channels. Video interviews will be conducted Aug. 7-9 in Danforth Lounge. If interested in being interviewed, contact Laura Kelly at laurak@andrew.cmu.edu.
Sidewalk Repairs Underway
The sidewalks near Walking to the Sky and the bus shelter on Forbes Ave. are being repaired. The work is expected to continue through Friday, Aug. 11. Access to this area will be limited for the duration of the construction. Please use caution walking in this area and pay attention to the areas that are closed to pedestrian traffic. The bus stop will remain open during the repairs.