April 05, 2017
UPLift Challenge Seeks Your Ideas To Enhance Pittsburgh Campus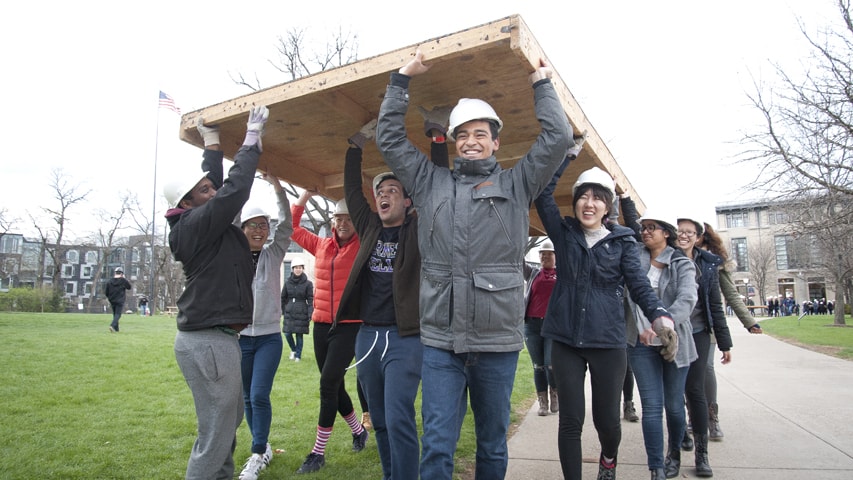 The Task Force for the CMU Experience is inviting students, faculty and staff to submit their creative ideas to make common spaces on campus more engaging, collaborative and fun.
The UPLift Challenge is an initiative that taps into the innovation and creativity of the CMU community to help enhance the campus environment.
During this pilot year of UPLift Challenge, students, faculty and staff can submit their creative ideas for experimental and temporary campus infrastructure projects, renovations or installations anywhere on the Pittsburgh campus.
A faculty-staff-student committee will select the best ideas, which the university will fund and execute up to $20,000 per project.
"We are looking for projects that are modest in scope, but ambitious in imagination," said Provost Farnam Jahanian, who heads the task force.
The term UPLift refers to University Placemaking, or the idea that the right kind of physical spaces can meaningfully influence community and culture.
"We are looking for projects that are modest in scope, but ambitious in imagination." — Provost Farnam Jahanian
Students, faculty and staff should submit their proposals by April 28.
Jahanian said projects could range from creating new indoor or outdoor gathering spaces or experiences to renovating existing ones.
While the challenge is open to all ideas, the Task Force is specifically seeking ideas that address three primary areas: "Health and Wellness;" "Recognizably CMU" and "Crossroads of the Mind."
Infrastructure projects in the "Health and Wellness" category would promote physical and mental well-being. Ideas that are "Recognizably CMU" would leverage university pride through creative placemaking and campus branding. Finally, projects that fit into the "Crossroads of the Mind" theme will work to foster interdisciplinary collaboration.
Once selected, winning proposals will be implemented in partnership with Campus Design and Facilities Development, Facilities Management Services and others.
In addition to this grassroots initiative, Jahanian said the Task Force has identified several highly trafficked, common campus spaces for renovation. Upgrades to two of these so-called "nooks" — in Wean Hall and the College of Fine Arts building — will be completed over the next few months.
The UPLift Challenge is dedicated to the work of the late University Professor Larry Cartwright, who worked with civil and environmental engineering students to enhance the student experience and Pittsburgh campus through various building projects.