April 19, 2017
Staff Spotlight: Ron Phillips
By
Bruce Gerson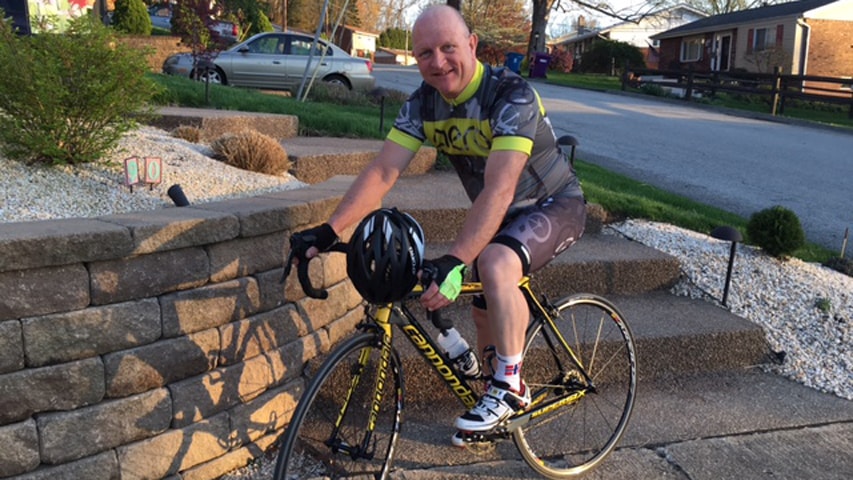 Electrician Ron Phillips gets his biggest charge on the bicycle track.
Every day after work Phillips heads to the oval track on Washington Blvd. near Highland Park, where he races his lightweight, carbon fiber racing bike. He recently qualified for the 5K (3.1 miles) and 10K (6.2 miles) races at the 2017 Senior Olympic Games, June 4-5, in Birmingham, Alabama.
Phillips rides for about 60 to 90 minutes a day and competes in races of about 40-50 laps. He said he completes a 24-mile, 40-lap race in approximately 54 minutes, averaging about 26 MPH.
"It's good exercise and it's mental therapy for me," said Phillips, who keeps his bicycle in his car's trunk. "You have to focus on what you're doing and concentrate. When I'm done, I get in my car and nothing bothers me anymore."
At CMU, Phillips works the West Zone, which includes Doherty, Wean, Hamerschlag, Roberts and Scaife halls. His duties vary from changing ballasts to intricate work with fire alarm panels, computerized lighting systems and motor controls.
"I like the variety and I enjoy troubleshooting electrical problems," Phillips said. "It's always something different."
Prior to joining CMU in 2006, Phillips worked for the Local 5 Electrical Union in Pittsburgh and was assigned to various jobs as a member of the labor pool.
"I like the consistency of working at CMU. I'm at the same place every day and that's great," he said.
Phillips is married with four children and a stepdaughter ranging in age from 20-30. He also enjoys reading, traveling and playing the guitar.
After the Senior Games, Phillips has his eyes on the Huntsman World Senior Games, Oct. 9-21, in St. George, Utah.
"Based on my performance in Alabama at the Senior Games, I'd definitely like to compete in the World Games. I'd love to go," he said.
Have a suggestion for the Staff Spotlight? Send it to piperweekly@andrew.cmu.edu.