April 26, 2017
Staff Spotlight: Jim Moran
By
Bruce Gerson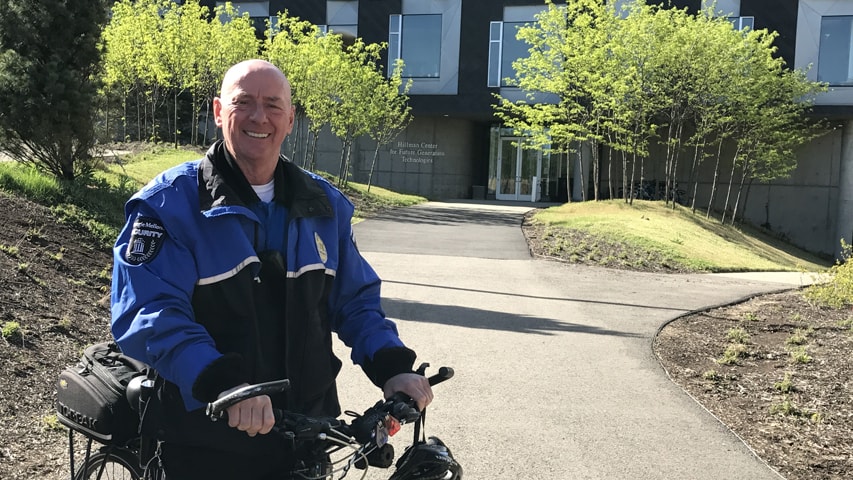 Jim Moran is dedicated to protecting and serving members of the Carnegie Mellon community.
"I really love working here, and I'm not just saying that," said Moran, a security officer at CMU for the past nine years. "I love helping people, and that's really what I do. Whether it's unlocking a door for someone, escorting somebody to a different location or responding to a medical emergency or fire alarm."
Weather permitting, Moran rides about 50 miles per week all over campus on his police-issued bicycle. In inclement weather, he walks about 10 miles per day.
"Security officers are the eyes and ears of the police department," he said. "If we see something, we report it. We also know the buildings on campus inside out, so if we need to get someone or get someone's attention, we know how. We work very closely with the police."
Moran started at CMU 11 years ago as a shuttle and escort driver and occasionally fills that role if needed. He trains security staff and police, and is an instructor for CMU's Self-Defense Awareness Familiarization Exchange (SAFE) program. He regularly participates in police fundraisers for Special Olympics, such as the annual Polar Plunge and the Dunk a Cop event during Spring Carnival.
He visits the Children's School each year to read "A Day in the Life of a Police Officer" to the children, and gives presentations during Take Our Daughters and Sons to Work Day. A former bagpiper, Moran was a member of the CMU Pipes and Drums Band, and still enjoys playing.
A Brooklyn native, Moran's teaching talents surfaced in the School of Drama about six years ago, when he tutored students to speak with a New York accent for their performance of "Danny and the Deep Blue Sea."
"I like being involved in all the different activities because it just makes the job more interesting," Moran said.
Moran moved to Pittsburgh in 2002 after working for the New York Sanitation Department and the Environmental Police in Manhattan, where he worked with the FBI, the Department of Environmental Protection and the Department of Environmental Conservation. After the Sept. 11 attacks, he served on the World Trade Center recovery task force.
Have a suggestion for the Staff Spotlight? Send it to piperweekly@andrew.cmu.edu.