April 04, 2017
Staff Spotlight: Clif Stanford
By
Bruce Gerson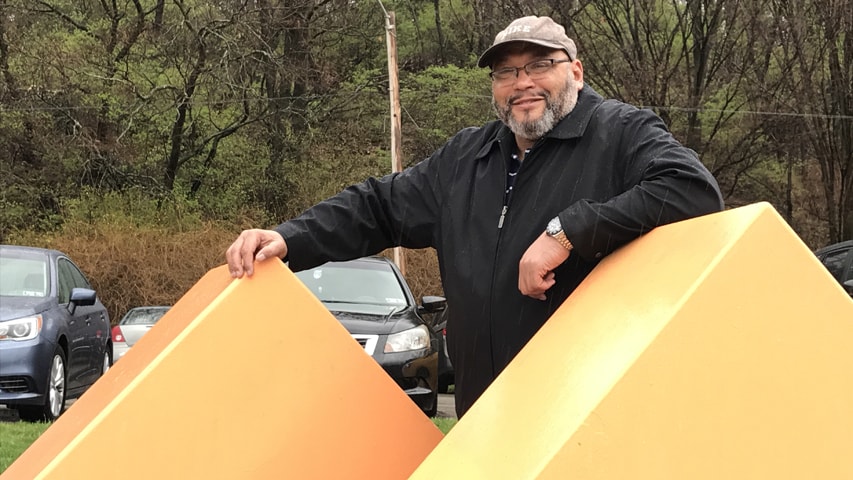 Clif Stanford in front of the sculpture, known as the "Cheeto," outside the Doherty Apartments. 
Clif Stanford is king of "the hill."
One of four facility coordinators for Housing Services, Stanford is responsible for all building-related matters in the "hill dorms," the 12 residence halls along Margaret Morrison Street, plus the Doherty Apartments across from the East Campus Garage on Forbes Avenue.
Although the amount of maintenance work in 13 housing units sometimes seems endless, Stanford processes the work orders and manages the projects in stride with his big smile, easy-going manner and outgoing personality as big as his 6-foot, 3-inch-tall frame.
"Sometimes the number of jobs can be challenging, and sometimes it gets slow, but it picks up pretty quickly," he said. "For the most part it's pretty constant all year long."
Carnegie Mellon has become a second home for Stanford, who started working at the university more than 30 years ago. He first joined CMU as a member of the custodial staff before moving to Parking and Transportation Services for a short time. He's been with Housing Services for the past 12 years.
"This is a very special place to work. The students are so unique in what they do, as far as their majors go, and what they're involved in. I enjoy talking to them," he said.
Stanford enjoys the work environment at CMU.
"There are a lot of good people here. I grew up here. I've seen a lot of good changes. My colleagues always tease me that I was here with Andrew Carnegie," he said.
In his spare time Stanford enjoys listening to rhythm and blues, jazz and a little hip-hop, and watching sports. He has four grown children and five grandchildren. His daughters live in Pittsburgh; his oldest son is graduating from the College of New Jersey this year and plans to attend law school; and his youngest son is a defensive end on the Robert Morris University football team.
This summer, Stanford is looking forward to several big projects on "the hill," including the re-opening of Spirit House and fire alarm and wi-fi upgrades in several residence halls.
"I accomplish a lot working here. I take pride in my work," he said. "I like what I do."
Have a suggestion for the Staff Spotlight? Send it to piperweekly@andrew.cmu.edu.