April 06, 2017
News Briefs
Finding Faces in a Crowd
Spotting a face in a crowd, or recognizing any small or distant object within a large image, is a major challenge for computer vision systems. The trick to finding tiny objects, say researchers at Carnegie Mellon, is to look for larger things associated with them.
An improved method for coding that crucial context from an image has enabled Deva Ramanan, associate professor of robotics, and Peiyun Hu, a Ph.D. student in robotics, to demonstrate a significant advance in detecting tiny faces.
When applied to benchmarked datasets of faces, their method reduced error by a factor of two, and 81 percent of the faces found using their methods proved to be actual faces, compared with 29 to 64 percent for prior methods.
Spotting tiny faces could have applications such as doing headcounts to calculate the size of crowds. Detecting small items in general will become increasingly important as self-driving cars move at faster speeds and must monitor and evaluate traffic conditions in the distance. Read more.
CyLab Challenges Young Students To Give Hacking a Try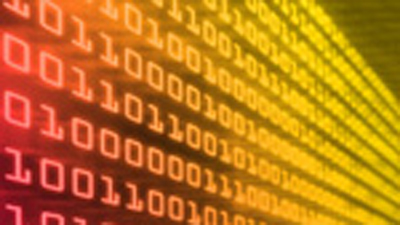 CyLab, CMU's Security and Privacy Institute, is hosting its third annual picoCTF competition, a nationwide online computer security contest, through April 14.
The virtual game of capture the flag (CTF) previously has drawn nearly 30,000 people.
"Right now, we're facing a tremendous shortfall in computer security experts," said David Brumley, project lead for picoCTF, director of CyLab and professor of electrical and computer engineering. "The root of the problem is that most people don't even know that computer security is a field they can go into. Building awareness is a major goal of picoCTF."
Players will be competing for over $30,000 in prizes, thanks to this year's corporate sponsors. Anyone may register to play in the free online competition, but only U.S. students in grades 6-12 are eligible for prizes. Registration will remain open until the end of the competition. Read more.
CMU To Host Special Olympics; Volunteers Needed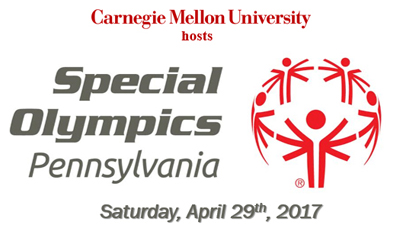 Volunteers are needed as Carnegie Mellon will once again host 400-500 athletes competing in the Special Olympics of Pennsylvania's Western Sectional Spring Games, Saturday, April 29.
 
If you would like to be a part of the Special Olympics event, complete the online CMU Special Olympics Sign-Up form. Please share the link with your friends and colleagues as volunteers do not need to be affiliated with CMU.
 
When competing the form, please be sure to indicate all activities that you'd like to be considered for, and if you are signing up as part of a group (CMU department, office, club, student organization, residence hall, greek organization, family, etc.). Please note efforts will be made to assign you to a volunteer opportunity with others in your group.
 
If you have any additional questions about volunteering, please contact our volunteer committee at SpecialOlympicsCMU@gmail.com.
RoBotany, Teratonix Win at Allegheny Cleantech Competition
Student startups RoBotany and Teratonix took first and second place, respectively, in the Allegheny Cleantech University Prize Competition, the clean energy technology competition hosted by CMU's Scott Institute for Energy Innovation during Energy Week. Student entrepreneurs from accredited colleges and universities in Pennsylvania, Ohio, West Virginia and Maryland competed for over $50,000 in prize money.
 
RoBotany, which took the top prize of $50,000, is a robotic indoor vertical farming company that uses automated robotics and software analytics to transform modern agriculture. Austin Webb and Daniel Seim, second-year MBA students at the Tepper School, are the company founders.

Teratonix took the second-place prize of $10,000. Founded by electrical and computer engineering faculty member Yi Luo, Teratonix focuses on developing innovative energy harvesting products to supply electricity for low-power wireless electronics, in particular the very large number of emerging IoT devices. Ivan Pistsov, an MBA student at the Tepper School, is the principal student in the company.  

Learn more about the competition.
Dining Services Website Now Lets You Search Lunch Specials
Dining Services website just got a whole lot better. In addition to a fresh design that more closely resembles the new cmu.edu, two new features offer students and community members a brand new way to search for Today's Soups and Today's Specials being served at locations throughout campus.

On the main page, a star or bowl of soup indicates whether a specific location is offering a soup and/or special. The soups and specials also will be listed on each unique page. A filter feature that allows you to search for hours of operation got a makeover in readability and function.
 
Bookmark the links in your browser or add them to Favorites to make finding lunch easier.
Paws To Relax Leads to Therapets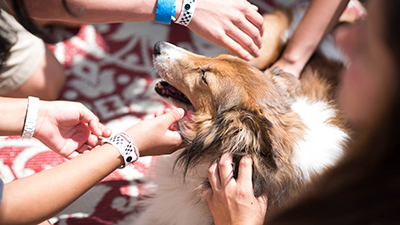 Given the popularity of CMU's Paws to Relax program, Student Affairs Wellness Initiatives has teamed up with Animal Friends to sponsor a Therapets training program on campus. This will afford interested faculty and staff the opportunity to get their dogs trained as Therapets, support our Paws to Relax initiative, and increase student, faculty and staff connections.

Training will take place during summer session I, from 7 - 8 on Wednesday evenings from May 24 through July 6, with testing at 10 a.m., Saturday  July 8. Training costs will be subsidized, so interested participants will pay only half of the cost associated with the certification. An initial screening for interested handlers/dogs will be held on April 13 on campus. Please visit the following links for more information or contact Angie Lusk, program director for Student Affairs Wellness Initiatives, at alusk@andrew.cmu.edu.
 
Learn more about the Therapets program and sign up to receive more information or register your pet for the training.
Volunteers Needed for Take Our Sons and Daughters to Work
Take Our Sons and Daughters to Work day is April 27, and volunteers are needed to assist in a number of roles:
Registration volunteers are needed from 10:45 a.m. through about 12:15 p.m. 
Lunch aides are needed from 11:45 a.m. through 1 p.m. 
Guides are needed from 1 p.m. – 3:30 p.m.
Session Presenters are needed from 1 –  3:30 p.m.
Monitors at Pick-Up from 3 – 4:00 p.m.
Learn more about each of the volunteer positions. If you are interested in being a volunteer, contact Cindy Vicker at cp32@andrew.cmu.edu or Gloria Gruber at ggruber@andrew.cmu.edu.
Registration Is Open for Popular Financial Planning Workshop
When women are first starting their careers, there's a lot to consider — career goals, job satisfaction, achieving a work/life balance. It's important to also think about long-term financial well-being. The sooner you do, the greater the potential for a better outcome.
Registration is now open for "Start to Finish: The Early Career Woman's Guide to Financial Wisdom." This 90-minute, interactive workshop presented by TIAA will help you:
Understand your income, outflow and how to balance them to your advantage;
Identify key expenses and learn how to manage them more effectively — and maybe even reduce them; and
Make a plan for your financial future.

Sign-in and a light breakfast begins at 8 a.m.  Due to overwhelming response to this workshop during past offerings, registration is required. Register online or call 800-732-8353, weekdays 8 a.m. to 8 p.m.

Don't miss this opportunity to make a difference in your financial future.