September 01, 2016
Wherefore Art Thou, Folio?
By Kelly Saavedra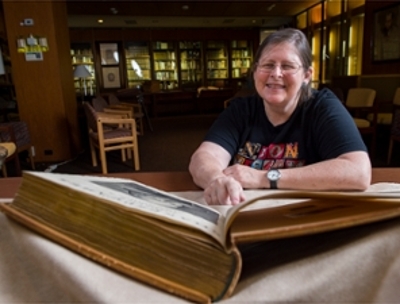 Mary Catharine Johnsen, the special collections librarian in
CMU's Hunt Library, browses Shakespeare's First Folio.
Fans of William Shakespeare have a rare opportunity this year to view the first collected edition of his plays, known as the First Folio.
The Folger Shakespeare Library in Washington, D.C., has sent copies of the First Folio on the road to a number of U.S. cities in commemoration of the 400th anniversary of the playwright's death. But as a member of the Carnegie Mellon community, you only have to travel as far as Posner Center to see the First Folio. The university has its own copy, and it is on exhibit in the Posner Center from 1 - 7 p.m., Monday through Friday through Nov. 30.
At roughly 900 pages, the First Folio — one of the most valuable books in the world — was quite a large printing project. Seven years after Shakespeare's death, a five-man syndicate of publisher/printers and actors gathered 36 of his plays into a collection they titled "Mr. William Shakespeare's Comedies, Histories & Tragedies." About 750 copies were printed. The book sold so well that a second folio was printed in 1632 and a third in 1663. The fourth and final folio was published in 1685.
"If you lived in the 19th century and were middle class, you might not have had any other books in the house, but on your parlor table you had the Bible, and you had Shakespeare," said Mary Catharine Johnsen, the special collections librarian (above) in the Hunt Library at Carnegie Mellon.
The First Folio came to the university from Charles J. Rosenbloom in 1974. Rosenbloom was a Pittsburgh connoisseur, collector and art patron. When he died, his rare book collection was divided among four beneficiaries including Yale University (his alma mater) and Carnegie Mellon, where he was a Life Trustee Emeritus. The deal was that if Yale had a book, then the book would go to Carnegie Mellon. Yale already had Shakespeare, so Rosenbloom's four folios came to Pittsburgh.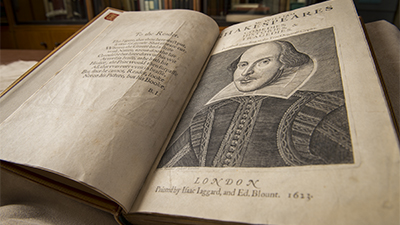 Shakespeare's First Folio is one of the most valuable books
in the world.
The Posner Center's exhibit, "Carnegie Mellon's Shakespeare," showcases the role that Shakespeare has played in Carnegie Mellon's history, as well as the role that Carnegie Mellon has played in the promotion of Shakespeare as a cultural icon, world-renowned poet and enduring source for theatrical performance.
"At first, many of our conservatory actors are reticent to commit to the complex and poetic texts in Shakespeare's plays," said Don Wadsworth, professor of voice and speech in the School of Drama. "But when they can access the personal meaning of the extravagant language, they seem to adore the idea of speaking the world's greatest English-speaking dialogue, painting word-pictures with unique and startling imagery and developing vibrant, larger-than-life characters from the most well-known and well revered classical playwrights ever known."
The exhibit also features a collection of prints from the Boydell Shakespeare Gallery, artifacts of Shakespearean performances from the School of Drama's archives (1914-1970), and photographs and costumes on loan from the School of Drama from its recent productions of "Macbeth," "King Lear," "As You Like It," "A Midsummer Night's Dream" and "Richard III." 
In conjunction with the exhibit, the Posner Center will host a series of social and educational events to celebrate Shakespeare and his works.
On Nov. 4 at the Posner Center, the Department of English will host "Teaching Shakespeare at Carnegie Mellon," a conversation between Professor Michael Witmore, former CMU faculty member who is director of the Folger Shakespeare Library, and Professor Peggy Knapp of the English Department. These scholars will reflect on their experiences teaching Shakespeare at Carnegie Mellon. They'll discuss how students reacted to the privilege of seeing and touching a First Folio, what impact the School of Drama has on students of Shakespeare, and how Carnegie Mellon has shaped the ways in which scholars think about Shakespeare. The dialogue will include a Q&A session.
On Nov. 5, there will be a calligraphy workshop on Shakespeare's handwriting style, called "secretary hand," by renowned Shakespearean handwriting expert Myrna Rosen of the School of Design.
On Nov. 13, Wadsworth will be directing his students in a performance of "The Seven Ages of Man" at the School of Drama. Location and time to be announced.