September 08, 2016
News Briefs
CMU Reaccreditation Process Is Underway
CMU has received formal approval from the Middle States Commission on Higher Education for its reaccreditation Self-Study Design. Co-chaired by Vice Provost for Education Amy Burkert and Associate Vice President and Director of Enrollment Services Lisa Krieg, the Self-Study process runs through spring 2018. Faculty and staff working groups focusing on each of the seven Middle States accreditation standards began their work earlier this year, and over the next year will be reaching out to engage the university community. 

The co-chairs for the standard working groups are: 


Standard 1: Mission and Goals: Eric Anderson, associate dean, College of Fine Arts, associate professor of industrial design, and co-founder and co-director, Integrated Innovation Institute; and Rick Siger, director of Strategic Initiatives, Office of the President
Standard 2: Ethics and Integrity: David Danks, department head and professor of philosophy and psychology; and Daniel Munsch, assistant vice president and assistant general counsel, Office of the General Counsel
Standard 3: Design and Delivery of the Student Experience: Laura Synnott, associate teaching professor, Health Care Policy and Management, Heinz College; and Danielle Zawodny Wetzel, teaching professor and director of First-Year Writing, Department of English.
Standard 4: Support of the Student Experience: John Hannon, associate dean of Student Affairs; and Karen Stump, teaching professor and director of Undergraduate Studies and Laboratories, Department of Chemistry
Standard 5: Educational Effectiveness Assessment: Annette Jacobson, associate dean for Undergraduate Studies; teaching professor of chemical engineering, and director, Colloids, Polymers and Surfaces Program; and Mark Stehlik, assistant dean for Outreach and teaching professor, School of Computer Science
Standard 6: Planning, Resources and Institutional Improvement: Liz Milavec, associate vice president and controller, Finance Division; and Michael Trick, Harry B. and James H. Higgins Professor of Operations Research, and senior associate dean of Faculty and Research, Tepper School of Business
Standard 7: Leadership and Governance: Cathy Light, director, Office of the President, and interim secretary of the Board of Trustees, and Todd Przybycien, professor of chemical engineering and biomedical engineering, and chair, Faculty Senate, 2016-17.
For more information, see http://www.cmu.edu/middlestates.
CMU, Tsinghua Renew Dual Master's Degree Program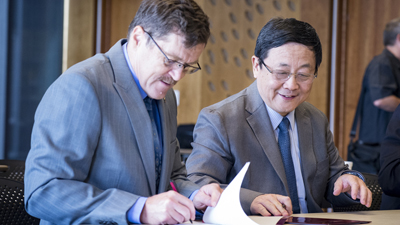 Officials of Carnegie Mellon and Tsinghua University have signed a memorandum of understanding to offer a dual-degree master's degree program in computer science. Students will study at both campuses, learning from faculty at the top-ranked computer science programs in the United States and China.
The first year of instruction will be at Tsinghua. The program seeks to draw students from across China and will be advertised nationwide. Scholarships will be established to support students when they finish the degree program with a year of study at Carnegie Mellon.
"This will be a great opportunity for students who want to maintain strong ties with China, but also seek the advantages that come with credentials from two outstanding computer science programs," said Frank Pfenning, head of CMU's Computer Science Department.
Above, CMU's Frank Pfenning and Tsinghua's Jianping Wu sign the agreement renewing the dual-degree program.
iNoodle Opens in Newell-Simon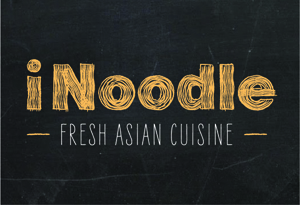 Carnegie Mellon's newest dining location, iNoodle is now open for business! iNoodle, which offers a fresh Asian cuisine, is in the Newell-Simon Atrium and is open from 8 a.m. - 7:30 p.m., Monday through Friday, and 11 a.m. - 7:30 p.m., Saturday.
A Grand Opening Celebration will be held from 4:30 - 6:30 p.m., Thursday, Sept. 15. Entertainment will include the traditional dragon dance and kung fu performed by CMU alumnus Hesheng Bao. You also will get to enjoy free samples, prizes, and hear about upcoming renovation plans for the Atrium, which include adding approximately 30 new seats.
M&C Publishes New Online Resource for Staff
As it continues its work across campus to revamp Carnegie Mellon's online presence in both form and function, the Marketing & Communications (M&C) Division has released its own redesigned website (www.cmu.edu/marcom) that showcases some of the enhancements and also will serve as a valuable resource for staff.
The site offers an overview of M&C — its people and what they do — and provides information on how to contact members of the team who can best help you. It also offers a few updates to the university's brand standards:
For Branding
Overall, the branding guidelines have been simplified, with one noteworthy change: a complete font update. In order to deliver a more contemporary look and consistency in all mediums, CMU is moving to Open Sans. The font was created for all mediums, is free and available to users on Windows and Mac.
For Writing
The writer's style guide, which closely follows Associated Press guidelines, has been updated. One change of note is that CMU is now encouraging writers to avoid using indicias for graduates unless they're writing specifically for an alumni audience. The preference is to spell out the college and graduation year, as many readers are not familiar with the college and school acronyms. So, instead of Jacob Smith (S, 2010), Jacob Smith, a 2010 graduate of the Mellon College of Science, is preferred.
For Web
As CMU's web design continues to evolve, you'll see changes reflected in the new guidelines. Some of the highlights include:
• A new color palette taken directly from tartan plaid;
• New font recommendations; and
• Best practices regarding accessibility, performance and browser support.
New Offerings from University Libraries
University Libraries is now offering the Mendeley Institutional Edition (MIE) to assist with managing and sharing your research. MIE offers premium user features, capabilities and additional institutional support. Learn more or contact a liaison librarian to help.
University Libraries also is offering a free trial of the S&P Capital IQ Database, a robust resource for data, analytics and research for business and finance, covering public, private and interntational companies. Access is limited to four public PCs in the Hunt Library Reference area. Send questions or comments to Ryan Splenda at rsplenda@andrew.cmu.edu.
SpeckSensor Air Quality App Tracks Annual "Dirty Days"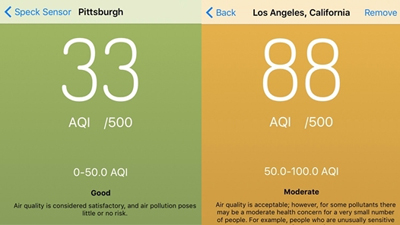 A new feature for the SpeckSensor app enables users to see the number of "dirty days" when air quality has been unhealthy in a locale over the past year and to compare that number with other cities across the nation.
The app, developed by CMU Robotics Institute's CREATE Lab and Airviz, a CMU spinoff, was launched last year. It allows users to get up-to-date Air Quality Index (AQI) numbers for their current location and for other locales of their choosing, enabling them to quickly see if the air they are breathing is healthy, and how healthy it is relative to other sites.
Air quality is considered good within an AQI range of 0 to 50. Health concerns range from moderate for AQIs between 51 and 100 and very unhealthy for AQIs above 200. The SpeckSensor developers have opted to declare any reading above 50 as a "dirty day."
Android and iPhone versions of SpeckSensor can be downloaded from Google Play and the iTunes Store. The SpeckSensor app is supported by The Heinz Endowments as part of its Breathe Project, a coalition of residents, businesses and other groups that work together to improve air quality in southwestern Pennsylvania.