September 01, 2016
News Briefs
CMU Night at PNC Park Is Sept. 7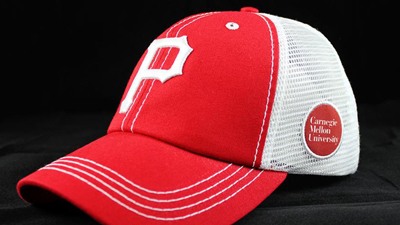 Carnegie Mellon Night at PNC Park will premiere at 7:05 p.m., Wednesday, Sept. 7, when the Pittsburgh Pirates take on the St. Louis Cardinals. Members of the CMU community may purchase upper level tickets for $17 each and lower level tickets for $25 each. Each ticket comes with a voucher to receive a co-branded Pirates-CMU red baseball hat.
Due to a large turnout, the Pirates have already exhausted their supply of hats for that night. As a result, those who purchase tickets from now until Sept. 7 will receive their hats from the Pirates in early October.
To purchase tickets for Sept. 7, contact Mike Mendolia at the Pittsburgh Pirates by email at mike.mendolia@pirates.com or by phone at 412-325-4930.
The event is part of the Pirates' University Nights promotion.
Alumni Give Car Musuem a Tune Up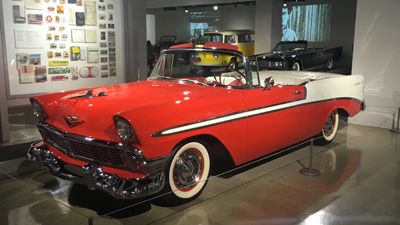 Picture yourself behind the wheel of Steve McQueen's 1956 Jaguar. That's the excitement you'd get at the newly detailed Petersen Automotive Museum in Los Angeles, thanks to Carnegie Mellon University alumni who helped drive the renovation project.
The museum, which closed in 2014 for the $125 million renovation project, houses more than 100 priceless vehicles, from McQueen's Jaguar XKSS to Herbie the Love Bug, with just as many housed in a vault open to the public for tours.
The Scenic Route, a firm whose creative staff includes more than half a dozen CMU College of Fine Arts alumni, was responsible for the project, which included updating technical details, such as earthquake safety and accessibility.
Find out more and see the slide show.
CONNECT at CIE's Fall Seminar Series
The Center for Innovation and Entrepreneurship (CIE) will begin its fall CONNECTS Seminar Series Sept. 14 with a talk by Dave Mawhinney, executive director of the Swartz Center for Entrepreneurship, on "Business Model Canvas." The CONNECTS series enhances the experiential education of any individual interested in innovation and entrepreneurship. Tailored for students, faculty and staff to help take their ideas from conception to commercialization, the workshops run throughout the academic year. Teams looking for talent and talent looking for teams can CONNECT at these events. All seminars are free and open to the community. Find out more. 
Project Helps Students Become Fluent with Data and Technology
The future success of today's students hinges more than ever on their ability to think critically, and creatively manipulate technology, media and data. Helping them achieve this level of fluency is the goal of a new project led by Carnegie Mellon and sponsored by The Heinz Endowments.
"Our vision is that students will be using technology, multimedia and data as raw materials for supporting their decisions or expressing their creativity," said Jessica Pachuta, a project manager for the CMU Robotics Institute's CREATE (Community Robotics, Education and Technology Empowerment) Lab. "While schools have concentrated on technical and data literacy, we want students to achieve fluency."
Twelve teachers from eight Pittsburgh-area school systems explored how to apply the concept of data and technology fluency in their schools during workshops this summer with Carnegie Mellon researchers, led by Pachuta, Jessica Kaminsky and Beatrice Dias.
With support from the 14-month, $593,000 planning grant from The Heinz Endowments, the group will develop a pilot program for local schools. This will include developing tools and methods that enable students to use data and technology for asking questions and exploring their environment, for telling cohesive stories, and for articulating opinions and arguments. The pilot program will be implemented next school year.
Group Exercise Classes Free for Students
Group X-ercise classes at CMU are free for all students this year.
Endorsed by the Task Force on the CMU Experience, the Group X initiative provides opportunities for all students to participate in pilates, yoga, cycling, Zumba and many more offerings. The Athletics Department has expanded its Group X schedule this year as a result of the newly opened fitness facility in the Cohon Center.
"It is an exciting time to be at Carnegie Mellon with new investments being made in facilities and programs that support an enhanced CMU Experience," said Vice President for Student Affairs Gina Casalegno. "I have been inspired to see the university's commitment to holistic health and well-being come to life in our physical infrastructure through projects like the Cohon Center expansion and planned investments in the Tepper Quad and other building renovations. As we open the year with the impressive addition to the Cohon Center, I am thrilled the university is furthering the impact of our programs through the free Group X initiative for students."
Event Will Explore Opportunities in Digital Health Care, Sept. 16
The Center for Machine Learning and Health (CMLH) and UPMC Enterprises are hosting an educational and networking event for CMU faculty and UPMC clinicians and developers from 8 a.m. – 1 p.m., Friday, Sept. 16, in Rangos 1 and 2 of the Cohon Center. The Digital Health Insight Event will feature speakers and workshops focusing on trends, challenges and opportunities in digital health care. The goal is for participants to explore potential commercially viable projects for which they may apply for funding from the CMLH. A networking lunch will follow the program.
For more information, contact the CMLH at cmlh@cs.cmu.edu.