September 01, 2016
Blumstein Earns Lifetime Honor from Criminology Society
by Bruce Gerson / 412-268-1613 / bgerson@cmu.edu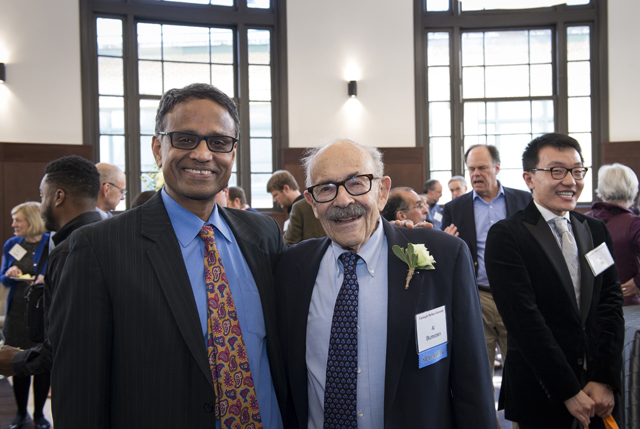 Heinz College Dean Ramayya Krishnan (left) celebrates with Alfred Blumstein during a reception in Blumstein's honor last April.
Alfred Blumstein, the J. Erik Jonsson University Professor of Urban Systems and Operations Research, emeritus, at Carnegie Mellon University, is the 2016 recipient of the Lifetime Achievement Award from the Division of Developmental/Life-Course Criminology (DLC) of the American Society of Criminology.
The award recognizes an individual who has a record of sustained and outstanding contributions to scholarly knowledge on developmental and life-course criminology. Blumstein will receive the award at the DLC's annual meeting, Nov. 17 in New Orleans.
"I am deeply honored to receive this award from such an important group," Blumstein said. "I've dedicated the better part of my life to conducting research to deal with crime and to improve the criminal justice system, so this citation is very gratifying to me. It's been especially satisfying because I've been an 'immigrant' to criminology, having come from a prior background in engineering and operations research."
Blumstein is a renowned criminologist known for his analytical, data-driven research into violence, criminal careers and public policy. His work has investigated nearly every aspect of the criminal justice system, from modeling of criminal careers, sentencing and prison populations, to the impact of demographic trends and drug-enforcement policy analysis. His research and analytical approach has had great influence on criminal justice policies and practices in the United States.
"Professor Blumstein was selected because he is widely recognized as the scholar who has made the greatest advances in knowledge about criminal career research," said David Farrington, chair of the DLC and chair of the Awards Committee.
Blumstein was nominated for the award by Lia Ahonen, a visiting research scholar in the Department of Psychiatry at UPMC and an assistant professor of criminology at Orebro University in Sweden. She cited his contributions as chair of the U.S. National Academy of Sciences' panels on deterrence and incapacitation, and criminal careers, and his service as chair of the Pennsylvania Commission on Crime and Delinquency, the state Commission on Sentencing, and as chair of the Department of Justice's Science Advisory Board.
"Very few criminologists or researchers in any related discipline really, have accomplished so many things that have led to policy changes," she wrote.
Prior to joining the university's H. John Heinz III College as a founding faculty member in 1969, Blumstein served as director of the Office of Urban Research, a member of the Research Council at the Institute for Defense Analysis. He was linked to criminology when he was asked to lead the Science and Technology Task Force for President Lyndon B. Johnson's Commission on Law Enforcement and Administration of Justice.
A former dean of the Heinz College (1986-93), Blumstein has earned numerous awards for his work, including being elected into the National Academy of Engineering, and winning the American Society of Criminology's Sutherland Award for his contributions to research and the Wolfgang Award for Distinguished Achievement in Criminology.
In 2007, he received the Stockholm Prize in Criminology for significant contributions to criminological research or practices that combat crime and promote human rights. From 2011-2015, he served as chair of the Science Advisory Board for the Office of Justice Programs in the U.S. Department of Justice.
This past April, the Heinz College honored Blumstein's career with a two-day symposium involving a number of his former students and colleagues.