September 01, 2016
Alumnus Puts College Athletes' Mental Health Top of Mind
By Bruce Gerson / bgerson@cmu.edu
Vince Sonson talks about the app his company is creating to help athletes track behavior, identify trends, be mindful and connect them with their support network.

At 45, Vince Sonson made his fortune in the software industry and walked away. Now, the Carnegie Mellon University alumnus and former Tartan football player is paying it forward, focusing on the mental wellbeing of student-athletes everywhere.
Sonson is the founder of Balance Position, a startup that is developing a mobile app, mindfulness training programs and an educational outreach speaker series to help college athletes maintain a healthy balance.
"Our goal is our mission, which is to empower student-athletes to achieve and maintain optimal mental health so they can perform their best on the field, in the classroom and in life," Sonson said.
In an online article introducing the NCAA Sport Science Institute's mental health guide, "Mind, Body and Sport," NCAA Chief Medical Officer Dr. Brian Hainline says mental health and wellness is a top concern among the hundreds of college athletes he's spoken to since joining the NCAA in 2013.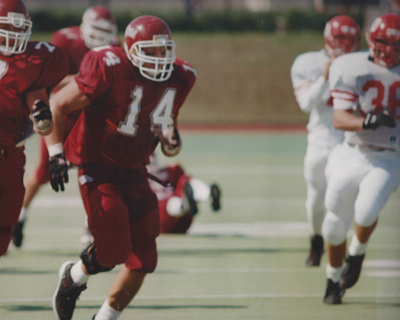 Sonson played three years as a safety for the Tartans.
A Personal Story
A star student-athlete at the prestigious Shady Side Academy near Pittsburgh, Sonson was recruited to play football and baseball by many schools before deciding to enroll at Yale University. During one practice in his freshman football season, Sonson was put in the lineup as a fullback and required to block an All-Ivy League linebacker during a goal-line drill. The play was run 10 times in a row.
"I remember feeling like my head was in a different place. It was about that time that I started to get into this depression," he recalled.
Sonson said he knew something was wrong, as did his teammates, coaches and trainers, but he didn't want to admit it and those around him didn't know what to do.
"I internalized everything, and it quickly spiraled," he said.
Diagnosed with severe depression, Sonson left Yale in his sophomore year and returned home. Two years later he enrolled at CMU, where he played three years as a safety for the Tartans. He graduated in 1997 with a bachelor's degree in history and policy.
"My ability to open up with folks at CMU really made it possible for me to excel. CMU was no walk in the park in terms of demands and stress, but it was my ability to manage my depression that made a difference," he said.
Seizing the Opportunity
Sonson is now working to make a difference for others.
"Twenty-three years later I'm still reading stories about student-athletes struggling with depression, manifested by drug and alcohol abuse, domestic violence and self-harm. It's bothered me for a long time. I often felt that if and when I get the opportunity to do something, I ought to," he said.
The timing seemed right last summer. Sonson felt ready for a career change.
"It was a confluence of things that put me in a position to say, 'it's time to really make a run at this thing,'" he recalled.
Sonson formed Balance Position in October 2015. He and his partner — childhood friend and Cornell University alumnus Michael Bolanis — are working with their team to develop a free mobile app that tracks behaviors, such as sleep and diet, identifies behavioral trends, provides mindfulness training exercises, and connects users with family, friends and colleagues in their support network.
"We want to be able to identify symptoms early on and intercept them before they become big problems," Sonson said.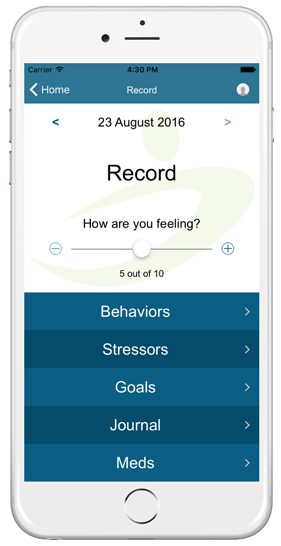 One of the many interactive screens of the app,
which will be available this fall.
Balance Position is working with a focus group of about 40 student-athletes from NCAA Division I schools to design and test the app along with former University of Michigan football star Will Heininger. They recently added two key team members: Kara Stroup, a two-time captain of the Temple University women's lacrosse team and prominent advocate for student-athlete mental health, and Kat Longshore, a mental performance coach who has worked with England's national teams in lacrosse and softball, and Temple's women's lacrosse squad.
"We're extremely fortunate to have such bright and passionate people in the huddle with us," Sonson said.
The feedback from Sonson's focus group has been positive and some CMU student-athletes are optimistic.
"This app could potentially provide a way for struggling student-athletes to seek help for their concerns without feeling judged or overwhelmed," said Marissa Dominick, a junior defender on the women's soccer team and a member of "The Plaidvocates," a health and wellness committee of CMU student-athletes who provide support to their peers on health-related topics.
"It's never easy to seek help for mental health concerns since there is often a negative stigma attached to these issues. Hopefully, this app will create a private avenue for student-athletes to be alerted of symptoms that could be caused by depression, concussion or other mental issues, and encourage them to seek professional help if needed," said Dominick, a neuroscience major and pre-med student.
Dominick is no stranger to innovative sports technology. Over the past two summers she has worked with a startup in developing a "smart" mouth guard that would track blows to the head and identify early concussion symptoms.
"As a Plaidvocate, we have discussed that optimal performance on the field and in the classroom begins with a healthy lifestyle achieved through proper diet, sleep, relaxation techniques and social and mental health. If this app addresses those topics and offers tips for minimizing stress, especially at a rigorous university such as CMU, I think this app would be incredibly helpful for my peers, teammates, and even me," Dominick said.
Jonathan Dyer, a senior defensive back on the Tartans' football team and president of The Plaidvocates, said the app has great potential. He said he could see using the app as a communications tool with teammates and other athletes.
"We've found that the best tools we have for preventing or helping with mental health issues in the athletic community are communication and education," Dyer said.
Alex Pomerantz is a senior golfer and a Plaidvocate member. He said the app could be a valuable resource during an athlete's season when student-athletes feel the most pressure.
"When we are balancing team practices, traveling that affects class attendance, heavy class loads, and extracurricular activities, it is easy to lose sight of our own wellbeing," said Pomerantz, who is applying to medical schools.
Sonson hopes to have the app available by early fall. He credits CMU for helping him in his career and his latest pursuit.
"There's so much energy around innovation and entrepreneurship that it's as if there's a responsibility among the students to innovate, build and create things that have value in the community. That feeling permeates me. It certainly is a big reason why I made this decision to create Balance Position," he said.
"Plaidvocating" for Health and Wellness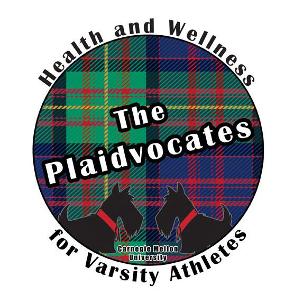 The Plaidvocates is a volunteer, peer-to-peer health and wellness committee that works to support the physical and mental wellbeing of Carnegie Mellon's student-athletes.
Members mentor and provide support for their fellow student-athletes. They are educated and trained throughout the year by representatives from CMU's University Health Services, Counseling and Psychological Services (CAPS) and Ph.D. candidates in psychology.
"This kind of support program within athletics is not common," said Kurt Kumler, director of CAPS. "The SMART team is leading the industry with this program and I think it's a great thing."
"Plaidvocates" are trained to listen to their colleagues and to provide support and information on stress and time management, nutrition, alcohol, drug use and other health-related topics.
The organization, now in its second year, is part of Carnegie Mellon's SMART (Sports Medicine Assessment of Risk Tendencies) Program, which provides student-athletes with the services they need to remain healthy, such as sports medicine and training, physical health services and counseling and psychological services.