October 26, 2016
Students Celebrate Inaugural Scotty Saturday
By Danielle Lehmann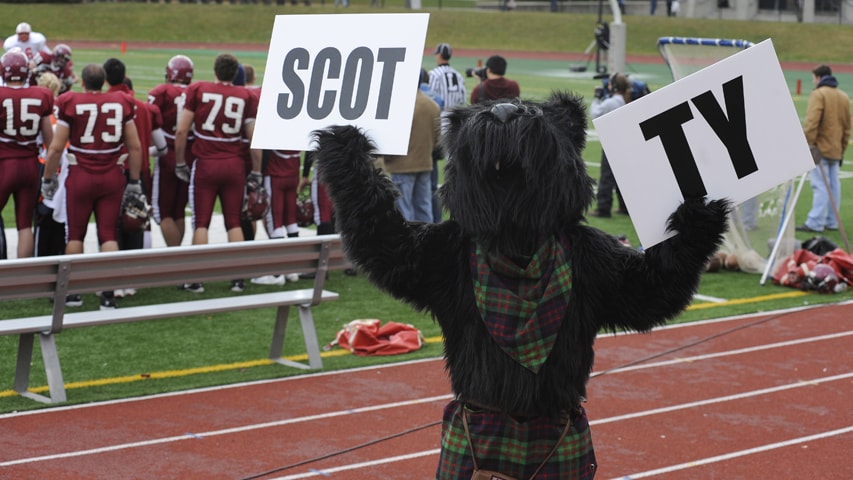 Students hope to start a new Carnegie Mellon University tradition this Saturday.
"Scotty Saturday," a student-created event for students, faculty, staff, alumni and friends, premieres Saturday, Oct. 29, from 4 – 8 p.m., following the Homecoming football game versus Westminster College.
"We are always so proud of Carnegie Mellon at Spring Carnival. Why can't we have more days devoted to CMU pride and spirit?" asked Elizabeth Rapoport, associate director of Student Activities who organized the student planning committee last semester.
Carnegie Mellon students were excited to answer her question.
"When we first met, we had an in depth discussion about what tradition meant," said Olivia Cannizzaro, a junior math major on the planning committee. "We went over typical CMU traditions, like painting the fence, and tried to identify what made it something that every student could relate to and engage in."
Cannizzaro said the committee was determined to make Scotty Saturday unique and exciting, and to create events that would include everyone, including graduate students and their families.
"This is a really cool opportunity for graduate students to advertise their work [outside of their academic departments]," said Daniel Gingerich, a Ph.D. candidate in engineering and public policy and president of the Graduate Student Assembly. "Sometimes our work is less visible to the rest of the campus community."
Pop-up food stands and a farmer's market will offer culinary treats. Games and activities on the Cut will include a 60-foot-long inflatable obstacle course resembling a challenge from the reality TV show "America's Ninja Warrior." Other activities will mirror those of the Highland Games, CMU's annual Scottish Heritage Festival. There will be a human version of the Hungry Hippos game.
Student art will be displayed and available for purchase along the walkway between Merson Courtyard and the Cut.
Student musicians will perform in the Legacy Plaza between the Cohon University Center and West Wing.
"What was so great about being a part of the creation of this event was how organically it really came about," Rapoport said. "The students were passionate about the opportunity to build a tradition. That isn't something that happens a lot and they are so passionate about this."