October 01, 2016
Upcoming Changes to Forbes Avenue Revealed
Bicycle Lanes To Be Added Through Campus
By Bruce Gerson / bgerson@cmu.edu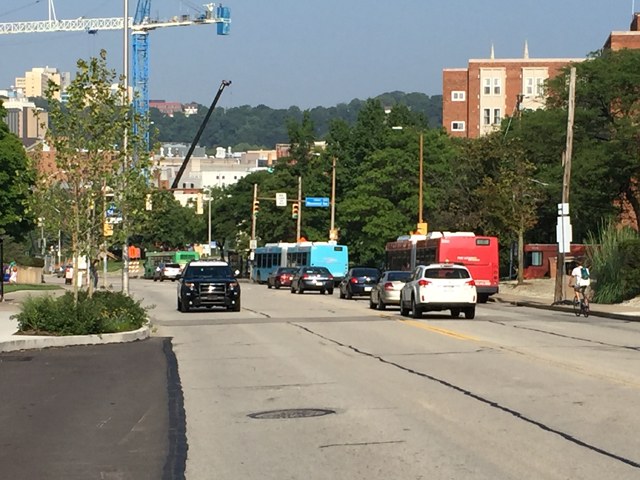 Carnegie Mellon and PennDOT have rolled out an improvement plan for Forbes Avenue that will benefit pedestrians, bicyclists, motorists and public transit riders traveling through the CMU campus.
The project, announced at a public meeting in late August, will transform the major Pittsburgh artery through the heart of the university into a calmer, more efficient and aesthetically appealing roadway, enhancing travel for everyone. The work also will help connect CMU's main campus to the David. A. Tepper Quadrangle and other destinations to the north and west, as it will provide for a safer and easier commute across Forbes.
Specifically, the Forbes Corridor Improvement Project will rebuild the intersections between S. Craig Street and Margaret Morrison Street with new technology-enhanced, adaptive traffic signals and dedicated turning lanes to help regulate traffic flow. Countdown timers, audible signals for the visually impaired and highly visible "piano key" crosswalks will be painted at pedestrian crossings.
The existing light at Hamburg Hall will be moved east to Cyert Drive and a new intersection with turning lanes will be added at the new Tepper Quad location, opposite the Collaborative Innovation Center Drive.
The project also calls for new bicycle lanes in each direction on Forbes between S. Craig and Beeler Street, "pull offs" or curb "bump outs" to give buses room to pull over to pick up and drop off passengers enabling better traffic flow, and planting strips between the curb and roadway for pedestrian safety.
Bike lanes drew much of the attention at the meeting.
Safety and connectivity were the primary concerns of David White, executive director of Pittsburgh Bike Share, which owns and operates the city's Healthy Ride bike-sharing program. He said he wanted to see bicycle lanes physically protected from motor vehicles as well as a connected network of bicycle lanes through Oakland into Squirrel Hill.
He said other cities have been innovative in protecting bicyclists.
"Many people have traveled to other cities and have seen more progressive, more creative uses of engineering. There's elevation changes, bike lanes with a small curb that prevents vehicles from going into bike lanes. There are planter boxes, signage, street furniture, things that physically separate the driving lane from the bike lane and pedestrian lane," he said.
Extending the bicycle network from the Birmingham Bridge through the Oakland business district is dependent on the Port Authority's Bus Rapid Transit plan between Downtown and Oakland, which is in development, said Dan Cessna, PennDOT District 11 executive.
Others at the meeting from Bike Pittsburgh expressed concern over busses crossing the bike lane when entering and exiting the bump-out zones.
"We hear all your concerns," said Pittsburgh Planning Director Ray Gastil.
The project team would be meeting with Pittsburgh officials to refine the details, according to CMU Associate Vice President for Campus Design and Facility Development Ralph Horgan and Director of Campus Design Bob Reppe, who have led efforts to improve Forbes Avenue safety for several years as part of CMU's Master Plan.
"There will be ongoing meetings with the city and PennDOT over the next two-plus years through design and construction," Reppe said.
Architecture Professor Don Carter, head of CMU's Remaking Cities Institute, said the project is still in the preliminary stage.
"We weren't showing final designs, we were showing conceptual designs. The concept is we want to put bike lanes on either side of Forbes and we're going to work out the details with the city. I am a biker and I bike all the time. I know what the safety issues are," Carter said.
The project should comply with Pittsburgh's newly adopted Complete Streets Policy, which requires all new projects to consider improvements that make the street more accommodating to all users, said Mary Shaw, the A.J. Perlis University Professor who described herself as a bicyclist, pedestrian, public transit user and automobile driver.
The policy was adopted to oversee improvements, such as adding bike lanes, bump outs, curb ramps, signage, street furniture, high visibility crosswalks and audible signals, many of which are components of the Forbes plan.
"I understand this is early, but I also understand that when projects like this get designed, you need to get input before you get past the 10 percent design stage. The tradeoff is there's less detail when you get to it early, but the good side is if you get to it early there's a chance to perfect the details. That's what I hope will happen," Shaw said.
Additional public meetings will be held to discuss progress. Work is scheduled to begin in fall 2017 and continue through fall 2018.