November 17, 2016
Personal Mention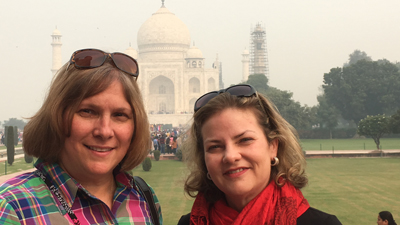 Assistant Vice Provost for Educational Outreach Judith Hallinen (left) and Robotics Institute Global Programs Manager Rachel Burcin traveled to Bangalore and Delhi, India, as fellows in the Global Education Policy Fellowship Program (GEPFP). Sponsored by the U.S. Institute for Educational Leadership, the group included higher education faculty and administrators, school superintendents, principals, consultants, leaders of nonprofits and lobbyists from across the U.S. The 10-day field study included observations in K-12 schools and interactions with education leaders and policymakers who are engaged in India's education reform efforts. Educational sessions were held at institutions such as the Jawaharlal Nehru Centre for Advanced Scientific Research, the Azim Premji Foundation, The University of Dehli, and the Lady Shri Ram College for Women.

Norman Bier, director of the Open Learning Initiative (OLI) and executive director of the Simon Initiative, recently gave two talks at the Open Education Conference in Richmond, Va., Nov. 2-4.  His talks were "The Open Learning Initiative at 15: Successes, Lessons Learned and the Road Ahead for OLI" and "FutuOER: Designing the Next Generation of Open Education." The annual Open Education Conference is the premier venue for sharing research, development, advocacy, design and other work relating to open education. Learn more.

In a keynote address at a forum on education organized by National Geographic Learning, Carnegie Mellon Qatar faculty member Dudley Reynolds discussed the challenges in constructing an educational system that serves society, operates responsibly and offers an effective curriculum. In particular, he addressed Qatar's efforts to design an educational system that serves a diverse population and to strike a balance between educating in English and Arabic. He emphasized the need to integrate both English and Arabic learning in schools. Leading English educators from across the region gathered in Doha for the conference to explore how the region measures up to achieving globalized students with strong localized roots. Reynolds is a teaching professor of English at CMU-Q and the 51st president of Teachers of English to Speakers of Other Languages (TESOL) International Association. Learn more.

The Arizona State Senate race in Legislative District 18 was won by Carnegie Mellon alumnus Sean Bowie. After receiving his master's degree in Public Policy and Management from Carnegie Mellon's Heinz College in 2013, Bowie worked as a management consultant, working with Fortune 500 companies from across the globe. Currently, he works for the Provost's office at his alma mater, Arizona State University, where he tackles issues such as expanding need-based financial aid for working Arizona families; increasing resources for first-year students; and expanding online educational opportunities and increasing access for students. Find out more and watch his video.