May 05, 2016
Personal Mention

Professor Conrad Zapanta, associate head of the Biomedical Engineering Department, has received the American Society for Engineering Education (ASEE) Biomedical Engineering Division's 2016 Theo Pilkington Award. The award was presented to Zapanta for his significant contributions to biomedical engineering education, including his development of successful teaching programs, curricula and publications. The ASEE praised Zapanta for his course development, his supervision of the curriculum and undergraduate research program, and his mentoring of students and faculty. "His tireless efforts have transformed BME education at CMU and beyond," the ASEE citation read.

Jim Herbsleb, renowned for his research in collaboration and coordination on large-scale software engineering projects, is this year's winner of the Outstanding Research Award presented by the Association for Computing Machinery's Special Interest Group on Software Engineering (SIGSOFT). The award "is the single most prestigious award a researcher in our community can receive," said Nenad Medvidovic, chair of the SIGSOFT executive committee. It is presented annually to an individual or individuals who have made significant and lasting research contributions to the theory or practice of software engineering. Herbsleb is a professor in the Institute for Software Research and director of the Ph.D. program in Societal Computing. The award will be presented to Herbsleb May 18 at the International Conference on Software Engineering in Austin, Texas. Find out more.

Senior chemistry major Rebecca Alford is one of 12 college seniors and first-year graduate students nationwide to be named a 2016 Hertz Fellow by the Fannie and John Hertz Foundation. The fellows, who were selected from more than 800 applicants, will receive a stipend and full tuition support valued at $250,000 for up to five years of graduate study to pursue doctoral degrees in the sciences, engineering and mathematics. Alford, from Commack, N.Y., will pursue her Ph.D. at Johns Hopkins University in chemical and biomolecular engineering. Her ultimate goal is to become a professor and lead her own research group that will build computational tools to explore the connection between genetic sequence, protein structure and function, and disease. Find out more.

Martin Gaynor, the E.J. Barone Professor of Economics at the Heinz College, won the 2016 American Economic Journal: Economic Policy Best Paper Prize for "Death by Market Power: Reform, Competition, and Patient Outcomes in the National Health Service." His U.K.-based co-authors were Rodrigo Moreno-Serra of the University of Sheffield and Carol Propper of the Imperial College London.


Rachel Askey (right), executive director of University Audit Services, and Kathy Proch (far right), senior director of the Controller's Office, participated in the PricewaterhouseCoopers' Midwest Higher Education, Healthcare, and Nonprofit Seminar last month. They spoke on the Uniform Guidance Panel, which included discussions relating to internal control framework, procurement and effort reporting. Other panelists on the Uniform Guidance Panel included representatives from Notre Dame and Northwestern.

Associate Professor of Philosophy Kevin Zollman wrote an op-ed that appeared in the LA Times. In "Why both Trump and Cruz can claim to represent the majority of Republicans," Zollman notes that with more than two candidates, it is possible for one candidate to have the largest number of votes while not having a majority. He draws from game theory to propose alternative voting systems that eliminate this paradox, though he acknowledges that all voting systems can be manipulated by strategic voting. "Our current system is far more broken than it has to be. It allows candidates such as Trump and Cruz to both claim to represent the majority of their party, and it allows them to both be right," Zollman wrote. Read the op-ed.

Joanna Wolfe, a teaching professor of English in the Dietrich College, authored a paper that was recently selected as the Denice Denton Best Paper of the Women in Engineering Division of the American Society for Engineering Educators (ASEE). Wolfe is the lead author of the paper, titled "Teamwork in Engineering Undergraduate Classes: What problems do students experience?" The paper will be presented at the ASEE Annual Conference this June in New Orleans.

This week on Jeopardy!, in a category of "Four Syllable Words," the answer was: Scott Fahlman of Carnegie Mellon University has been called the father of these, which add feeling to your emails." The question: "What are emoticons?" Fahlman created the smiley emoticon, :-), in 1982.
Nine Honored with MCS Staff Awards
Nine staff members were recently recognized by the Mellon College of Science for their outstanding job performance, dedication and service. The winners are: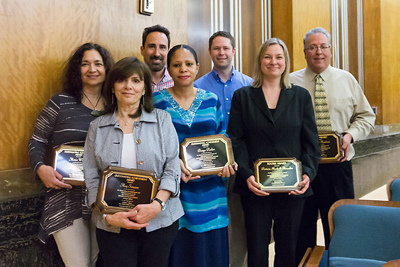 Merit Award: Raymond Nardozzi, procurement and facilities manager in the Pittsburgh Supercomputing Center (PSC);
Rookie Award: Patricia Hredzak-Showalter, lab manager for the undergraduate labs in the Department of Biological Sciences; and
Special Award: John Porco, contracts officer in the Office of Sponsored Programs.
Outstanding Achievement Awards went to:
Donya Parker, administrative coordinator for the Department of Biological Sciences;
Mark McElhaney, a laboratory technician in the Department of Chemistry;
Patsy McCarthy, assistant head of the Mathematical Sciences Department;
May Simaan, assistant to the MCS associate dean and director of the Health Professions Program;
Philip Blood, a senior computational scientist at the PSC; and
Maria Wilkin, administrative assistant in the Department of Physics.
Pictured above are (l-r) Maria Wilkin, May Simaan, John Porco, Donya Parker, Philip Blood, Patricia Hredzak-Showalter, Raymond Nardozzi. Not pictured: Patsy J. McCarthy and Mark McElhaney