May 05, 2016
News Briefs
Dance, A Cappella Teams a Hit in Competitions
The CMU Bhangra (right) and CMU Raasta (below) dance teams, and The Originals, an all-male a cappella group, recently placed first and second at major championship events.
CMU Bhangra won the National Collegiate Championship in Washington, D.C., besting nine other teams in the competition and more than 40 who applied for the event. Earlier in the year CMU Bhangra won competitions in Cleveland and Nashville and took second place at Buckeye Mela at Ohio State. Watch the CMU Bhangra video.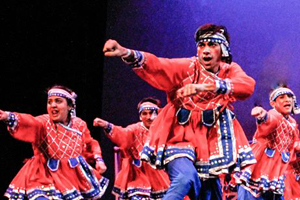 CMU Raasta won the Raas All-Stars National Championship at the University of Houston. The competition featured the top eight of 50 ranked teams across the country. CMU Raasta also placed at competitions this year in Chicago; Austin, Texas; and Bloomington, Ind. Watch CMU's first-place performance.
The Originals placed second of nine teams at the International Championship of Collegiate A Cappella in New York City last weekend. The group won the award for Outstanding Choreography. JP Leigh and Tim Brooks were recognized for Outstanding Vocal Percussion, and Ramsey Pack was recognized as the Outstanding Soloist for "Stone Cold." Watch the group rehearse "Stone Cold."
BrainHub Projects Receive ProSEED Funding
Four new interdisciplinary neuroscience projects have been funded through the ProSEED grant program. The projects, part of CMU's BrainHub initiative, aim to create new tools and techniques to vastly improve how scientists study the brain and leverage the university's strengths in biology, computer science, machine learning, psychology and engineering.
"The future of brain research lies at the interface of neuroscience, computer science and engineering," said Gerry Balbier, executive director of BrainHub. "At Carnegie Mellon, we have unique expertise in all these disciplines. The ProSEED grants allow us accelerate research at these interfaces in its early, most experimental stages."
The newly funded projects include two that combine engineering with neurobiology to create probes to stimulate and record neural activity, a project aimed at developing statistical methods to study higher-order areas of the brain, and one that will develop active machine-learning algorithms that will help researchers analyze brain images.
Find out more about the projects.
Students Win Mylan Hackathon With Telemedicine Technology
A Carnegie Mellon student team has developed technology that could improve access to physical therapy for those living in rural or remote areas.
The technology enables physical therapists to conduct appointments and monitor patient progress through an online platform paired with a Microsoft Kinect. Created in less than 24 hours, the solution won first place in the student category at the 2016 Mylan Hackathon Pittsburgh.
Diego Olalde, a junior computational and applied mathematics major, said his team was drawn to the competition because their work could directly impact the medical field. "We liked the idea of creating applicable software," Olalde said.
The students' solution not only improves access to and quality of care, but it also has the potential to save physical therapists and patients time and money regardless of their geographic locations.
Additional CMU team members were junior electrical and computer engineering major Kevin Chon, junior chemical engineering majors Michael Das and Victor Michel, sophomore statistics major Kishan Patel and junior business administration and computer science major Samuel Lu. Each member received a $1,000 prize.
Using the students' online platform, a physical therapist can prescribe patients rehabilitation exercises. Those exercises are demonstrated on a television or computer monitor for the patient via the Microsoft Kinect. When the patient repeats the exercise, a video camera embedded in the Kinect records the movement. Data about the movement is sent to the online platform, which allows the physical therapist to evaluate the patient's progress and provide feedback.
Pictured above are (l-r) Diego Olalde, Michael Das, Victor Michel, Kevin Chon, Samuel Lu and Kishan Patel. Photo courtesy of Mylan.
New Center Aims To Create Cleaner, Healthier Environment
The College of Engineering has established a new collaborative research center through a partnership with the Environmental Protection Agency.
The Center for Air, Climate, and Energy Solutions, under the direction of Professor Allen Robinson, will bring together experts to work on issues that require integrated thinking, like shale gas development, electric car subsidies and power plants of the future.
In the center, experts and researchers will:
Measure air pollutant concentrations across the country to improve the health of vulnerable populations;
Develop and disseminate tools for scientists, policymakers and citizens to predict the health impacts and social costs of air pollution;
Evaluate the impact of future scenarios for electricity, transportation and urban development on air quality and human health; and
Quantify regional variation in mortality, heart disease and other health conditions due to air pollution using novel national exposure and health data.
Find out more and watch the video. 
Parking Applications Due May 9
Campus parking enrollment is underway through May 9. New lot assignments will be announced in August and become effective September 1.

Anyone wishing to purchase an individual permit to park on campus during the coming year, including those seeking a disability or universal permit, must apply using the online system. Because of annual turnover in the campus community, current permits do not automatically roll over to next year — you must reapply.
Please note that permit holders currently parking in Bakery Square and any Downtown parking area will not need to apply.
If you are interested in parking on campus during the 2016-2017 year, you must apply online before May 9 at https://parking.campusservices.cmu.edu/. 
Questions should be directed to Michelle Porter at mporter@andrew.cmu.edu.
EH&S To Conduct Building Evacuation Drills May 20
To comply with the City of Pittsburgh's All Hazards Plan, Environmental Health & Safety (EH&S) will conduct building evacuations in five of CMU's high-rise buildings on Friday, May 20. The building and evacuation schedule is as follows:
Mellon Institute, 9 a.m.;
Gates/Hillman centers, 10 a.m.;
Doherty Hall, 11 a.m.;
Wean Hall, 12:30 p.m.;
Hamerschlag Hall, 1:30 p.m.; and
Scott Hall, 2:30 p.m.
An evacuation announcement will be made over the building's voice alarm system, (with the exception of Mellon Institute) followed by the sounding of the buildings fire alarm. Once the fire alarm sounds, occupants should quickly leave the building via the nearest exit and assemble in the building's designated assembly area, which can be found online.
Failure to leave a building when the fire alarm sounds is a violation of a City of Pittsburgh ordinance and may result in a fine and court appearance.
The back-up rain date for these evacuation drills will be Monday, May 23. We will follow that same schedule as above.
Questions about the evacuation should be directed to Richard Caruso at 412-268-9404 or rmcaruso@andrew.cmu.edu.
Say "Thank You" With an Andy Award Nomination
The Andy Award nomination period is now open through July 6. Named for Andrew Carnegie and Andrew Mellon, the Andy Awards are a tribute to the spirit of teamwork and dedication embodied by the staff at Carnegie Mellon. Individual staff members and teams of colleagues whose work has had a significant impact on the university are recognized for their outstanding performance and commitment to excellence through the Andy Awards program.
Awards are given in five categories: Commitment to Excellence, Commitment to Students, Innovative and Creative Contributions, Spirit and Teamwork and Collaboration.
For more on the program and categories, nomination criteria and nomination forms visit the Andy Awards website.
Staff Receive Discount to Tepper Executive Education Programs
All CMU staff are eligible for a 33 percent discount off open enrollment programs offered by Tepper School Executive Education. Programs are offered in Advanced Analytics and Leadership for Women.
Featured Program: Women on the Rise: Leadership for Emerging Women (May 11-13)
Are you ready to move from doer to leader? Do you have a team member with leadership potential? Carnegie Mellon's Women on the Rise: Leadership for Emerging Women enhances the skill set of women on the way up. Participants gain mastery from building networks of influences and developing an authentic leadership brand to working with teams and managing conflict.
Visit the Tepper School Executive Education website for details on the above program as well as additional programs, such as Advanced Analytics for Operations and Marketing, Leadership and Negotiation Academy for Executive Women and a Networking Workshop.