May 19, 2016
News Briefs
CMU Day at Kennywood Park is June 11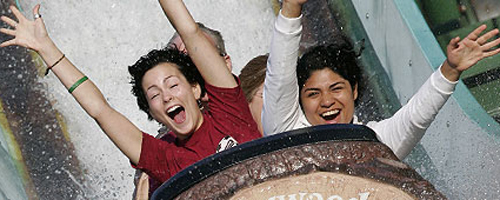 Carnegie Mellon Day at Kennywood Park, presented by Staff Council, is Saturday, June 11. Pavilion 7, behind the Skyrocket rollercoaster, will be reserved all day for the CMU community. At 1 p.m., all children 10 and under will receive a prize and everyone will get an ice cream treat.
CMU employees presenting their own CMU ID may purchase two tickets for $15 each (valid only on June 11). Additional tickets (limit 10), valid any day in June and September and weekdays in July and August, may be purchased for $23 each.
Ticket sales (cash only) are as follows.
11:30 a.m. – 1 p.m., May 24, Cohon Center
11:30 a.m. – 1 p.m., May 25, Cohon Center
11:30 a.m. – 1 p.m., June 1, Mellon Institute
4 – 5 p.m., June 1, Cohon Center
11:30 a.m. – 1 p.m., June 3, Cohon Center
11:30 a.m. – 1 p.m., June 8, Cohon Center
11:30 a.m. – 1 p.m., June 9, Cohon Center
11:30 a.m. – 1 p.m., June 10, Cohon Center
Learn more about Kennywood and other employee discounts to Sandcastle, Idlewild and Hershey Park.
More "Walking to the Sky" Figures Removed for Restoration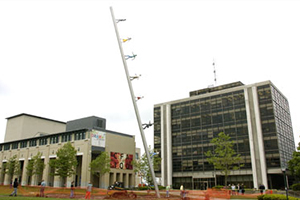 Last year, four of the 10 figures in the "Walking to the Sky" art installation on campus were restored. On Tuesday, May 17, the remaining six figures were removed for restoration — two of the figures on the ground and, from the bottom, the first, third, fifth and seventh on the pole. An update will be sent when the figures are scheduled to be returned.
The restoration work is being done by the original installer, Ron McPherson of La Paloma Art. If you have any questions, please call Shannon Wetzel at 8-6332 or e-mail swetzel@andrew.cmu.edu.
New Website Features FAA Drone Regulations
The Office of General Counsel (OGC) and the Office of Risk Management and Insurance (ORMI) have launched a new website to help members of the university community comply with the applicable Federal Aviation Administration (FAA) regulations regarding the outdoor operation of Unmanned Aircraft Systems (UAS), commonly known as drones, in the United States.
 
Per applicable federal law, all drones flown outdoors with maximum take-off weight greater than 250 grams must be registered with the FAA. Drones owned by Carnegie Mellon should be registered with the FAA through ORMI.
 
Additionally, the outdoor operation of a drone for any non-recreational purpose requires an FAA exemption, which can take up to 120 days for the FAA to process. The OGC and ORMI can assist those seeking FAA registration and exemptions for non-recreational outdoor operations. The FAA does not regulate the indoor use of drones.
 
More information, including links to the FAA regulations and the FAA registration site, is available at http://www.cmu.edu/ogc/drones/. Questions can be sent to drones@cmu.edu.
Users' Perceptions of Password Security May Need a Reality Check
People's perceptions of password strength may not always match reality, according to a recent study by CyLab, Carnegie Mellon's Security and Privacy Institute. For example, study participants expected ieatkale88 to be roughly as secure as iloveyou88; one said "both are a combination of dictionary words and are appended by numbers." However, when researchers used a model to predict the number of guesses an attacker would need to crack each password, ieatkale88 would require four billion times more guesses to crack because the string "iloveyou" is one of the most common in passwords.
"Although participants generally had a good understanding on what makes passwords stronger or weaker, they also had some critical misunderstandings of how passwords are attacked and assumed incorrectly that their passwords need to withstand only a small number of guesses," said Blase Ur, the study's lead author and a Ph.D. student studying societal computing in Carnegie Mellon's School of Computer Science.


EH&S To Conduct Building Evacuation Drills May 20
To comply with the City of Pittsburgh's All Hazards Plan, Environmental Health & Safety (EH&S) will conduct building evacuations in five of CMU's high-rise buildings on Friday, May 20. (Note: Gates/Hillman centers will be rescheduled.) The building and evacuation schedule is as follows:
Mellon Institute, 9 a.m.;
Gates/Hillman centers - POSTPONED UNTIL NEXT WEEK;
Doherty Hall, 11 a.m.;
Wean Hall, 12:30 p.m.;
Hamerschlag Hall, 1:30 p.m.; and
Scott Hall, 2:30 p.m.
An evacuation announcement will be made over the building's voice alarm system, (with the exception of Mellon Institute) followed by the sounding of the buildings fire alarm. Once the fire alarm sounds, occupants should quickly leave the building via the nearest exit and assemble on the nearest sidewalk.
Failure to leave a building when the fire alarm sounds is a violation of a City of Pittsburgh ordinance and may result in a fine and court appearance.
The back-up rain date for these evacuation drills will be Monday, May 23. The same schedule as above will apply. New date and time for Gates/Hillman centers to be announced.
Questions about the evacuation should be directed to Richard Caruso at 412-268-9404 or rmcaruso@andrew.cmu.edu.
Say "Thank You" With an Andy Award Nomination
The Andy Award nomination period is now open through July 6. Named for Andrew Carnegie and Andrew Mellon, the Andy Awards are a tribute to the spirit of teamwork and dedication embodied by the staff at Carnegie Mellon. Individual staff members and teams of colleagues whose work has had a significant impact on the university are recognized for their outstanding performance and commitment to excellence through the Andy Awards program.
Awards are given in five categories: Commitment to Excellence, Commitment to Students, Innovative and Creative Contributions, Spirit, and Teamwork and Collaboration.
For more on the program and categories, nomination criteria and nomination forms visit the Andy Awards website.