May 09, 2016
Inside Out
Students' Visionary Architectural Design Wins International Competition
By Bruce Gerson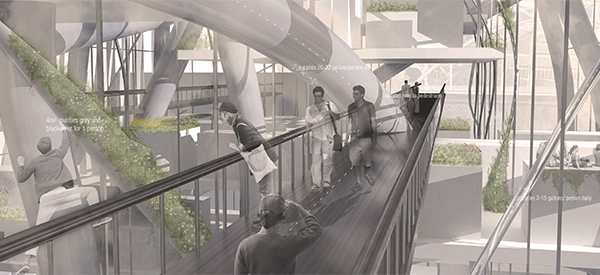 A semester-long class project embraced by two student architects has grabbed the attention of leading professionals in the architecture and software industries.
"Ecoschool" by juniors Sophie Nahrmann and Sinan Goral was a double winner in the International FLUX Sustainable Architecture @ Scale Emerging Architects Design Competition. Their visionary project, designed to be a framework for sustainable housing units, won the contest's Most Innovative and People's Choice awards.
The competition drew entries from students around the world — from the University of Oregon and Massachusetts Institute of Technology to Kyiv National University in Ukraine, the University of Sydney in Australia, the University of Padua in Italy and Cambridge University in London.
Nahrmann and Goral's work centered around faculty and student housing units in the industrial and commercial neighborhood of Pittsburgh's Strip District. They said their work "reverse engineers" how wastewater and energy are processed within a building by exposing the network of pipes and ducts and bringing the processing and mechanical systems in-house, literally.
"Every building needs potable water and sewage pipes, but rather than making them insular, underground or in the ceiling ducts, we decided to expose them to make a visual statement," said Goral, who was born in Istanbul, Turkey, before his family moved to Minnesota.
While visually exposing waterlines and ductwork isn't exactly new, their project did provide a new twist by bringing the mechanical equipment — typically stored in a basement or utility closet — front and center, integrating it into the landscaping or making it a part of the structure in an artful way.
"We're taking something as grotesque as sewage treatment and figuring out a way to make it much, much more," Goral said.
Nahrmann said the strong visual components also have subliminal benefits, building awareness of energy consumption and ways to conserve it.
"It makes a statement that people need to focus on the systems that they live with, interact with and take for granted," she said. "It's a design framework that restructures the way people think about everything that goes into their daily lives.
"If we make energy more visually compelling and integral to the space where you live, maybe it will start to refocus how people think about their impact," said Nahrmann, who is from Billerica, Mass.
The competition, judged by a panel of three architects and two software gurus, was sponsored by FLUX, a California-based startup that creates architectural software.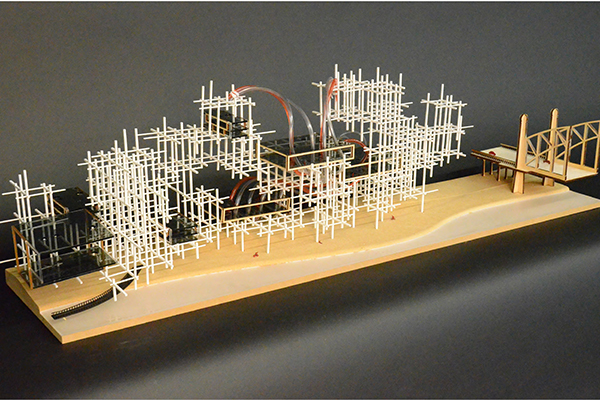 The work of Sophie Mahrmann and Sinan Goral centered around housing units
for faculty and staff in Pittsburgh's Strip District.
"Wow! Fabulous project," said judge Ken Sanders, managing director of Gensler, a global architecture, design planning and consulting firm with 46 offices in 16 countries. 
"Exposing the infrastructure as a learning tool isn't a new idea, but the idea is beautifully expressed on this project," he said.
Dana Cupkova, an assistant professor of architecture and coordinator of the "Environment, Form and Feedback" design studio, in which Goral and Nahrmann's project was developed, said their design work was "fantastic."
"They added a layer of computational design intelligence to their project after it was completed for the class that really made them succeed in the competition," she said. "Our knowledge base and design tools are changing so rapidly that only a creative approach toward future problem-solving in the built environment will succeed."
Cupkova said she likes to think of her class as a "design laboratory, where students discover new ways of thinking, designing and making, while immersed in a larger ecological framework of the project." She said it's hard for some students to embrace such a journey to the unknown.
But Goral and Nahrmann stood out.
"They are creative, but inquisitive and curious, positioning their own work with great individuality, rather than just following directions. They fought with me — literally — for ideas in their project and put an enormous amount of time and energy into making it fantastic," Cupkova said.
The studio class is a major component of the third-year curriculum in CMU's renowned School of Architecture.
The School of Architecture ranked ninth in the nation in 2016 by DesignIntelligence, an online publication for professionals in architecture and construction exploring global trends, challenges and opportunities in the design industries. In specialty rankings, CMU was rated sixth in sustainable design and sixth in computational design. CMU ranked fifth overall in the eastern U.S.