May 11, 2016
Impact CMU
Students Showcase Projects To Help Community
By Leigh Kish
Junior computer science majors Rohan Varma and Ashley Lai wanted to put their skills to use to help those in need. But they knew they couldn't do it alone.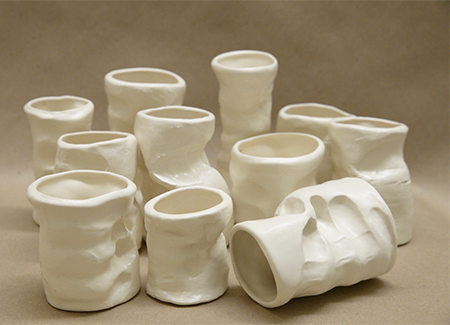 Ceramic cups (pictured) made by men at a homeless
shelter were one of the projects showcased at the
Design for America event this spring.
Recognizing the breadth of student knowledge across Carnegie Mellon University, they started Design for America (DFA@CMU) in fall 2014, which draws on the talents of interdisciplinary students to help organizations address issues from campus stress culture to homelessness.
Varma and Lai knew that more students would be interested in joining DFA@CMU, if there was a way to publicize projects. And they were sure other groups and individual students would have activities to highlight.
"We wanted a way to showcase the 6-7 DFA projects that we started this semester but found that there was no venue to showcase social good projects on campus," Varma said. "Realizing this, we decided to organize Impact CMU."
Held on Monday, April 26, in the Cohon University Center, groups of mostly undergraduate students, gathered around posters and enthusiastically described what they are accomplishing. More than 15 projects were presented.
Freshman Daniel See, a BXA major in Decision Science and Art, presented ceramic cups made by men he met at a homeless shelter. Each cup included a small card of quotes in the men's own words how it feels to have countless people who pass by them. See aims to give visibility to those who feel invisible.
"I realized how normal it was to just walk by homeless people," See said. "I was struggling with guilt. I wanted to help."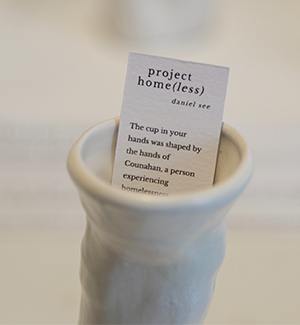 Amal Nanavati, a junior studying computer science and history, started school with ambitions of working in a tech startup some day. After an iStep internship at a school for blind and deaf children in Bangalore, India, he may reconsider.       
"So many people make tech for a small slice of the world — the technology elite — when tech can be used for so much more," Nanavati said.
Other projects included providing STEM curriculum and mentorship to students, apps that seek to reduce sexual assault by eliminating the bystander effect, welcoming Nepalese refugees to Pittsburgh, and teaching fifth graders in Rwanda how to code.
Many of these projects take lots of talent and perseverance, making CMU students the perfect group to be leaders in social good.
"The biggest takeaway for me was that social good challenges are not easy, but if you are willing to invest your time and energy than many people are going to be excited to work with you to help you tackle the issue," Varma said. "Every single organization we have contacted in the Pittsburgh area has been extremely excited to work with us and open to collaborating on ideas."