May 17, 2016
Double Duty
CMU Police Officer Nabs Bachelor's Degree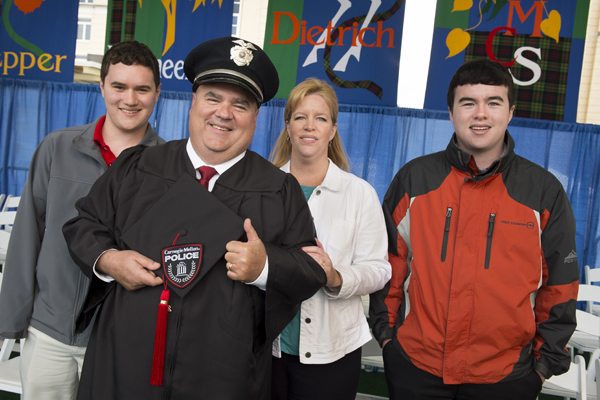 Joe Bernarding, his wife Becky, and sons Benjamin (left) and Matthew celebrate at CMU's Commencement.
Joseph Bernarding has been in hot pursuit for a decade.
Since 2006, the Carnegie Mellon University police officer, husband, father, soccer coach and scout leader has been pursuing his bachelor's degree in ethics, history and public policy (EHPP).
When Bernarding started his studies, he thought it might take him about twice as long to complete as the average full-time student.
"Boy, was I wrong!" he said. This spring, Bernarding received his degree, 10 years after he started.
Having earned an associate of arts degree in criminology from Indiana University of Pennsylvania in 1986, he wanted to be the first from his side of the family to complete a four-year degree — and he wanted to do it before his twin sons graduate from high school.
Bernarding finished in the nick of time: his sons, Matthew and Benjamin, will be high school seniors this fall.
"My wife had graduated from Edinboro and we wanted to set an example for our sons that anything was possible — even graduating from Carnegie Mellon after being out of school for 20 years," said Bernarding, a CMU police officer since 1994.
Jay Aronson, associate professor of science, technology and society in the History Department, has worked with Bernarding since 2009.
"He brought knowledge and experience to class that his peers didn't have, and he was able to communicate in a way that was welcomed by his classmates," Aronson said.
He added, "As a parent of young kids myself, I was always amazed that he was able to balance a full-time job and family duties with finishing his degree."
Outside of his family, Bernarding counts Aronson among his greatest supporters. He also found inspiration in Naum Kats' Russian history courses.
"Professor Kats exposed me to a Russia I had never known before. He guided me, taught me and, most importantly, believed in me," Bernarding said.
Kats enjoyed having such a hard-working student in his classes.
"His desire to learn and his passion for knowledge are exceptional. He uses all of his abilities and opportunities to the maximum potential," said Kats, an adjunct professor of history.
With his bachelor's degree complete, Bernarding hopes to move into a supervisory role within the police department.
Aronson is confident that he'll accomplish this — and more.
"I am certain that Joe will apply the skills and knowledge he gained in the major to his work in law enforcement, both by recognizing where policies can be improved and by working toward more just and fair policing strategies," he said. "I expect him to take on more leadership responsibilities at CMU, in Pittsburgh and nationally."
CMU Police Chief Tom Ogden agrees with Aronson and said he hopes that Bernarding will become a role model for others.
"Joe's coursework will most certainly benefit him as a police officer. It will provide him with more depth, insight and perspective as he continues to grow within our organization," said Ogden, who noted that Bernarding has accepted more responsibilities over the years and has assisted the department in becoming a regional leader in public safety at universities.
"We are all very proud of Joe, his perseverance and accomplishment. I hope he will serve as an example for other CMU Police Department employees to take advantage of the educational benefit and environment we have available to us here at CMU," Ogden said.