March 01, 2016
Powerful Lineup
Scott Institute Hosts Inaugural Energy Week, March 14-18
By Leigh Kish / lkish@andrew.cmu.edu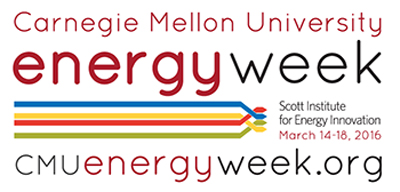 With great power comes great responsibility.

Such is the case with Carnegie Mellon's Wilton E. Scott Institute for Energy Innovation, home to a powerhouse of energy experts who are working to tackle energy in the 21st century, one of the biggest challenges in the world today.

The 100 experts in the Scott Institute, under the direction of President Emeritus Jared Cohon, are working to create new solutions, new products and new ways of doing things in a variety of areas, to make energy more efficient, affordable and sustainable. These areas include energy storage and distribution, shale gas development, smart buildings and cities, electric energy systems, systems design optimization and technology and policy assessment.     

To discuss its work and the energy industry, the Scott Institute is hosting its first Energy Week, March 14-18 in the Cohon University Center. CMU researchers and energy leaders will share their work and engage in discussions to swap ideas and perspectives through roundtables on energy entrepreneurship and innovation, industry energy efficiency, southwest Pennsylvania's energy workforce, and energy education and research. Participants will include industry and business professionals, policymakers, entrepreneurs, foundation leaders and students, as well as the general public.

"In the Pittsburgh area, energy is often assumed by outsiders to be limited to coal and shale gas. In reality, there are all sorts of exciting things going on in energy regionally, and I don't think even the Pittsburgh public is aware of the diversity of activity within an hour's drive of the city, including innovative work coming out of CMU," said Deborah Stine, associate director of the Scott Institute.

"While some other universities have hosted similar weeklong forums, the CMU iteration is different in that it isn't based on a panel discussion model between researchers. We are combining research, tech, policy, student competitions and even the arts for what we hope will be a lively event," Stine said.

Each day has a theme, so participants can select what topics are most interesting to them. Themes include research, innovation, education  policy, and the Pittsburgh region's energy workforce, industry, and business activities.

The energy policy-minded will want to consider attending Policy Day on Tuesday. Presidential candidate surrogates and Pennsylvania candidates for the U.S. Senate will be discussing energy policy and their positions on energy issues. The day concludes with a Deliberative Democracy discussion on a realistic energy mix for Pennsylvania.

Five CMU student competitions, including energy-focused research posters, policy films, dramatic monologues, an energy technology challenge and an energy innovation jam, are scheduled throughout the week. A sixth competition, the Allegheny Region Cleantech University Prize, sponsored by the Department of Energy with a $50,000 prize, is open to college students in Pennsylvania, Ohio, Maryland and West Virginia. Competitors range from undergraduate to Ph.D. students, with the potential to win cash prizes.

Friday is a day of field trips to regional power producers, utility companies, energy-related nonprofits and green buildings. More than 10 choices are available for participants to select from.

"Field trip day is a good opportunity to see energy activities that you may have only heard about on TV or video," Stine said. "Seeing a wind turbine in action, for example, can help you understand so much more than a picture or a calculation."

In the lineup of keynote presentations is Bunker Roy, founder and director of Barefoot College, TED speaker and one of Time magazine's 100 most influential people of 2010.  

Barefoot College trains impoverished, rural poor and many illiterate women to construct and operate technologies in their communities. For example, women trained in India as solar engineers returned to their villages in sub-Saharan Africa and used their newfound skills to install solar panels and provide electricity to homes, something that many believed to be out of reach.

Other highlights include Deputy Secretary Elizabeth Sherwood-Randall from the U.S. Department of Energy; Pittsburgh Mayor Bill Peduto; visits to CMU's energy research labs and centers; and an Energy Tech Expo, in which students will have the opportunity to network with industry professionals.

CMU students (and those from any institution), faculty and staff may register for free. Lunch is not included, but can be purchased for an additional fee during registration.
ENERGY WEEK LINEUP
Monday — Research Day
Keynote Speaker, Grace Bochenek, Director, National Energy Technology Laboratory, 1:30-2 p.m.
"Andy" Talks — 20-minute TED Talk-style presentations of innovative research, 2:30-5 p.m.
Tuesday — Policy Day
Energy Policy Forum with U.S. Presidential Candidate Surrogates, 9:45-11:45 a.m.
Fireside Chats with U.S. Senate Pennsylvania Candidates, 1:45-3:30 p.m.
What Should be Pennsylvania's Electricity Mix Now and in the Future? Deliberative Democracy Event, 6:30-8:30 p.m.
Wednesday — Innovation Day
Energy Innovation and Entrepreneurship Roundtable, 9-11:45 a.m.
Visits to CMU's energy research labs and centers, including General Motors-CMU Connected Autonomous Collaborate Research Lab and the Solar Fuels Lab, 1:15-3:15 p.m.
Allegheny CleanTech Collegiate University Prize Competition Presentations and Awards ceremony, 3-5:50 p.m. (final rounds)
Thursday — Education Day
Energy Tech Expo featuring regional energy-related industries and businesses, 10 a.m.-noon and
1-4:30 p.m.
Keynote Presentation by Bunker Roy, founder and director, and Meagan Fallone, CEO, of Barefoot College, 4:45-5:45 p.m.
Friday — Field Trip Day
More than 10 choices for a morning field trip, including visits to Shale Gas sites, green buildings in the city and utility companies, 9:15 a.m.-1:30 p.m.
Southwestern Pennsylvania Energy Workforce Roundtable, 1:30-4:30 p.m.