March 01, 2016
Hacking Into Gun Safety
By Chuck Finder / cfinder@andrew.cmu.edu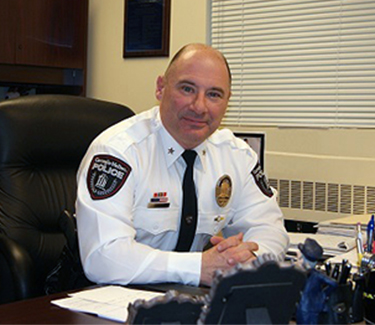 Chief Tom Ogden
The challenge is intricate yet extensive. How can technology, robotics and innovation bring new ideas to public safety and, more precisely, gun safety?
Liza Tresser, who will earn her M.B.A. this May, is organizing an event to host such a challenge — one accepted by the City of Pittsburgh Police Bureau, the University of Pittsburgh, the Tepper School of Business, Carnegie Mellon and others around the community.
"Last year was the first year of an event called CMU Idea Space; it was a hackathon competition focused on social impact issues," said Tresser, who is heading the committee planning "Innovative Solutions for Gun Safety and Gun Violence," March 18-20 at the Posner Center.
"Incredibly innovative ideas were designed around recycling, education and even public safety at last year's event. This year, we are narrowing the lens and focusing solely on gun violence, gun safety and public safety issues, and how tech or robotics might be used to help. We want as many people as possible to have a voice in this," she said.
Some 120 graduate and undergraduate students from Carnegie Mellon and Pitt are expected to enter the competitions on each day of the event. There also are spots open for members of the community to participate as well; the Urban League of Young Professionals and other organizations are working with Tresser and the committee to find additional participants.
Already, an incubator called Zero Six Eight has agreed to work with a winning team's idea, and officials from the City of Pittsburgh Police's Initiative to Reduce Crime wrote a challenge for event competitors to try to tackle, Tresser said.
Program Coordinator Chris Millard of Alphalab Gear, Director Greg Cottichia of the Blast Furnace at Pitt's Innovation Institute, and Renee Clark, former dean of student development at Community College of Allegheny County's South campus, are among the people who will serve as coaches.
Among the judges for the competition will be attorney Khadija Diggs, deputy director of Pennsylvania Gov. Tom Wolf's Southwest Regional Office, and Carnegie Mellon Police Chief Tom Ogden.
"It's admirable that our students are trying to put Carnegie Mellon creativity and innovation to use for what I believe to be one of the most important public safety issues today. I'm excited to see what they present and most appreciative of their efforts," Ogden said.
Because college and school campuses have been the scene of such tragedies around the globe, Tresser hopes that other business schools and universities take up this type of challenge.
"It is a constant effort for universities to truly contribute to and take a vital role in the communities around them," Tresser added. "This type of competition, bringing together bright minds and new ideas, would be a great way to start.
"The months I've spent working on this initiative demonstrate the passion and interest that exist over these issues, and such an event allows people to have a say. The concept — that a non-political platform can bring people of opposing beliefs together to work more constructively — has struck a chord with so many around Pittsburgh. By bringing together people from all walks of life and different disciplines, new ideas may emerge," Tresser said.