June 03, 2016
News Briefs
Team "Coin Toss" Wins Qualcomm Neurohackathon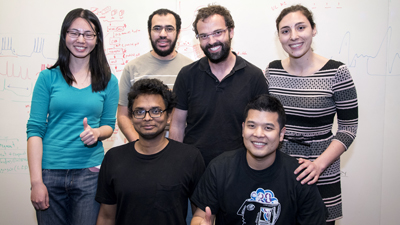 Five teams of Carnegie Mellon graduate students competed in a hackathon designed to engage computer and data scientists in cracking one of the most complex systems: the structure of neural data in the brain.
Team "Coin Toss" was named the winner of the Qualcomm Neurohackathon for its approach to identify the trajectories of nerve fiber connections in the brain. MRI fiber tracking has been widely used to map these trajectories, but identifying or classifying them is difficult due to the high complexity of neuroanatomy. Their findings could accelerate the pace of brain-mapping projects.
Members of "Coin Toss," all Ph.D. students, were: Mariya Toneva, neural computation and machine learning; Avinava Dubey, machine learning; Ahmed Hefny, machine learning; Jay Yoon Lee, computer science; Dan Schwartz, language technology; and Ying Yang, neural computation and machine learning.
Clouds Provide Clue to Better Climate Predictions
A research group from the CERN Cloud experiment, including scientists from Carnegie Mellon's College of Engineering and Mellon College of Science, has uncovered the processes behind the formation and evolution of small atmospheric particles free from the influence of pollution. Their findings are key to creating accurate models to understand and predict global climate change. The findings are published in the May 26 issue of Nature.
Clouds and aerosols — small airborne particles that can become the seeds upon which clouds form — are essential to climate predictions because they reflect sunlight back into space. Reflecting light away from Earth can have a cooling effect, masking some of the warming caused by greenhouse gases.
"The best estimate is that about one-third of the warming by greenhouse gas emissions is masked by this aerosol cooling, but the fraction could be as large as half and as little as almost nothing," said Neil Donahue, professor of chemistry, chemical engineering, engineering and public policy, and director of CMU's Steinbrenner Institute for Environmental Education and Research.
Join CMU in Pittsburgh Pride Parade
Allies-Grad, an LGBT and allies organization for graduate students, is organizing "CMU Pride," a group of CMU students, staff and faculty that will be participating in this year's Pittsburgh Pride Parade.
If you'd like to show your pride for CMU and the LGBT community and join CMU's contingent in the parade, complete a Google form at http://goo.gl/forms/58QBBOAmHoK0K30l2.
Say "Thank You" With an Andy Award Nomination
The Andy Award nomination period is now open through July 6. Named for Andrew Carnegie and Andrew Mellon, the Andy Awards are a tribute to the spirit of teamwork and dedication embodied by the staff at Carnegie Mellon. Individual staff members and teams of colleagues whose work has had a significant impact on the university are recognized for their outstanding performance and commitment to excellence through the Andy Awards program.
Awards are given in five categories: Commitment to Excellence, Commitment to Students, Innovative and Creative Contributions, Spirit, and Teamwork and Collaboration.
For more on the program and categories, nomination criteria and nomination forms visit the Andy Awards website.
CMU Day at Kennywood Park is June 11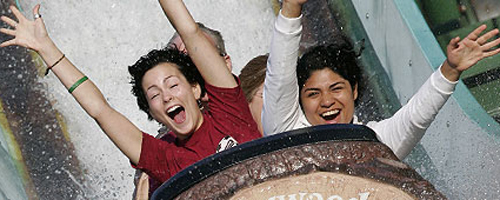 Carnegie Mellon Day at Kennywood Park, presented by Staff Council, is Saturday, June 11. Pavilion 7, behind the Skyrocket rollercoaster, will be reserved all day for the CMU community. At 1 p.m., all children 10 and under will receive a prize and everyone will get an ice cream treat.
CMU employees presenting their own CMU ID may purchase two tickets for $15 each (valid only on June 11). Additional tickets (limit 10), valid any day in June and September and weekdays in July and August, may be purchased for $23 each.
Ticket sales (cash only) are as follows.
11:30 a.m. – 1 p.m., June 3, Cohon Center
11:30 a.m. – 1 p.m., June 8, Cohon Center
11:30 a.m. – 1 p.m., June 9, Cohon Center
11:30 a.m. – 1 p.m., June 10, Cohon Center
Learn more about Kennywood and other employee discounts to Sandcastle, Idlewild and Hershey Park.