June 23, 2016
Year In Review 2015-2016

FDA Approves Robot for Surgical Procedures
CMU spinoff company Medrobotics Corp. received clearance from the U.S. Food and Drug Administration to market its Flex® Robotic System, which is based on the research of CMU Robotics Institute Professor Howie Choset. A flexible endoscopic system that enables surgeons to access and visualize hard-to-reach anatomical locations, the system extends the benefits of minimally invasive surgery — shorter hospital stays and recovery times — to a broader population of patients.
CMU Wins Fifth World RoboCup
Carnegie Mellon's robot soccer team, led by University Professor Manuela Veloso, took home its fifth world championship without allowing a single goal at the 2015 RoboCup in China. The CMDragons outscored their opponents 48-0, winning the final 5-0 over a team from Qazvin Islamic Azad University in Iran.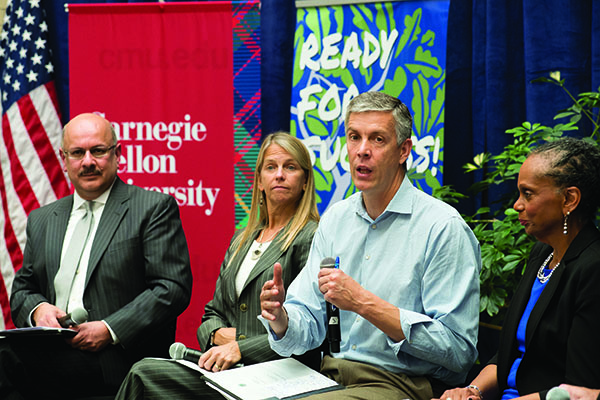 Education Bus Tour Stopped Here
U.S. Secretary of Education Arne Duncan brought his back-to-school "Ready for Success" national bus tour to CMU, where he held a town hall meeting on community-based STEM initiatives and improving students' readiness for college. Duncan said he admired CMU for its commitment to bringing more women into the field of computer science and for increasing the number of PELL recipients it serves. "It's an example for other universities to follow," he said.
Gift Supports Entrepreneurship
Alumnus James Swartz (TPR 1966), founding partner of the global venture capital firm Accel Parnters, announced a gift of $31 million to create the Swartz Center for Entrepreneurship. The center will serve as a hub for the university's entrepreneurship activities, connecting the ongoing efforts of several centers, programs, competitions, funds and workshops.
CMU Hosts Showcase in India
Recognizing its significant ties to India (1,800+ alumni), Carnegie Mellon hosted a July 4 event in New Delhi, India, focusing on "Integrated Intelligence" — how CMU is creating and leveraging technology to improve the human condition. The daylong event for alumni, parents, students and friends featured university leaders and international business executives, and included networking opportunities and panel discussions on "Smart Cities" and the "Transformative Impact of Big Data."
Gift To Support New Facility, Scholarships
Tata Consultancy Services (TCS), the fastest growing global IT and consulting company, donated $35 million to Carnegie Mellon to fully fund a new facility and support students through CMU's Presidential Fellowships and Scholarships program. The gift is the largest corporate donation in CMU history, the largest international gift to CMU and the largest gift to a university by TCS. The facility will focus on education and research and provide collaborative space for faculty, students and TCS staff.
Tepper Quad Gets Underway
Carnegie Mellon broke ground for the Tepper Quadrangle, the largest expansion on campus since the university's founding in 1900, on Oct. 30. The Tepper Quad, made possible by a $67 million lead gift from the charitable foundation of alumnus David Tepper, will be the new centerpiece of campus, bringing the community together and advancing research, education, entrepreneurship and campus life. It will include a new home for the Tepper School of Business.
Groundbreaking Puts CMU in National Spotlight
The Tepper Quad groundbreaking ceremony brought the financial news cable network CNBC to campus to interview several university leaders throughout
the day, including David Tepper, President Subra Suresh, Tepper School Dean Robert Dammon (below) and Chairman of the Board James Rohr.
CMU Among World Leaders at Summer Davos
With 15 faculty members, several robots and Big Data demos, Carnegie Mellon had one of the largest delegations of any university at the World Economic Forum's Annual Meeting of the New Champions in Dalian, China. Discussion topics included machine learning for health, visually exploring large databases and robotics. The World Economic Forum brings together global leaders in academia, business and government to shape economic and industry agendas.
Wilson Returns To Make Directing Debut
Patrick Wilson (A 1995), fresh off his Golden Globe nomination for his role as Lou Solverson on the FX hit series "Fargo," returned to Carnegie Mellon to direct the School of Drama's production of "The Full Monty." Wilson knew the play well, having earned a Tony nomination for best
actor for his role in the hit musical.
CMU Takes Off With Boeing
Carnegie Mellon has joined the Boeing Company to establish the Boeing/Carnegie Mellon Aerospace Data Analytics Lab, a new effort to capitalize on the enormous amount of data generated by the aircraft industry to create safer, more reliable and more efficient aircraft operations.
Community Has Hunger To Serve
More than 700 students, faculty, staff, alumni and family members packaged more than 125,000 meals in a Stop Hunger Now event on campus. The event was organized by CMU's Partners Allied in Civic Engagement and the Kraft Heinz Company.
Tartans Advance to Sweet 16
The women's basketball team won two tournament games and advanced to the Sweet 16 of the NCAA Division III Basketball Championships for the first time in school history. The Tartans ended the year with a 21-7 record, tying the 1990-91 team for the most wins in a season.
CMU Writes the Book on Women in Computing
"Kicking Butt in Computer Science: Women in Computing at Carnegie Mellon University," a new book written by CMU's Carol Frieze and Jeria Quesenberry, outlines the cultural makeover that took place in CMU's School of Computer Science, a top-ranked program that consistently attracts and graduates a higher percentage of female computer scientists than the national average.
"Birdman" Michael Keaton Lands at ETC
Michael Keaton, perhaps best known for his roles as "Batman" and "Birdman," made his first trip to CMU's Entertainment Technology Center as a visiting scholar. Keaton experienced several student virtual reality projects and provided feedback before hosting a Q&A in which he shared anecdotes from movie sets and offered advice.
Spike Lee Attends Film Screening
Award-winning filmmaker Spike Lee attended the screening of his film "Chi-Raq" during CMU's International Film Festival. Prior to the film, Lee hosted a Q&A session with audience members. "Chi-Raq" is set against the backdrop of gang violence in Chicago. The cast includes Nick Cannon, Wesley Snipes, Samuel L. Jackson, John Cusack and Jennifer Hudson.
Fastball Pitches CMU Scientists
The baseball documentary "Fastball," which aims to answer the question of who threw the fastest pitch of all-time, premiered in Pittsburgh in April. Narrated by Kevin Costner and directed by nine-time Emmy-Award winner Jonathan Hock, the film includes interviews with more than 20  Hall of Fame players as well as CMU scientists Gregg Franklin, Michael Tarr and Timothy Verstynen. Fastball speeds can reach close to — and sometimes surpass — 100 miles per hour, requiring baseball players to make split-second decisions. Tarr and Verstynen talk about how a batter's brain races to process an incoming fastball.
Improved Database Searches for DNA Sequencing
Database searches for DNA sequences that can take biologists and medical researchers days can now be completed in a matter of minutes, thanks to a new search method developed by computer scientists at Carnegie Mellon. The method was developed by Carl Kingsford, associate professor of computational biology, and Brad Solomon, a Ph.D. student in the Computational Biology Department, and described in a report published online by the journal Nature Biotechnology.
Building Connections
The Sherman and Joyce Bowie Scott Hall, dedicated on April 30, provides both visual and intellectual stimulation, enhancing the College of Engineering's innovative culture and fostering interdisciplinary research. Engineering always has had a "maker culture" of creating cutting-edge tools and products to benefit the modern world. With new lab space and new technologies, researchers and students can take that environment to a new level. Like a puzzle piece, the building and its amenities connect fields of study and expand collaboration across CMU. Researchers and students have easier access to advanced technologies for turning ideas into reality.
Jaycox Named Churchill Scholar
Senior biological sciences major Jillian Jaycox, a student-athlete from West Chester, Pa., was one of 15 individuals nationwide to receive a 2016 Churchill Scholarship, one of the most prestigious awards for study abroad in the United Kingdom. Jaycox is the 12th CMU student to receive the scholarship, which funds a year of postgraduate study at the University of Cambridge. The Churchill Scholarship is Jaycox's first international award. She received two national awards in 2015: the Barry M. Goldwater Scholarship and the Lupus Foundation of America's Gina M. Finzi Memorial Student Fellowship. Jaycox was one of 17 students to earn major scholarships in 2015-16 for their academic achievement, leadership and service.
Training Next Olympic Champions ... in Math
Olympic hopefuls have arrived at CMU to begin final training for the summer games, not in Rio but rather the International Mathematical Olympiad in Hong Kong. Seventy of the best high school mathematicians from around the world, including a team of six from the U.S., are embarking on a three-week program
to become better problem solvers.