July 11, 2016
Reclamation Project: Historic Transformation Underway
By Stefanie Johndrow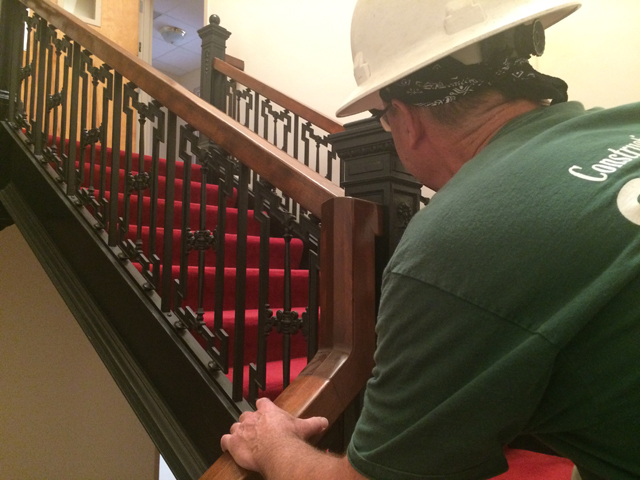 Brian Swearingen of Construction Junction examines the striking three-story staircase in the old Cardinal Dearden Center.

Moving forward with a nod to the past. That's the spirit of the latest building project at the former Cardinal Dearden Center at 4721 Fifth Ave. in Pittsburgh.
The renovation and reclamation project that is turning the historic structure into office space is being led by Carnegie Mellon University's Campus Design and Facility Development (CDFD) and CMU's PROJECT RE_, a partnership between CMU's Urban Design Build Studio in the School of Architecture, the Trade Institute of Pittsburgh (TIP) and Construction Junction.
PROJECT RE_'s mission is to reuse materials, rebuild communities by strengthening capacity of local residents, and restore lives by teaching people trade skills to secure a living wage.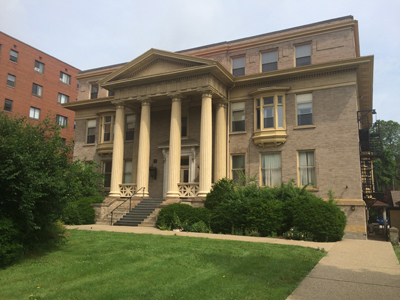 4721 Fifth Avenue
"We always intended to retain the historic nature of the building," said Bob Reppe, director of design for CDFD, who noted the facility's architectural prominence and significant value to the neighborhood.
Built in 1918, the building once housed the all-female Winchester Thurston School. About 40 years later, the space was transformed into the Cardinal Dearden Center, a home for retired Roman Catholic priests. Carnegie Mellon acquired the property in 2012.
CDFD is working with Turner Construction Company and GBBN Architects to create an efficient workspace for CMU's Marketing and Communications Division currently housed at 6 PPG Place in downtown Pittsburgh. Construction is expected to be completed next spring.
One striking element of the building that will remain is a winding staircase connecting all three floors.
"It was really important to us how we treated that stairway," said Jan Held, project manager for CDFD. "We're bringing it back to its full glory."
Carpeting will be removed from the stairway to expose the original hardwood.
The building has a lot to offer.
"The difference between deconstruction and demolition is deconstruction is the process of taking a building apart piece by piece to harvest things that are of value," said Architecture Professor John Folan, founder and executive director of PROJECT RE_ and director of the Urban Design Build Studio.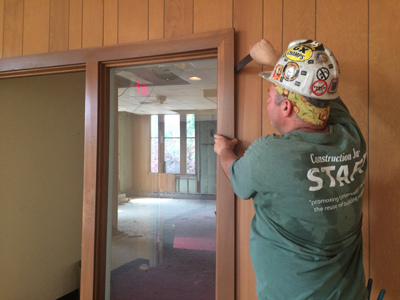 Bill Sutliff removes door trim, which will be given new life.
Construction Junction has removed items such as light fixtures, radiators and slate chalkboards, and false ceiling beams will soon be removed for resale.
PROJECT RE_ is taking window and door trim, and solid core doors that will be given new life.
"The solid core slab doors are flat, plain doors that probably nobody would pay attention to," Folan said, "Beneath the veneers, they are made of staved lumber, a process that isn't utilized anymore. Once processed properly, they end up looking like a butcher block — they're extraordinarily beautiful."
"The entire interior of the door is cedar," said Brian Swearingen, deconstruction manager at Construction Junction. "Once it's been run through a planer and we've taken the veneer off, it'll be a nice block of reusable cedar."
"The coolest projects are when our guys who have just come out of incarceration or halfway houses get to work right alongside the CMU students," said Steve Shelton, TIP founder and executive director. "You don't get to see that too often."
Like other university projects, the renovation is pursuing a Gold LEED (Leadership in Energy and Environmental Design) certification. Held said LED lighting, natural lighting, efficient mechanical systems, and carpeting and paint that emit low VOCs (volatile organic compounds) will be used. Covered bicycle storage space and showers will be added for those who prefer to bike to work, and an elevator will be installed for accessibility.