July 28, 2016
News Briefs
CMU Professor To Compete in Computer vs. Computer Hacking

Carnegie Mellon's David Brumley is heading to a national stage to compete against the country's best bug finders.

Brumley, co-founder of the CMU spinoff ForAllSecure, will compete for the grand prize at the Defense Advanced Research Projects Agency (DARPA) Cyber Grand Challenge, a first-of-its-kind hacking contest between computers, Thursday, Aug. 4 in the Paris Hotel and Conference Center in Las Vegas.
The winner among the seven teams will take home $2 million, but Brumley has a vision for ForAllSecure's automated bug-finding system that reaches far beyond the contest.

"What we hope to be able to do is make it so everyone can check the security of their software," said Brumley, CEO of ForAllSecure, director of Carnegie Mellon CyLab, and professor of electrical and computer engineering. "Right now, only the developer of that device or that program can check, but we want to free that ability for everyone."
ForAllSecure's automatic bug-finding system consists of multiple components working in tandem. For example, while one component looks for bugs, another component takes those bugs and converts them into exploits, and yet another fixes the software.
Finance Division Participates in NACUBO Annual Meeting
Members of the Finance Division attended the National Association of College and University Business Officers (NACUBO) Annual Meeting in Montreal, July 16 – 19. At the event, the Finance Division displayed a poster highlighting efficiencies resulting from the Taxation Department's enhanced tax reporting process. Built around the theme "Les Fondations for the Future," the NACUBO 2016 Annual Meeting focused on higher education as it explores new models that build on the foundation of established success.
CMU Stars in Quantum Theatre's Production of Peribañez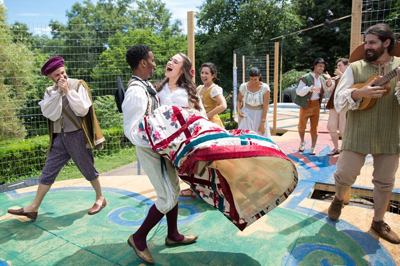 Four students, three alumni and three School of Drama faculty members are part of the upcoming Quantum Theatre production of Peribañez, Aug. 5-28 at the Rose Garden in Mellon Park in Shadyside.
The story centers around Peribañez and Casilda — young farmers in a strongly connected rural community — who have just been happily married. However, the commander's obsessive love for Casilda pushes the young couple to make painful sacrifices as they strive to preserve their marriage on the brink of war.
Student actors in the performance are Freddy Miyares, Siddiq Saunderson and Isabel Pask. Student Emily Ernst is the director's assistant.
Alumni in the production are actor Ethan Saks, Samantha Pollack (costume design), DeLisle Merrill (associate costume design) and Britton Mauk (scenic designer).
Faculty in the show are C. Todd Brown (lighting designer), Megan Monaghan Rivas (director) and Lisa Velten Smith (vocal coach).
Student tickets for the performances are $18. Faculty and staff can get a $5 discount off the price of tickets, which vary based on the night of the performance. 
Learn more and purchase tickets. Watch the trailer.
2016-17 Wall Calendars Now Available at the University Store
The 2016-17 official Carnegie Mellon wall calendars are now available for purchase in the University Store at a cost of $2.09. For quantities under 50, visit the lower level of the store to place your order. Bulk orders of 50 or more can be delivered on campus or sent via campus mail. If you are located off-campus, there will be an additional charge for a mailing tube.

To place a bulk order, copy and complete the order form below and send it to art-store@andrew.cmu.edu. Please coordinate with your department before placing an order, to determine if a bulk order is being placed.
BULK ORDER FORM (for orders of 50 or more)
1) Your Name:
2) Department Name:
3) Campus Address:
4) Phone Number:
5) Oracle String:
Contact Amy Daly with questions at adaly@andrew.cmu.edu.
AED/CPR Training Offered
Environmental Health & Safety is offering three upcoming AED/CPR training sessions. They are scheduled as follows:
Aug. 29 - 10 a.m. - noon, Rangos 1; and
Sept. 28 - 10 a.m. - noon, Rangos 2.
Class space is limited, so register early.