July 21, 2016
News Briefs
Documentary Featuring CMU To Screen July 29
The Werner Herzog documentary featuring several Carnegie Mellon scientists, robots and other innovative technologies, will be screened by Pittsburgh Filmmakers at 7:30 p.m., Friday, July 29, at the Regent Square Theater. Several CMU researchers appearing in the film will be on hand, as well as CMU's self-driving Cadillac.
The film, "Lo and Behold: Reveries of the Connected World," examines our growing dependence on the internet and mobile devices for just about everything. Last summer, in Pittsburgh and in Silicon Valley, Herzog and his production crew filmed such CMU projects as the CHIMP robot at the National Robotics Engineering Center, a robot soccer team and the Scientific Imaging and Brain Research Center, and conducted on-camera interviews with a variety of CMU faculty and staff members.
 
The latest trailer for "Lo and Behold" features segments on NREC's CHIMP, an interview with Marcel Just, the D.O. Hebb University Professor of Psychology, in which he speculates on someday being able to "tweet" thoughts and an interview with Joydeep Biswas, a former post-doctoral researcher in the Computer Science Department, talking about a valiant and valued member of CMU's championship robot soccer team.
 
"Lo & Behold" premiered at the Sundance Film Festival in Park City, Utah, in January and opens nationally and at Regent Square Aug. 19.
CMU Stars in Quantum Theatre's Production of Peribañez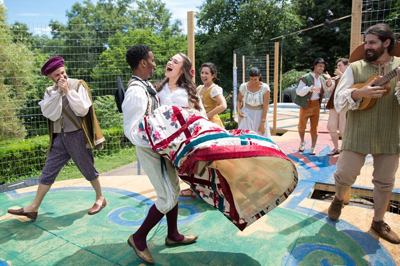 Four students, three alumni and three School of Drama faculty members are part of the upcoming Quantum Theatre production of Peribañez, Aug. 5-28 at the Rose Garden in Mellon Park in Shadyside.
The story centers around Peribañez and Casilda — young farmers in a strongly connected rural community — who have just been happily married. However, the commander's obsessive love for Casilda pushes the young couple to make painful sacrifices as they strive to preserve their marriage on the brink of war.
Student actors in the performance are Freddy Miyares, Siddiq Saunderson and Isabel Pask. Student Emily Ernst is the director's assistant.
Alumni in the production are actor Ethan Saks, Samantha Pollack (costume design), DeLisle Merrill (associate costume design) and Britton Mauk (scenic designer).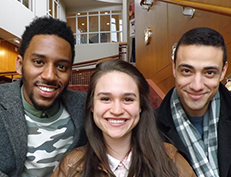 Faculty in the show are C. Todd Brown (lighting designer), Megan Monaghan Rivas (director) and Lisa Velten Smith (vocal coach).
Student tickets for the performances are $18. Faculty and staff can get a $5 discount off the price of tickets, which vary based on the night of the performance. 
Learn more and purchase tickets. 
Pictured at right are student actors Siddiq Saunderson, Isabel Pask and Freddy Miyares.
2016-17 Wall Calendars Now Available at the University Store
The 2016-17 official Carnegie Mellon wall calendars are now available for purchase in the University Store at a cost of $2.09. For quantities under 50, visit the lower level of the store to place your order. Bulk orders of 50 or more can be delivered on campus or sent via campus mail. If you are located off-campus, there will be an additional charge for a mailing tube.
To place a bulk order, copy and complete the order form below and send it to art-store@andrew.cmu.edu. Please coordinate with your department before placing an order, to determine if a bulk order is being placed.
BULK ORDER FORM (for orders of 50 or more)
1) Your Name:
2) Department Name:
3) Campus Address:
4) Phone Number:
5) Oracle String:
Contact Amy Daly with questions at adaly@andrew.cmu.edu.
Last Call for Oakland Restaurant Week
Oakland Restaurant Week continues through July 23. The week features 19 eateries that are providing $6 lunches. Diners also can enter to win free lunch for one month along with other great prizes from participating Oakland retail businesses.
The following restaurants are participating:
Fuel and Fuddle - 212 Oakland Ave.
Golden Palace Buffet - 3607 Forbes Ave.
Hello Bistro - 3605 Forbes Ave.
Hilton Garden Inn - 3454 Forbes Ave.
Noodles & Company - 3805 Forbes Ave.
Oakland Bakery & Market - 3925 Fifth Ave.
Original Milano Pizza - 3606 Fifth Ave.
Pamela's Diner - 3703 Forbes Ave.
Peter's Pub - 116 Oakland Ave.
Primaniti Bros. - 3803 Forbes Ave.
Prince of India - 3614 Fifth Ave.
Red Oak Cafe - 3610 Forbes Ave.
Sciulli's Pizza - 3404 Fifth Ave.
Sincerely Yogurt - 3400 Fifth Ave.
Sorrento's Pizza Roma - 233 Atwood St.
Stack'd Burgers & Beers - 3716 Forbes Ave.
Sushi Fuku - 120 Oakland Ave.
Tenders - 121 Oakland Ave.
Top Shabu-Shabu & Lounge - 114 Atwood St.
For more information regarding Oakland Restaurant Week, including the $6 menu options, visit www.OnlyinOakland.org, or 'like' Only in Oakland on Facebook.
AED/CPR Training Offered
Environmental Health & Safety is offering three upcoming AED/CPR training sessions. They are scheduled as follows:
July 28 - 10 a.m. - noon, Rangos 1;
Aug. 29 - 10 a.m. - noon, Rangos 1; and
Sept. 28 - 10 a.m. - noon, Rangos 2.
Class space is limited, so register early.
Openings Available for CMU's FITT Camp
Openings are available for CMU's FITT Camp from noon to 4 p.m., July 25-29. FITT Camp, for boys and girls between the ages of 6 and 14, introduces campers to lifetime sports and skills. Campers participate daily in swimming and basketball. Other activities may include circuit training, tennis, racquetball, squash, badminton, hikes/trails, soccer, ping pong, foosball, shuffleboard and track and field events. Participants should bring a bathing suit, brown bag lunch and their own water bottle.
 
The cost of the program is $40 per day. Students may attend for one day, or as many days as they like. All fees must be prepaid at the equipment desk. Master Card, Visa and Discover are accepted. There will be no refunds or credits unless there is a medical excuse.
 
For more information about FITT camp, contact Pattye Stragar, Fitness Operations Manager in the CMU Athletic Department, at pls@andrew.cmu.edu or 412-268-1235.
CMU Leadership and Negotiation Academy for Women Offers Staff Discount
The Carnegie Mellon Leadership and Negotiation Academy for Women is offering a 33 percent discount for CMU staff. The academy was created specifically to address the distinct challenges faced by motivated, goal-oriented female leaders, helping women surpass both personal and organizational growth objectives. With a focus on practical implementation, the academy begins with a 360˚ assessment to help women assign benchmarks and identify areas of focus with their personal executive coach.
Several CMU staff link their success directly to the program.
"The Leadership and Negotiation Academy has made a tremendous impact on both my professional and personal life," said Kathryn Heidemann, assistant dean of Heinz College and College of Fine Arts initiatives. "I was able to apply negotiation strategies with a near-immediate 'return on my investment,' and also make lifelong friends that will likely be champions for my whole career and beyond."
The academy is now enrolling candidates for a September start. For more information, visit the academy's website or contact Leanne Meyer at leanneme@andrew.cmu.edu.