January 28, 2016
News Briefs
Employees Will Receive New Tax Form 1095-C
Later this month many employees will receive a new tax form called the Form 1095-C. The 1095-C contains information about your health care coverage (and your dependents' health care coverage, if applicable) that you will need when completing your tax filing for 2015.
Background
The Affordable Care Act (ACA) includes both the individual mandate and the employer mandate. The individual mandate requires that most taxpayers (and their dependents, if applicable) have qualifying health care coverage or potentially face a penalty. The employer mandate requires certain employers to offer health care coverage to their full-time employees or potentially face a penalty. This is the first year that the ACA requires employers to issue 1095-Cs to certain employees.
The 1095-C contains detailed information about the health care coverage provided by your employer. Much like the W-2 is used to determine whether or not you owe taxes, the IRS will use the information you report from your 1095-C to determine whether you will pay a penalty for failing to have health care coverage as required by the ACA. Think of the form as your "proof of insurance" for the IRS.
Who will receive a Form 1095-C?
Carnegie Mellon University will be issuing a 1095-C to any employee with U.S. taxable income who was enrolled in health care coverage, or considered a full-time employee (as defined by the ACA), at any time during 2015.
When will I get my Form 1095-C?
1095-Cs for the 2015 tax year will be mailed on or before February 1, 2016.
What if I have questions, or need to request a copy of my Form 1095-C?
If you have additional questions about the 1095-C, you may visit www.irs.gov or www.healthcare.gov to learn more.
If you have specific questions about the 1095-C issued to you by Carnegie Mellon, or if you need to request a copy, please contact the CMUWorks Service Center at 412-268-4600 or cmu-works@andrew.cmu.edu. Please note that copies will not be available until February 8, 2016.
Provost Forms Faculty Committee on Diversity and Inclusion
In an email to CMU faculty earlier this week, Provost Farnam Jahanian announced the formation of a Faculty Committee for Diversity and Inclusion that is charged with advising university leadership on how best to recruit and retain a diverse, world-class faculty. Members include:
Karen Clay, Heinz College – Co-Chair;
Diana Marculescu, College of Engineering – Co-Chair;
Kathryn Roeder, Provosts' Office – Co-Chair;
Eric Anderson, College of Fine Arts;
Linda Babcock, Dietrich College;
Erica Cochran, College of Fine Arts;
Cleotilde Gonzalez, Dietrich College;
John Kitchin, College of Engineering;
Jennifer Mankoff, School of Computer Science;
Curtis Meyer, Mellon College of Science;
Ellie Monaco, Software Engineering Institute; and
Michael Trick, Tepper School of Business.
"This committee will help us to maintain diversity as a foundational principle of CMU's faculty infrastructure. One of its most important goals is to develop and disseminate tools and techniques that better enable colleges to recruit stellar faculty from a variety of backgrounds. In addition, the committee is tasked to create initiatives that enhance the retention and development of a diverse faculty; this is a critical element that will ensure our collegiate culture is rooted in inclusion," Jahanian said.
Jahanian said the committee has made progress in a short time, benchmarking methodologies at peer institutions and following best practices already underway in CMU schools and colleges. He said the university will be rolling out a website to support a refined checklist for developing and sustaining a diverse and inclusive faculty. Jahanian also noted that deans have appointed diversity liaisons in each school and college to disseminate ideas throughout the university.
"The response has been overwhelmingly positive and the movement is now progressing throughout the university at the grassroots level," Jahanian said.
The provost will continue to report on progress related to this committee, as well as on broader efforts to promote diversity and inclusion at CMU.
Save Money Dining on Campus with DineXtra and GET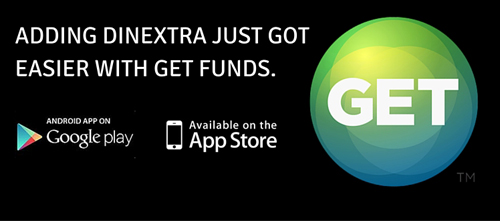 In November, Dining Services launched the GET application, which allows students, faculty and staff to easily add DineXtra funds to their dining account using a web-based platform or a mobile application. In addition to adding funds, users can view their DineXtra balance and spending history.
Before GET, there was no simple way for a faculty or staff member to add funds to a DineXtra account. Now all they have to do is download the GET app (or access it via the Web), create their account and add money via a credit card.
For faculty and staff who frequently eat on campus, DineXtra is a convenient and cost-saving way to enjoy dining on campus and at off-campus dining partners. Whether it's a daily cup of coffee, lunch a few times a week, or dinner if you're staying for an event or working late, DineXtra provides the convenience of only needing your Carnegie Mellon ID card to make a purchase and saving up to 10 percent at the register.
Purchasing DineXtra dollars gives you a bonus value of up to 10 percent of the amount added — 1 percent for $100, 2 percent for $200, and so on up to 10 percent for $1,000!
As a faculty or staff member, your DineXtra dollars never expire, until you end your employment at the university. Questions about GET? Contact dining@andrew.cmu.edu.
Team Develops Targeted Photosensitizer for Cell Manipulation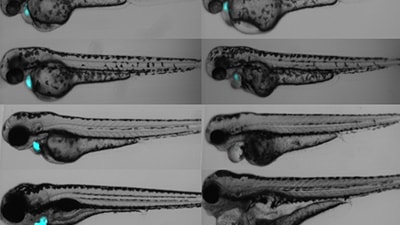 Researchers led by Carnegie Mellon's Molecular and Biosensor Imaging Center (MBIC) Director Marcel Bruchez have re-engineered a fluorescent probe into a powerful optogenetic photosensitizer that can be used to manipulate cells.
The technology could help researchers better understand the role certain cells and proteins play in everyday function and disease, and could possibly be used as a targeted therapy for cancer and other diseases. Their findings were published online by Nature Methods.
Optogenetics refers to a process in which light is used to control a biological function. Researchers do this by programming light-activated components into an organism's genetic code. When those components are exposed to light, they cause parts of the organism to function differently.
Bruchez and his team have spent the past decade developing fluorescent probes called fluorogen-activating proteins (FAPs) that are used to monitor protein activity in living cells in real-time. A FAP is genetically expressed in a cell and can be linked to the particular protein researchers wish to study. When a FAP comes in contact with a fluorescent dye called a fluorogen, the complex lights up allowing researchers to view and track the protein.
"We realized that we didn't have to limit our technology to being an imaging tool," said Bruchez, who is an associate professor in the departments of Biological Sciences and Chemistry. "With a few modifications, we could transform it into a tool for biological manipulation."
To create their optogenetic tag, the researchers engineered a dye that would not only glow but also produce singlet oxygen — a toxic form of oxygen — when it bound to a FAP and was exposed to light. This FAP-Targeted and Activated PhotoSensitizer approach (FAP-TAPS) not only allows researchers to visualize the protein they are targeting, but also can be used to selectively inactivate the protein.
In the above photo, the Zebrafish treated with FAP-TAPS (right) experience loss of cardiac function, compared to those not treated with the photosensitizer (left).
Find out more and watch the video.
In Galaxy Clustering, Mass May Not Be Only Thing That Matters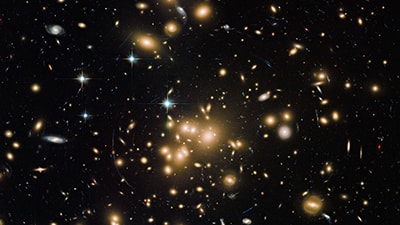 An international team of researchers, including Carnegie Mellon's Rachel Mandelbaum, has shown that the relationship between galaxy clusters and their surrounding dark matter halo is more complex than previously thought. The researchers' findings, published in Physical Review Letters, are the first to use observational data to show that, in addition to mass, a galaxy cluster's formation history plays a role in how it interacts with its environment.
There is a connection between galaxy clusters and their dark matter halos that holds a great deal of information about the universe's content of dark matter and accelerating expansion due to dark energy. Galaxy clusters are groupings of hundreds to thousands of galaxies bound together by gravity, and are the most massive structures found in the universe. These clusters are embedded in a halo of invisible dark matter.
Traditionally, cosmologists have predicted and interpreted clustering by calculating just the masses of the clusters and their halos. However, theoretical studies and cosmological simulations suggested that mass is not the only element at play — something called assembly bias, which takes into account when and how a galaxy cluster formed, also could impact clustering.
"Simulations have shown us that assembly bias should be part of our picture," said Mandelbaum, a member of Carnegie Mellon's McWilliams Center for Cosmology. "Confirming this observationally is an important piece of understanding galaxy and galaxy cluster formation and evolution."
ProSEED/BrainHub and Simon Initiative Proposals Due Feb.12
Proposals for the next round of ProSEED/BrainHub and ProSEED/Simon Initiative seed grants are due Feb. 12.
ProSEED/BrainHub funds (typically $50-$100k) are available to support new activities in brain science and behavior research, with particular emphasis on multidisciplinary work.
ProSEED/Simon Initiative seed grants (up to $15k and 40 hours of technical support) are available to enable CMU faculty to pursue learning research or educational practice projects aimed at improving student learning outcomes at CMU and beyond.
Find out more about ProSEED grants.  Questions may be directed to proseed@andrew.cmu.
Dietrich College Seeks Proposals Supporting TEL, Digital Humanities
The Dietrich College invites proposals for seed grants supporting Technology-Enhanced Learning and Digital Humanities. The program, funded by the A.W. Mellon Foundation, focuses on work in the humanities, and requires a Dietrich faculty member as principal investigator, but encourages collaboration across the university. An emphasis on learning science, measurable outcomes and collaboration makes this an interesting call for many faculty members.
The application process and timeline have been structured to integrate with the next round of ProSeed submissions. The deadline for proposals is Feb. 12.
Classes Offered in Defensive Driving
Defensive Driving training classes are being offered this semester by Environmental Health & Safety (EH&S). Classes will run from 8:30 to 10:30 a.m. in the EH&S conference room.
Use your Andrew ID and password to register online.
The class dates are February 9, March 8, April 12 and May 10.
Questions? Contact Workplace Safety Manager Rebecca Cicco at rcicco@andrew.cmu.edu.
Seeking Orientation Counselors
Orientation Counselor applications are available online and must be submitted by Feb. 20.
Counselors serve as academic and social mentors for first-year students and must be available for training in April and August. General roles and expectations are listed online.
An information session will be held from 6 – 6:45 p.m. today (Jan. 28) in the Cohon Center's Dowd Room. Interviews will be conducted Feb. 20 through March 1.
Questions? Contact Director of Orientation Anne Witchner at awOw@andrew.cmu.edu or 412-268-4886.
Grad Student Nomination Period Now Open
The Graduate Student Service and Teaching Award committees are now seeking nominations of graduate students who have excelled in teaching or service so their efforts can be recognized by the university community. Nominations are due Feb. 5.
The awards will be presented Thursday, April 7, during the Innovation with Impact: Celebration of Graduate Students event. The event is part of Graduate Student Appreciation Week, April 4-8. Award recipients will receive an engraved tray and monetary award and have their names added to the respective plaques in the Cohon University Center. The awardees also will be recognized at the Celebration of Education later that month.
Find out more about the Graduate Student Service Award.
Find out more about the Graduate Student Teaching Award.
Seeking Presenters for Daughters & Sons To Work Day
Staff Council's Take Our Daughters and Sons to Work Committee is looking for activity leaders/presenters and general volunteers to contribute their time and enthusiasm to the 2016 Take Our Daughters and Sons to Work Day event, which will be held on Thursday, April 28.
On this day, children of faculty and staff between the ages of 8 and 15 are invited to campus to learn about the many career and learning opportunities that exist at CMU. This year's theme is "Sparking Aha! Moments."
The committee is seeking individuals who would like to create and lead an activity or presentation for one or two sessions in the afternoon. Each session will run roughly 45 minutes. If you volunteer for both sessions, your total commitment will be from approximately 12:40 p.m. – 3:20 p.m., considering set-up and tear down.
Depending on the nature of your activity/presentation, you will have either a smaller group of children (15 maximum) or a larger group (30 maximum). While most presentations are held in the Cohon University Center, we encourage and welcome you to use a classroom, lab or room in your area.
If you are interested in leading an activity or presentation, contact Tom Wilk.