January 21, 2016
News Briefs
Students To Network at Sundance Film Festival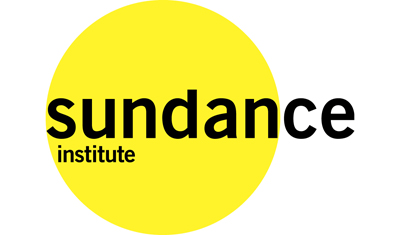 Master of Entertainment Industry Management students will once again make the trip from Los Angeles, where they're spending their second year in the program, to Park City, Utah, for the annual Sundance Film Festival.
"Attending the Sundance Film Festival gives MEIM students the chance to network with top industry professionals at one of the industry's most prestigious events," said John Tarnoff, MEIM head of Industry Relations.
"The biggest reason the general public goes to the Sundance Film Festival is to see, talk about and experience films," said Dan Green, MEIM program director. "But for those in the entertainment industry, the festival represents a buying and selling market.
"Our students attend a lot of events throughout the course of each day. You can start watching films at 7 a.m., and the last film screening is at midnight. So you have lots of opportunities to see films, attend networking parties, learn from workshops, and mingle with the movers and shakers within the industry."
The MEIM program facilitates many of these opportunities for the students by being an official Sundance Institute sponsor. The program also organizes various workshops and seminars where industry professionals meet with the students face-to-face to share their experiences and field questions.
Alumni Startups Honored at HITLAB World Cup
Two alumni startups, Rubitection and RistCall, earned second place and honorable mention honors, respectively, at the HITLAB World Cup, an annual health care competition in New York City.
Rubitection, founded by biomedical engineering alumna Sanna Gaspard, has developed a handheld device for early bedsore detection. Bedsores can lead to infection, sepsis, amputations and even death. Nearly 2.5 million people are infected by bedsores each year, and out of those, a staggering 60,000 will die.

"Rubitection measures color changes in the skin that indicate bedsore development, detecting them at the earliest stages to support their prevention and management," Gaspard explained.
RistCall, a patient-nurse communication system that patients wear on their wrist, was founded by electrical and computer engineering graduate Srinath Vaddepally after a personal experience in which he fell while being hospitalized and was unable to receive help for 20 minutes. Vaddepally realized that the current wall-based button method of patient-nurse communication is outdated, inconvenient, and — as evidenced — potentially dangerous.
"It occurred to me that if a healthy 20-year-old college student can fall, imagine what can happen to older patients who are fragile and sick," said Vaddepally, who was an undergraduate at the time of the incident. "After being discharged, I researched the number of falls in health care, and the stats were alarming. A majority of falls in hospitals happens inside the patient's room where wall-based call buttons present an imminent danger. The engineer in me couldn't stop thinking about a safer, wearable solution; one for patients and another for nursing staff."
PSC a Partner in Cybersecurity Center for NSF Research
The security of more than $7 billion in research funded by the National Science Foundation (NSF) will be significantly bolstered, thanks to a $5 million grant awarded to the Pittsburgh Supercomputing Center (PSC), Indiana University, the National Center for Supercomputing Applications (NCSA) and the University of Wisconsin-Madison to create the NSF Cybersecurity Center of Excellence.
This funding will re-establish the Center for Trustworthy Scientific Cyberinfrastructure (CTSC), a three-year-old collaboration between the aforementioned institutions, as the NSF Cybersecurity Center of Excellence, an entity focused on addressing cybersecurity challenges of NSF scientific research.
Ensuring scientific computing remains trustworthy and uncorrupted is essential in protecting the nation's science. In its role as a Cybersecurity Center of Excellence, the CTSC will provide readily available cybersecurity services tailored to the NSF science community. These resources will include leadership and coordination across organizations, and education and training to expand the pool of available cybersecurity expertise.
"Trojan Cockroach" Celebrated in Posner Exhibit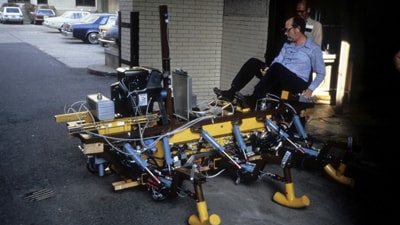 A six-legged walking robot built at Carnegie Mellon in the early 1980s under the leadership of noted alumnus Ivan Sutherland is the subject of an exhibit at the university's Posner Center.
The exhibit, "Ivan Sutherland's Trojan Cockroach," was developed by Daniel Pillis, a master's degree student in the College of Fine Arts, and tells the story not only of walking robots, but also computer graphics and the origins of the technology underlying modern advances in robotics.
Sutherland, who earned a bachelor's degree in science at Carnegie Tech in 1959, is best known for his contributions to computer graphics, for which he was awarded the Association for Computing Machinery's prestigious A.M. Turing Award in 1988.
In the early '80s, Sutherland returned to CMU to build his walking machine. Considered the first computer-controlled walking robot capable of carrying a human, the Sutherland Walker was about eight feet long; a gasoline engine drove the hydraulics controlling its six legs. As it walked, it maintained its balance by always keeping three feet on the ground.
The "Trojan Cockroach," along with Marc Raibert's pioneering work in Carnegie Mellon's Leg Lab, was featured in the January 1983 issue of Scientific American.
In the above photo from the early 1980s, Ivan Sutherland pilots the six-limbed Trojan Cockroach he created at the Robotics Institute.
ProSEED/BrainHub and Simon Initiative Proposals Due Feb.12
Proposals for the next round of ProSEED/BrainHub and ProSEED/Simon Initiative seed grants are due Feb. 12.
ProSEED/BrainHub funds (typically $50-$100k) are available to support new activities in brain science and behavior research, with particular emphasis on multidisciplinary work.
ProSEED/Simon Initiative seed grants (up to $15k and 40 hours of technical support) are available to enable CMU faculty to pursue learning research or educational practice projects aimed at improving student learning outcomes at CMU and beyond.
Find out more about ProSEED grants.  Questions may be directed to proseed@andrew.cmu.
Dietrich College Seeks Proposals Supporting TEL, Digital Humanities
The Dietrich College invites proposals for seed grants supporting Technology-Enhanced Learning and Digital Humanities. The program, funded by the A.W. Mellon Foundation, focuses on work in the humanities, and requires a Dietrich faculty member as principal investigator, but encourages collaboration across the university. An emphasis on learning science, measurable outcomes and collaboration makes this an interesting call for many faculty members.
The application process and timeline have been structured to integrate with the next round of ProSeed submissions. The deadline for proposals is Feb. 12.
Classes Offered in Defensive Driving
Defensive Driving training classes are being offered this semester by Environmental Health & Safety (EH&S). Classes will run from 8:30 to 10:30 a.m. in the EH&S conference room.
Use your Andrew ID and password to register online.
The class dates are February 9, March 8, April 12 and May 10.
Questions? Contact Workplace Safety Manager Rebecca Cicco at rcicco@andrew.cmu.edu.
Seeking Orientation Counselors
Orientation Counselor applications are available online and must be submitted by Feb. 20.
Counselors serve as academic and social mentors for first-year students and must be available for training in April and August. General roles and expectations are listed online.
Information sessions will be held from 6 – 6:45 p.m., Jan. 21, Jan. 27 and Jan. 28 in the Cohon Center's Dowd Room. Interviews will be conducted Feb. 20 through March 1.
Questions? Contact Director of Orientation Anne Witchner at awOw@andrew.cmu.edu or 412-268-4886.
Grad Student Nomination Period Now Open
The Graduate Student Service and Teaching Award committees are now seeking nominations of graduate students who have excelled in teaching or service so their efforts can be recognized by the university community. Nominations are due Feb. 5.
The awards will be presented Thursday, April 7, during the Innovation with Impact: Celebration of Graduate Students event. The event is part of Graduate Student Appreciation Week, April 4-8. Award recipients will receive an engraved tray and monetary award and have their names added to the respective plaques in the Cohon University Center. The awardees also will be recognized at the Celebration of Education later that month.
Find out more about the Graduate Student Service Award.
Find out more about the Graduate Student Teaching Award.
Seeking Presenters for Daughters & Sons To Work Day
Staff Council's Take Our Daughters and Sons to Work Committee is looking for activity leaders/presenters and general volunteers to contribute their time and enthusiasm to the 2016 Take Our Daughters and Sons to Work Day event, which will be held on Thursday, April 28.
On this day, children of faculty and staff between the ages of 8 and 15 are invited to campus to learn about the many career and learning opportunities that exist at CMU. This year's theme is "Sparking Aha! Moments."
The committee is seeking individuals who would like to create and lead an activity or presentation for one or two sessions in the afternoon. Each session will run roughly 45 minutes. If you volunteer for both sessions, your total commitment will be from approximately 12:40 p.m. – 3:20 p.m., considering set-up and tear down.
Depending on the nature of your activity/presentation, you will have either a smaller group of children (15 maximum) or a larger group (30 maximum). While most presentations are held in the Cohon University Center, we encourage and welcome you to use a classroom, lab or room in your area.
If you are interested in leading an activity or presentation, contact Tom Wilk. 
You can also complete the Presenter Registration form. 
Last Call for Ph.D.s: Seeking Participants for Three Minute Thesis Competition

Three Minute Thesis (3MT®) challenges Ph.D. students to present a compelling oration on their thesis and its significance in just three minutes, in language appropriate for a general audience. 3MT is not an exercise in trivializing or "dumbing-down" research, but requires students to consolidate their ideas and crystallize their research discoveries.


Any currently enrolled CMU Ph.D. candidate may sign up to compete. Register online. The registration deadline is Jan. 24.


Qualifying rounds will be held February through March and the championship round will be held in April. Heat winners will receive iPads or the equivalent value as a research/travel grant. Championship winners will receive $3,000, $2,000 and $1,000 research/travel grants.
Learn more about Three Minute Thesis at CMU.
Discounts to the PSO
The Pittsburgh Symphony Orchestra is offering discounts to CMU students, faculty and staff for their upcoming shows at Heinz Hall.
At 2;30 p.m., Sunday, Jan. 24, the Pittsburgh Symphony performs all new arrangements of the Pokémon: Symphonic Evolutions Concert, with carefully timed visuals from recent and classic Pokémon video games, conducted by Susie Benchasil Seiter. Doors open at 1 p.m.; come early to pick up Pokémon merchandise and play in the Grand Lobby! Students, staff and faculty can purchase tickets to Pokémon: Symphonic Evolutions at a 10 percent discount.
Wednesday, Jan. 27 marks the third concert in the FUSE@PSO series. This time Creative Director Steve Hackman turns his attention to Aaron Copland's Appalachian Spring and the music of Bon Iver. Together, the two form a beautiful and contemplative evening of music, featuring guest vocalists and the Pittsburgh Symphony. FUSE@PSO begins at 5 p.m., with the concert starting at 6:30 p.m. This concert also includes special guest, local Pittsburgh band Beauty Slap, performing special arrangements of several of their songs with the orchestra. Students, staff and faculty can purchase general admission tickets in advance for $24.25.