January 14, 2016
News Briefs
Fitness Challenge Kicks Off Today

CMU will kick off its Spring Semester Fitness Challenge today (Jan. 14) with a lunchtime walk at noon in the Cohon Center's Wiegand Gymnasium. Here's the challenge: exercise for 20 minutes, four times per week.
"We want everyone to be physically ready when we open the new Cohon Center addition this May," said Pattye Stragar, operations manager for Fitness and Aquatics. "Yes, the addition is not so far away. So, start training like a Jedi," she said.
Personal training interns from the University of Pittsburgh will be on hand at noon to register those interested in free personal training sessions.
The 62,000 square-foot expansion of the Cohon Center will include new fitness and recreation facilities, such as a weight room, a large area with more than 70 cardiovascular machines, two exercise studios for group classes and a dedicated cycling, or spinning, classroom. Additional locker rooms also are being installed as part of the project.
Questions? Contact Stragar at pls@andrew.cmu.edu.
Pictured above is the Cohon Center addition embedded in a land not so far away, a la Star Wars.
ProSEED/BrainHub and Simon Initiative Proposals Due Feb.12
Proposals for the next round of ProSEED/BrainHub and ProSEED/Simon Initiative seed grants are due Feb. 12.
ProSEED/BrainHub funds (typically $50-$100k) are available to support new activities in brain science and behavior research, with particular emphasis on multidisciplinary work.
ProSEED/Simon Initiative seed grants (up to $15k and 40 hours of technical support) are available to enable CMU faculty to pursue learning research or educational practice projects aimed at improving student learning outcomes at CMU and beyond.
Find out more about ProSEED grants.  Questions may be directed to proseed@andrew.cmu.
ProSEED/Simon Initiative Proposal Workshop Set for Jan. 19-20
Considering applying for a ProSEED/Simon Initiative Faculty Seed Grant because you want to design and test innovative educational practices at CMU? Then this workshop is for you.
In "Measuring the impact of your educational intervention," participants will discuss award criteria and collaboratively critique a sample proposal based on a sample rubric. This activity will prompt discussion on the pros and cons of various data sources and study designs that could apply to your teaching context and proposal ideas. Pointers to additional resources and support will be provided.
The workshop will be held from 10:30 - 11:30 a.m., Jan. 19 and Jan. 20 in Cyert hall A-70. Register online.
Find out more about the ProSEED grant program. 
Dietrich College Seeks Proposals Supporting TEL, Digital Humanities
The Dietrich College invites proposals for seed grants supporting Technology-Enhanced Learning and Digital Humanities. The program, funded by the A.W. Mellon Foundation, focuses on work in the humanities, and requires a Dietrich faculty member as principal investigator, but encourages collaboration across the university. An emphasis on learning science, measurable outcomes and collaboration makes this an interesting call for many faculty members.
The application process and timeline have been structured to integrate with the next round of ProSeed submissions. The deadline for proposals is Feb. 12.
New Alumni Exhibit Opens at the Miller Gallery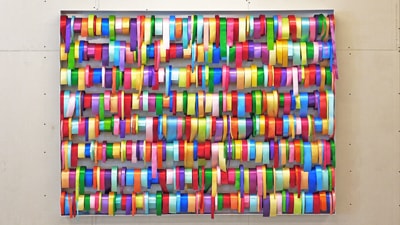 Carnegie Mellon's Miller Gallery presents "MAXIMUM MINIMUM IN UNUM," Saturday, Jan. 23, through Sunday, Feb. 28. A special reception celebrating the featured works is scheduled for 6 - 8 p.m., Friday, Jan. 23. The exhibit and reception are open to the public. The reception will feature a performance by the Institute for New Feeling.
The exhibition was curated by Visiting Professor of Art Joshua Reiman and the Andrew W. Mellon Professor of Art Susanne Slavick. All of the participating artists earned either their bachelor's or master's degree from CMU's School of Art between 1970 and 2013. Their work eludes maximalist or minimalist classification, according to the curators' program notes. Rather, the artists "probe or collapse extremes, whether ideological or aesthetic."
The exhibition includes works on paper, paintings, sculptures, videos, installation and performance art. Slavick said gallery visitors "will experience static and time-based works across media, including an absurdist video narrative, a kaleidoscopic animation of world currencies, a gilded surrealist frame, nostalgic machines and kinetic installations, black glass blown into a hollow tree trunk, paper pulp cast directly onto a city alley, an urban landscape, photographs of a house consumed by fire and a woman consumed by shopping, a skirted ladder, tumbling blocks, stacks of take away newspapers and a performance involving skin cream … and much, much more (or less)."
Pictured above: Peter Coffin, Untitled (Ribbons), 2012
Hungry? Oakland Restaurant Week is Back
Visit your favorite Oakland restaurants and enjoy special lunch options and prices during Oakland Restaurant Week, Jan. 18-23.
Twenty-two eateries have teamed up to provide $6 lunches for six days. Patrons also can enter to win free lunch for one month along with other great prizes from participating Oakland retailers.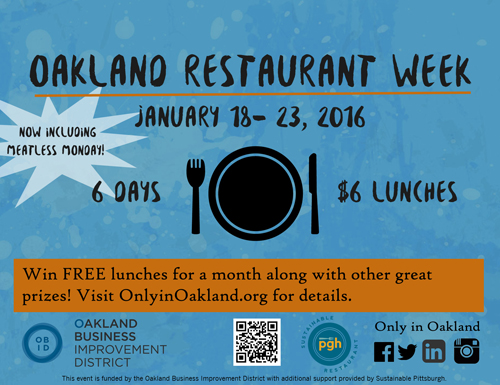 Oakland Restaurant Week features the following restaurants:
Fuel & Fuddle;
Fuku Tea;
Golden Palace Buffet;             
Hello Bistro;
IGA Market;                           
Love Yogurt;
McDonald's;                           
Noodles & Co.;
Oakland Bakery & Market;       
Original Milano Pizza;
Pamela's Diner;                      
Peter's Pub;
Popeyes Chicken;                   
Primanti Bros.;
Prince of India;                       
Red Oak Café;
Sciulli's Pizza;                        
Sincerely Yogurt;
Sorrento's Pizza Roma;        
Sushi Fuku;
Tenders;                                
Top Shabu-Shabu & Lounge
The event is funded by the Oakland Business Improvement District with additional support from Sustainable Pittsburgh.
Find out more at http://www.OnlyinOakland.org.
CMU-R First To Benefit From SMART Africa Fund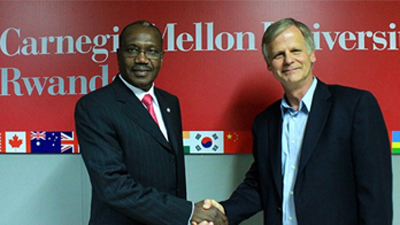 The SMART Africa Scholarship Fund to support African students pursuing information and communication technology (ICT) degrees throughout Africa awarded its first scholarships to seven students pursuing their master's degrees at Carnegie Mellon University in Rwanda (CMU-R).
The fund was adopted as a flagship initiative of the SMART Africa Alliance in 2013 to address the critical need to build skills in the ICT sector to realize sustainable economic development in Africa.
The CMU-R students from Uganda, Kenya and Tanzania will be able to complete their master's degree programs in information technology and electrical and computer engineering with support from the SMART Africa Scholarship Fund. 
Established in 2011 in partnership with the Government of Rwanda, Carnegie Mellon's program in Kigali is part of a Regional Center of Excellence in ICT. Carnegie Mellon's strategic vision is to boost the ICT skills capacity in Sub-Saharan Africa by nurturing highly qualified engineers and preparing Africa's next generation of technology leaders and innovators.
Pictured at right are Hamadoun Toure (left), executive director of the SMART Africa Secretariat, and Professor Bruce Krogh, director of CMU-R.
Grad Student Nomination Period Now Open
The Graduate Student Service and Teaching Award committees are now seeking nominations of graduate students who have excelled in teaching or service so their efforts can be recognized by the university community. Nominations are due Feb. 5.
The awards will be presented Thursday, April 7, during the Innovation with Impact: Celebration of Graduate Students event. The event is part of Graduate Student Appreciation Week, April 4-8. Award recipients will receive an engraved tray and monetary award and have their names added to the respective plaques in the Cohon University Center. The awardees also will be recognized at the Celebration of Education later that month.
Find out more about the Graduate Student Service Award.
Find out more about the Graduate Student Teaching Award.
Seeking Presenters for Daughters & Sons To Work Day
Staff Council's Take Our Daughters and Sons to Work Committee is looking for activity leaders/presenters and general volunteers to contribute their time and enthusiasm to the 2016 Take Our Daughters and Sons to Work Day event, which will be held on Thursday, April 28.
On this day, children of faculty and staff between the ages of 8 and 15 are invited to campus to learn about the many career and learning opportunities that exist at CMU. This year's theme is "Sparking Aha! Moments."
The committee is seeking individuals who would like to create and lead an activity or presentation for one or two sessions in the afternoon. Each session will run roughly 45 minutes. If you volunteer for both sessions, your total commitment will be from approximately 12:40 p.m. – 3:20 p.m., considering set-up and tear down.
Depending on the nature of your activity/presentation, you will have either a smaller group of children (15 maximum) or a larger group (30 maximum). While most presentations are held in the Cohon University Center, we encourage and welcome you to use a classroom, lab or room in your area.
If you are interested in leading an activity or presentation, contact Tom Wilk. 
You can also complete the Presenter Registration form. 
Attention Ph.D.s: Seeking Participants for Three Minute Thesis Competition

Three Minute Thesis (3MT®) challenges Ph.D. students to present a compelling oration on their thesis and its significance in just three minutes, in language appropriate for a general audience. 3MT is not an exercise in trivializing or "dumbing-down" research, but requires students to consolidate their ideas and crystallize their research discoveries.


Any currently enrolled CMU Ph.D. candidate may sign up to compete. Register online. The registration deadline is Jan. 24.


Qualifying rounds will be held February through March and the championship round will be held in April. Heat winners will receive iPads or the equivalent value as a research/travel grant. Championship winners will receive $3,000, $2,000 and $1,000 research/travel grants.
Learn more about Three Minute Thesis at CMU.
Discounts to the PSO
The Pittsburgh Symphony Orchestra is offering discounts to CMU students, faculty and staff for their upcoming shows at Heinz Hall.
At 2;30 p.m., Sunday, Jan. 24, the Pittsburgh Symphony performs all new arrangements of the Pokémon: Symphonic Evolutions Concert, with carefully timed visuals from recent and classic Pokémon video games, conducted by Susie Benchasil Seiter. Doors open at 1 p.m.; come early to pick up Pokémon merchandise and play in the Grand Lobby! Students, staff and faculty can purchase tickets to Pokémon: Symphonic Evolutions at a 10 percent discount.
Wednesday, Jan. 27 marks the third concert in the FUSE@PSO series. This time Creative Director Steve Hackman turns his attention to Aaron Copland's Appalachian Spring and the music of Bon Iver. Together, the two form a beautiful and contemplative evening of music, featuring guest vocalists and the Pittsburgh Symphony. FUSE@PSO begins at 5 p.m., with the concert starting at 6:30 p.m. This concert also includes special guest, local Pittsburgh band Beauty Slap, performing special arrangements of several of their songs with the orchestra. Students, staff and faculty can purchase general admission tickets in advance for $24.25.