January 25, 2016
Winning in Life
CMU Celebrates Its Student-Athletes
By Andrea James / awesp@andrew.cmu.edu, Heidi Opdyke
 / opdyke@andrew.cmu.edu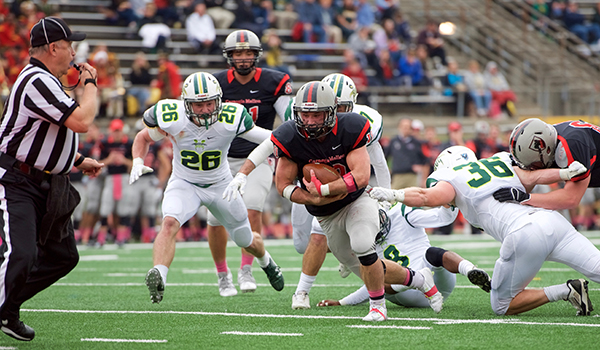 Academic All-American Sam Benger scored a school record 22 touchdowns last season.
Student-athletes at Carnegie Mellon set the bar high for themselves in sports and the game of life.
Their performance in the classroom has been a significant point of pride for the community. During the fall, 74 student-athletes finished the semester with 4.0 GPAs. Sixty-eight were perfect in the classroom during the spring 2015 semester.
CMU President Subra Suresh praised student-athletes for their work in the classroom while recognizing that participation in athletics can be a transformative experience for students.
During the second annual Student-Athlete Academic Achievement Celebration, he thanked the students for the way they represent the university. Of the students who attended, nine students have unblemished academic records with perfect 4.0s.
"It's not just about playing a game or a sport. It's not just about winning. It's about lifelong lessons that you pick up and will serve you very well," President Suresh said. "It's about winning in life that comes out of such an experience."
Director of Athletics Josh Centor said CMU's student-athletes represent the best of intercollegiate athletics.
"Participation in intercollegiate athletics must complement the learning that takes place in the classroom and you all live that philosophy each and every day," he told the assembled student-athletes at the celebration.
Amanda Broderick (S 2016), a member of the women's soccer team, said the support of faculty and coaches has helped her succeed. The team finished the season with a 17-2-1 mark and was ranked as high as No. 3 in NCAA Division III.
"Whenever we have review sessions or meetings with professors during practice, our coaches allow us to leave early. Likewise, professors are flexible in rescheduling tests while we are away at games or allow us to take tests on the road while proctored by coaches," she said. "Many professors also come watch our games, which is really cool to see."
A senior in the Mellon College of Science, Broderick said some of her favorite CMU memories involve her teammates. During her first year at 
CMU, the team went to New York City for a game and had a bonus of getting to see "Wicked" on Broadway. Her sophomore year, the team traveled to Germany, Belgium, France and Holland to play semi-professional teams during spring break.
"My favorite overall moment was when we learned this year that we would be hosting the NCAA tournament and playing the same first-round team [Cabrini College] as we did my freshman year," said Broderick, who plans to attend medical school. "It was a really good way to come full circle."
A member of the University Athletic Association, CMU has 18 intercollegiate teams. Like all Division III schools, athletic scholarships are prohibited, so students compete for the joy of the game. The students study in a wide variety of undergraduate programs that represent the entire university.
Christopher Herrera (E 2016) was a wide receiver on the football team who recorded eight receptions for 137 yards and four touchdowns. The senior civil and environmental engineering major said the balance between academics and the Athletics Department is a driving force for the students and 
the program.
"I chose to participate in Carnegie Mellon football because I love to play football," Herrera said. "I have had to overcome a lot of obstacles and different hardships that have made me the player and person I am today. Many intangible characteristics, such as hard work, dedication and working in a team have helped me grow as a student and will help me in my future career in medicine."
The football team ended the year 8-3, with a seven-game winning streak capped by a victory in the ECAC Legacy Bowl over Bridgewater State. Herrera returned a kickoff 88 yards for a touchdown in the first quarter of the game to put the Tartans up 14-7 and 
set them on their way to a resounding 48-13 win.