January 25, 2016
Trading Places
Faculty Exchange Opens New Chapter in Creative Writing Program
By Amanda King / alking@andrew.cmu.edu 
Jim Daniels is teaching a nonfiction writing course called "Life Writing" and another course in which he works closely with creative writing students as they complete their senior projects.
But, you won't find Daniels at CMU. Instead, he'll be teaching them at Sheffield Hallam University (SHU) in the United Kingdom as part of the English Department's first faculty exchange with SHU.
The exchange complements the creative writing program's undergraduate student exchange with SHU, which is now in its sixth year.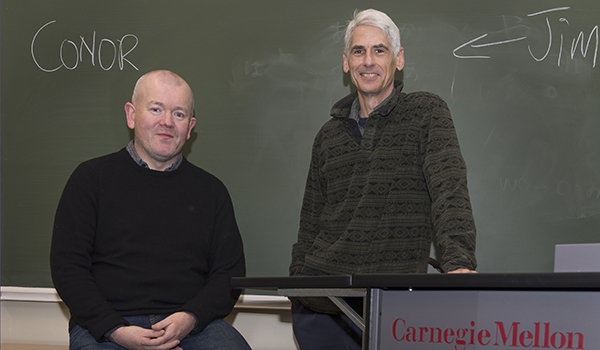 Sheffield Hallam University's Conor O'Callaghan (left) and
CMU's Jim Daniels are trading places this semester in the
English Department's first faculty exchange with SHU.

"All of our students who have participated in the exchange have come back energized and enthusiastic about their experiences at Sheffield Hallam, and I am very excited about having the opportunity to spend a semester there myself," said Daniels, the Thomas Stockham Baker University Professor of English.
Taking Daniels' place at CMU is Conor O'Callaghan, an Irish poet and senior lecturer at SHU who is teaching "Reading in Forms: Fiction" and the "Beginning Poetry Workshop."
"Conor is a fine writer and teacher, and we are lucky to have him participating in this exchange," Daniels said.
Both cities and creative writing programs share similar characteristics — the City of Pittsburgh established 
a "sister city" partnership with 
Sheffield and are both "steel cities." CMU and SHU have established creative writing programs, which O'Callaghan said is what makes the schools the perfect match for a student and faculty exchange.
O'Callaghan said he's looking forward to exploring Pittsburgh — making sure to attend a Pirates game or two — and meeting his new colleagues and students.
"For me and Jim, it will be fun to have the chance to be elsewhere and maybe get some writing done in a new environment," said O'Callaghan, who has been teaching at SHU since 2007.
Daniels said he hopes the faculty exchange will strengthen the student exchange program by bringing more awareness to it on both campuses. Daniels will be talking to SHU students, faculty and administrators about Carnegie Mellon, the creative writing program and Pittsburgh, while O'Callaghan does the same at CMU.
The exchange also will be useful for both professors when they return to their home institutions to advise students. They will be able to give first-hand accounts of what the classes, universities and towns are like.
O'Callaghan has authored four collections of poetry. The most recent are "The Sun King," which was shortlisted for the "Irish Times" Poetry Now Prize, and "Fiction," a Poetry Book Society Recommendation. His work also has appeared in the Harvard University Press' "An Anthology of Modern Irish Poetry" and "Poetry" magazine.
Along with poetry, O'Callaghan's comedic memoir, "Red Mist: Roy 
Keane and the Football Civil War," was published in 2004. The book, which recalls the public furor surrounding Ireland's 2002 soccer World Cup team, was adapted into a one-hour film for UKTV.
"I am pumped to be in Professor O'Callaghan's classes this semester," said Sarah Hodgson, a junior double majoring in creative writing and professional writing. "I didn't get the chance to take classes with him when I studied at Sheffield Hallam last year, but I had the opportunity to read some of his wonderful work in my poetry class. When I heard he was coming to CMU this year, I wanted to take advantage of both opportunities to learn from him — and the classes just sound so fun!"
Daniels work often crosses genres as well. He has authored 15 poetry books and five collections of short 
fiction. His most recent are "Apology to the Moon" and "Birth Marks," which was named to the 2014 Michigan Notable Books List and won the 2014 Independent Publisher Book (IPPY) Awards' Poetry Gold Medal and the  Binghamton University Milt Kessler Poetry Book Award.
He has written four films, including "The End of Blessings," which was recently selected for the 35th annual Black Maria Film Festival for 2016, an international touring festival of short films sponsored by the Thomas A. Edison Media Arts Consortium.
His 2010 film, "Mr. Pleasant," appeared in more than a dozen film festivals across the country.