October 17, 2016
"The Full Montyˮ
Patrick Wilson Returns To Make 
Directing Debut
By Erin Keane Scott / ekscott@andrew.cmu.edu

Patrick Wilson is back at CMU, again. But this time it's different.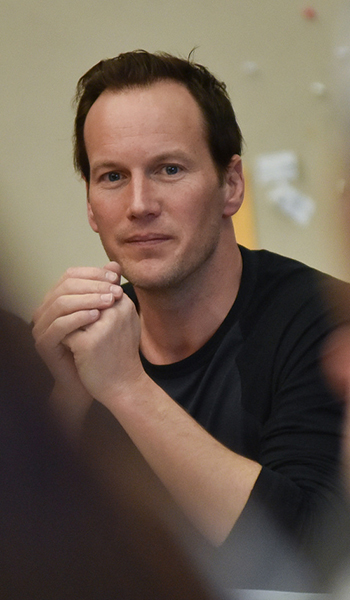 Patrick Wilson at a recent script reading
of "The Full Monty."
He's not giving a commencement address and receiving an honorary 
doctorate in fine arts. And he's not here to talk to students about making a career 
in acting.
This time the 1995 Drama School graduate is here to direct "The Full Monty" as a director-in-residence in the John Wells Directing Program.
"The Full Monty," by Terrence McNally with music and lyrics by David Yazbek, is a production Wilson knows well. He earned a Tony Award nomination for best leading actor for his performance as Jerry.
This return to "The Full Monty" marks Wilson's directorial debut and what better place to make this entrée than the training grounds he used for his career as an actor. Most recently, Wilson was nominated for a Golden Globe Award for his role as Lou Solverson on the second season of FX's hit series "Fargo."
"Conservatory training is not for everybody," Wilson said. "The School of Drama treats the arts as a career and not a hobby and allows you to enter the business with more tools in your belt."
He attributes this "tool belt" — a handy metaphor when relating back to the blue-collar steel workers featured in "The Full Monty" — to his longevity in the business. Now in his 40s, Wilson has been working steadily in film and on stage since graduating from CMU.
"I've been talking with [professors] Gary Kline and Don Wadsworth about finding or making time to direct for years," Wilson said. "Gary suggested this was the perfect fit because I know the show and we had the right class for it."
Wilson is interested in bringing a completely fresh take to the show and has been collaborating with a production team that comprises School of Drama design and management students for the better part of a year. They are working together to create a world familiar to many Pittsburghers — a '90s Rustbelt city (in this case Buffalo, N.Y.) befallen by layoffs. The men of the story take their cue from the famed male dancers called the Chippendales to create a revue that both pleases their wives and bolsters their own self-esteem.
Wilson knew the timing was right for this new challenge and chose to carve out the time for the project.
"It worked perfectly, and I was just hoping nothing great came along, and nothing that outweighed this experience did," Wilson said. "I've reached a point in my career where I want to do what makes me happy and push myself artistically."
"The Full Monty" will run from 
Feb. 18-27 at the Philip Chosky Theater in the Purnell Center for the Arts. For more information and to buy tickets, visit drama.cmu.edu/50/box-office.
Take a look behind the curtain at what goes into producing a show in the School of Drama in "1 Day in the Life: The Full Monty."