January 25, 2016
17th Annual MLK Jr. 
Writing Awards
Students' Poetry, Prose Express Personal Experiences with Racism, Discrimination
By Emily Stimmel / estimmel@andrew.cmu.edu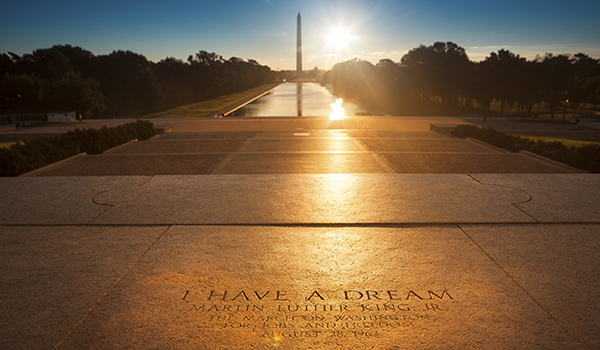 Seventeen Pittsburgh-area high school and college students were recognized for their poetry and prose at Carnegie Mellon's 2016 Martin Luther King, Jr. Writing Awards Ceremony on Jan. 18.
The writing awards program — now in its 17th year — is a highlight of CMU's Martin Luther King, Jr. Day celebration. In addition to readings, guests enjoyed a performance by the School of Drama's Gospel Ensemble and a light dinner. Throughout January and February, CMU will celebrate King's legacy with special programming.
Associate Professor of English Rich Purcell has judged entries for three years, but this was his first year directing the MLK Writing Awards.
"Every year I am struck by the maturity and insight these high school and college students express. Each student is all too aware of the way they are either targets of or witnesses to the way racism and other forms of discrimination shape our social world," Purcell said.
"The MLK Writing Awards remind me that art is one way for young adults to process and understand this sad but all too real element of our social world."
Founded in 1999 by Jim Daniels, the Thomas Stockham Baker University Professor of English, the program established a safe haven where students can create an honest and open dialogue about their experiences through poetry and prose. (View photo gallery.)
"Their essays give me hope because it seems like many of them are not alone in dealing with it. They have peers, family and teachers who help them deal with their personal experiences with discrimination, organize their words on the page or organize politically and collectively to try and do something about racism and discrimination," Purcell added.
At the high school level, students from Pittsburgh CAPA 6-12 took first, second and third in the poetry category. Watch video of the ceremony below.


"Our students are interested in poetry and what poetry can do. They care about social justice and human rights issues, and how these connect to their own lives," said Christa Romanosky (DC 2006), a poetry instructor at CAPA. "They have worked hard to craft poems that speak about the truths of identity, race and ethnicity; poems that have something to say and poems that want to be heard."
Romanosky, who holds bachelor's degrees in psychology and creative writing from CMU, first became familiar with the writing awards as an undergraduate student. "This is always an inspiring event," she said.
Following are four entries from students at CMU.
First Place, College Prose

Acceptance
Kelly Kim, Freshman
Recalling my past experiences and viewing them in retrospect, I realized that my entire life as an Asian living in non-Asian countries was about proving myself to other people: when my peers didn't think I would be good at English, I vowed to prove them wrong by participating constantly in class discussions, writing for the school newspaper and magazine, and taking the AP English tests. When they told me that the reason why many Asians don't join sports is because they spend all their time in the library studying, I signed myself up for both rowing and squash.
But, what were my efforts for? As the Editor-in-Chief for the school newspaper and the school magazine, a fourth-year member of varsity crew and equipped with 5's on both of the AP English tests, I still didn't feel like I conquered English or was "good enough" for my white peers. Even after I received both the school's Journalism and Literary awards in front of the whole school, I was disappointed to find out that many classmates and teachers assumed I was going to major in STEM.
While I was proving my American-ness, I was struggling to prove my Asian-ness. I spent many weekends in my dorm room, hovering over SAT books because the Korean ajummas ("aunts") told me "Asians need higher test scores than most college applicants." I nibbled raw carrots and ate tofu when I really wanted to be popping French fries into my mouth and biting burgers, because the Asian culture lionized skinny 90-pound girls who had thigh gaps and 24-inch waists. I wasn't sleeping because I was studying until 4 or 5 a.m. to receive all As, only to beat my tired self down when I didn't.
I realized how lonely living a life like this was. Feeling like an outsider to both American and Asian cultures, living a life that didn't feel like my own, pretending to be a multitalented, organized girl who was perfect by both American and Asian standards, when really inside I was breaking down. I began to conceal my true self from others in an effort to shield myself from vulnerability and imperfection.
Second Place, College Prose
What's in a Name? 
Quite a Lot
Hyunho Yoon, Sophomore
I've had new friends, with the best of intentions, go out of their way to tell me how much they enjoy eating rice, as if some solidarity could be formed on the basis of those sticky grains. Of course, I would appreciate it more if they treated me like their other friends who go nuts for bacon cheeseburgers and Chipotle, but the fact is I do like rice as much as I like burgers (a lot), and I hardly think the Asian-Americans who worked on the railroads and sugarcane fields a century past would have been offended if a white person went up to them and tried to be friendly, albeit relying on a racial crutch for lack of situational familiarity. So I seldom get annoyed when it happens.
I've had others politely ask, "Are you from Pittsburgh?" in lieu of "What country are you from?" But based on the type of people who mostly ask the former question, I can tell it is the latter that they are curious of. Of course, more times than not, if you ask a Carnegie Mellon student with a foreign sounding name, he or she will not be from the United States; nor am I, so I can't say that they're unjustified. And besides, I work with elderly patients at the local hospital—some of whom affectionately remember the "oriental gentleman" they had a nice conversation with — so I learned not to get offended even by the more direct variation of the question.
Then there are the several enthusiastic bus drivers who yell out "Nihao!" when a large group of my Korean friends get on. I don't know what they expect to do if we really spoke the language and replied something back to them in Mandarin, but I know they're being nice. I resist the urge to jokingly reply "Guten tag" when they're Caucasian, or "Hola" if they're darker skinned. I just smile and nod my head in a respectful half-bow, as I would to a bus driver in Seoul.
First Place, College Poetry
Sushi at Yunioshi's
Kevin Lee, Junior, Electrical & Computer Engineering
You probably think you've seen me
sipping bubble teas, walking Pekingese
and other small breeds across these city streets
Kicking it with Mr. Miyagi in the back seat
of my Honda Accord SE, puffin poppy seeds
bumpin' Far East, and always acting accordingly.
I'm that young Bruce Lee with the buckteeth
and Coke bottle frames,
that don't know he don't know how to sing.
But you know I know when that "Hotrine Bring"
I'm that Karaoke King with that four-inch thing.
I'm that chink in the back pew
trading Yu-Gi-Oh cards for Pikachu's.
I'm that dude with the kimchi stains on his Canada-Goose-Fu-Manchu,
dripping down to his Jimmy Choo shoes.
For some reason,
I'm not the person you know but the guy that you see.
But if you ever want to get to know the real me,
I'll be sippin soju like it's iced tea
on the corner of Mott Street
eating sushi with Mr. Yunioshi.
Second Place, College Poetry
How I Came to Be American 

Charu Sharma, Graduate Student, Human-Computer Interaction
And I was born with ten toes
and I was born with ten fingers,
two eyes and two ears,
and one heart, or so they say.
And I was born red in the heart
and I was born blue in the brain
like police sirens,
like a box of rocket popsicles,
like a true American.
And it betrayed my brown skin,
colored
like the monsoon mud,
like the dry cracked earth,
like July in Rajasthan,
like Cadbury Dairy Milk chocolate
bars from the Indian store,
like mehendi, like henna
on a new bride's arm,
elbow-deep in commitment,
like my mother and her mother
and her mother
who learned to choke
before she learned to speak,
like the temples we've inscribed our histories into,
like brown paper bags
so used
to expanding
for the deep breaths
of others.
And my heart shouted at that skin,
my brain chanted over its delicate
and carefully crafted
Sanskrit script—
U-S-A. U-S-A. U-S-A.
And so my parents named me
American. Or so they say.


Watch the CMU School of Gospel Ensemble celebrate MLK Jr. Day below.