January 25, 2016
Crime and Punishment
Students Analyze Risks, Benefits of New Marijuana Law
By Emily Stimmel / estimmel@andrew.cmu.edu
Cities and states across the U.S. are changing laws on marijuana, and 
Pittsburgh has joined the movement.
Drawing inspiration from 
Philadelphia's attempts to decriminalize possession of small amounts of the drug, City Councilman and Carnegie Mellon alumnus Dan Gilman commissioned a study on the feasibility of doing the same in Pittsburgh. Gilman turned to Dietrich College students to examine the issue, and five seniors majoring in ethics, history and public policy (EHPP) rose to the challenge.
"I always like soliciting research from the students at Carnegie Mellon whenever possible," said Gilman, who also majored in EHPP and worked with EHPP seniors last year on a project involving government surveillance.
"They are the best and the brightest, and their work product is consistently fantastic."
The students — Jack Devine, Daniel Kusbit, Stephen Nimalasuriya, Lisa Tu and Gabriel Vegh-Gaynor — did the work for their senior capstone project. Based on analyses of other cities, states and countries that have decriminalized marijuana possession, they determined that the health and social risks posed by decriminalization are small enough to be insignificant, 
particularly when compared to the 
potential benefits of decriminalization.
The students interviewed a diverse sample of the local population, 
including Pittsburgh police officers, faculty from CMU and the University of Pittsburgh, attorneys, social workers, clergy and an East Liberty-based rapper.
Throughout their research, they paid close attention to a complex network of interrelated issues, including racial disparities in arrest rates, and how those dynamics influence community relationships with law enforcement and public opinion of drug use.
For example, African-Americans — particularly young black men — are 
arrested for possession at higher rates than individuals from other races; in 2014, 70 percent of those arrested for marijuana possession in Pittsburgh 
were black.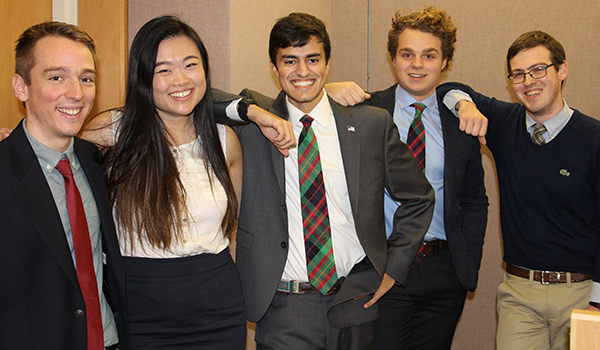 Throughout their research, the CMU students discovered an overwhelming majority of Pittsburgh residents were in favor of decriminalization of marijuana. Pictured (L-R) are Daniel Kusbit, Lisa Tu, Stephen Nimalasuriya, Gabriel Vegh-Gaynor and Jack Devine.
"Social problems are not kind enough to live within narrow disciplinary boundaries. They are complex and multifaceted," remarked Alex John London, professor of philosophy and director of CMU's Center for Ethics and Policy and the EHPP major. "The history and politics of drug laws shape the environment 
in which we live now, and to some degree shape how proposals for reform will be received."
Presenting their findings to 40 members of the campus community, the group explained that from an ethical standpoint, Pittsburgh's current stance on marijuana possession is too harsh. Possession charges for even small amounts of marijuana can haunt individuals for years, affecting access to social services and limiting housing and employment opportunities.
"The punishment doesn't fit the crime," Tu said.
Pittsburgh's current penalty for possession is up to 30 days in jail and a $500 fine. Under a new ordinance proposed by City Council, however, police will have the option to issue a citation and a fine ranging from $25 to $100, saving time and resources.
Throughout their research and at a local hearing, the students discovered that an overwhelming majority of 
Pittsburgh residents were in favor 
of decriminalization.
"City Council ended up thoroughly discussing and passing marijuana decriminalization legislation, and the research that the capstone students produced was part of the robust conversation at the hearing," Gilman added.
"As always, working with them was rewarding and beneficial to City Council and the citizens of Pittsburgh."
Based on its research findings, the student team made several recommendations that would enhance decriminalization policy. Chief among them are public health awareness campaigns addressing the risks of marijuana use, monitoring for adverse effects and ensuring police support and accountability.
The group is quick to stress that decriminalization would be a positive step forward, but not a silver bullet solution.
"Something more needs to be done 
to address the larger issues," Vegh-Gaynor said.
The students were advised by Jay D. Aronson, associate professor of science, technology and society in the History Department. Aronson was struck by the professional quality of their work.
"It was an absolute pleasure to work with this year's EHPP seniors — they took ownership of the project very early on in the semester and made my job easy. I was able to step back from the research process and provide them with feedback and guidance more as a colleague or mentor than as a professor," Aronson commented. 
"They ended up producing a final product that one would expect from seasoned policy analysts with several years of professional experience."
London, too, was impressed by the way the students tied history and ethics to an ongoing local issue.
"Good ethics and sound policy are about moving us from where we are now to a better state of affairs. The work of the students in this year's EHPP capstone course exemplified 
this multi-disciplinary approach and 
the relevance of history and ethics to a live policy issue for Pittsburgh residents," London said.
The EHPP major in the Dietrich College of Humanities and Social Sciences is administered jointly by 
the History and Philosophy departments. It focuses equally on the historical understanding of how modern-day problems have evolved and the importance of developing clear criteria for ethical decision-making.