February 15, 2016
Composer Speed Dating
Collaboration is Music to Their Ears
By Bruce Gerson / 412-268-1613 / bgerson@cmu.edu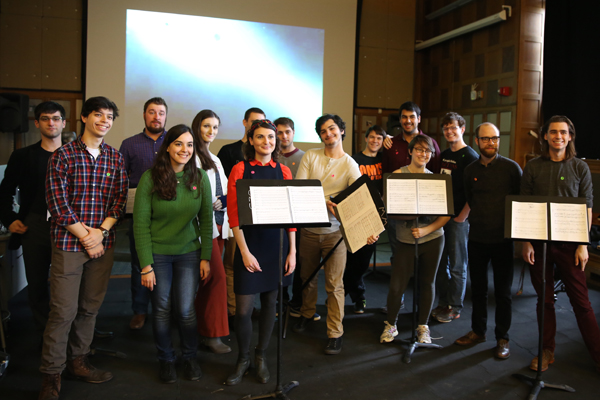 Students in the Composers Forum held their first "speed dating" event seeking to meet and collaborate with fellow students on interdisciplinary projects. Soosan Lolavar (front row, third from left) came up with idea. Rodrigo Castro (second from right) is the course teaching assistant. (Photos by Tom Hughes)


Playwrights came looking for a score. Artists were in search of music to complement their visual creations. Roboticists were hunting for the right techno-vibe. And some attended out of curiosity.
Whatever their reason, all came lending an ear, hoping to collaborate with just the right composer.
The first "Composer Speed Dating" event in the Frank-Ratchye STUDIO for Creative Inquiry was a coming out party, of sorts, for 18 undergraduate and graduate students in the School of Music's Composers Forum. Each composer was on hand to talk to fellow students from across campus about their work, the type of music they like to write and to hear about projects in which they may be able to help.
Soosan Lolavar, a native of the U.K. who is working toward her third master's degree in music, came up with the idea.
"During my studies in the U.K. everyone was encouraged to work with everyone in interesting ways. And I thought that would be a really cool thing to do here," said Lolavar, who is specializing in Iranian music.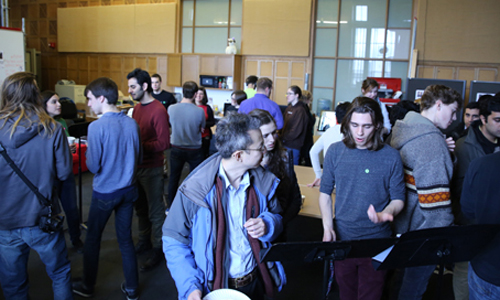 Student composer Theodore Teichman (right) spoke to playwrights and visual artists.
"Composers are quite isolated people. We spend a lot of time alone and a lot of people really don't know what we do. CMU is the only place in the U.S. and Europe where you can study Iranian music and nobody knows that. And that's a shame," she said.
Samir Gangwani, a junior composer from North Carolina who specializes in sound installation art and hybrid instruments, met Lauren Valley, a junior art major from nearby Fox Chapel, Pa. The two plan to work together on Valley's unusual project that features a singer and her skirt.
"I'm looking for someone to compose music that will showcase a dynamic range," Valley said. "When the singer hits higher notes that will make the skirt move certain ways. Lower notes will make the skirt move other ways."
Alexander Panos, a sophomore composer from Chicago who calls himself a "multi-genre artist," met a computer science and art major in the BXA program. This duo will be putting their heads together around an installation piece focusing on the solar system. A drama student also approached him about writing music for a movie.
Andrew Abrahamsen, an undergrad composer of jazz, contemporary and classical music, is engaging with a fellow student on an art project, putting music behind animation. He also spoke to a playwright interested in musical theater.
"This has been really effective," Abrahamsen said about the event. "A lot of people actually do need music to go along with whatever they do, but they don't necessarily know how to find us."
Danny English, a second-year master's degree student, spoke to a roboticist who is pioneering technology that would enable a robot to not only play music, but also to create music on its own.
"Composing is a solitary venture at times, so it's great to get out and meet other people in different disciplines to open up new avenues. It also gives us a platform to show other departments what we do," English said.
Theodore Teichman, a double major in music composition and neurobiology, spoke to playwrights and visual artists.
"It's not necessarily how art can respond to or inspire music, but about how visual art can be an element of the musical experience," he said.
Some attendees, like Whitney Rowland and Paul Welle, came to talk to composers without a specific project in mind.
"I wanted to come and listen to all the composers styles to see if I was inspired by anything," said Whitney Rowland, a playwright and graduate student in the School of Drama, who plans to write a musical. "I met some really fantastic people. There's a lot of talent here," she said.
Welle, a Ph.D. candidate in the Engineering and Public Policy Department, works on agricultural systems.
"I came mostly because I was curious. It's interesting to try to meet composers and I'm hoping they have ideas on how to collaborate with me," he said.
As the event came to a close, all participants, composers and collaborators alike, gave it a resounding thumbs-up.
"I think Soosan had an amazing idea. We can't thank her enough for being so innovative," said Teaching Assistant Rodrigo Castro, who leads the Composers Forum.
"As composers we are always seeking collaborative efforts, but perhaps given our introspective nature and how busy we are working in close quarters we sometimes lack in knowing the right approach to meet others. Soosan seems to have the right ideas for that," he said.