December 01, 2016
Thanksgiving Hosts Share More Than a Meal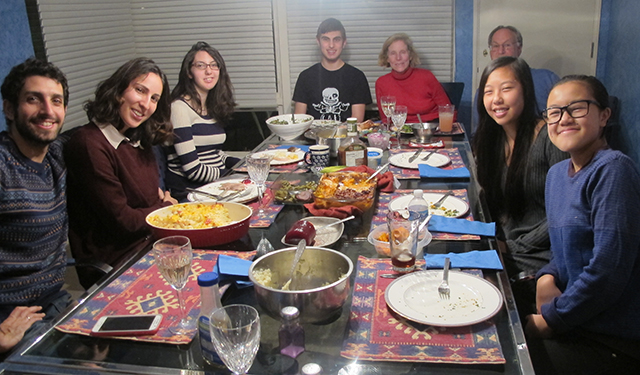 Anne Witchner (fifth from left) hosted several students for Thanksgiving.
For college students who can't travel home for Thanksgiving, the day can be lonely.
Riccardo Schulz, an associate teaching professor in the School of Music, remembers such a Thanksgiving from his college days. Now he hosts Thanksgiving in his home, when he is able, for students who find themselves in a similar situation.
"I didn't expect to feel so lonely on that day, but I was just about the only one left on campus," Schulz recalled. "My Thanksgiving meal that year was a sad attempt to boil macaroni in an electric teapot."
Schulz has enjoyed the opportunity to host.
"One particular year the guests included a few students, a few strangers, a Mexican opera singer, and one of my colleagues and his wife, who had recently moved to Pittsburgh," Schulz said.
A vegetarian, Schulz's feast was not the traditional American Thanksgiving meal with a turkey and all the trimmings. But everyone had plenty to eat, and the opera singer, accompanied by Schulz at the piano, gave a short concert after dinner.
"Inviting people over is just as much for me as for the others," Schulz said. "Thanksgiving is a time to share with others. It's so much better to have company on that day."
This year, Joe Shirk, past president of CMU's Osher Lifelong Learning Institute, and his wife, Rosemarie, hosted students from India and China for Thanksgiving. It was their second year doing so.
"We enjoy getting to know students from other countries," Shirk said. "We feel strongly that you cannot get to know a 'people' unless you get to know a person. The world is shrinking, but cultural divisions are still prevalent, especially in today's climate. There is so much to learn by sharing experiences, and what better way to do this than by sharing a meal in a casual atmosphere?"
The only turkey served was a miniature bird made of 100 percent dark chocolate. Shirk noted his guests did not seem to mind.
Anne Witchner, assistant dean of Student Affairs, hosted a graduate student and her husband from Israel, and a student from San Francisco.
"I wanted them to have somewhere to go," said Witchner, who last year hosted eight Carnegie Mellon students from all over the United States for Passover.
​"We had a wonderful traditional Thanksgiving dinner," she said. "Several guests had never had a traditional Thanksgiving meal, which we enhanced by a variety of ethnic foods the guests brought."
In addition to hosting students for Thanksgiving, faculty and staff can help students through CMU's new Host Family Program. The program seeks to match international students with individuals and families in the CMU community interested in serving as Pittsburgh ambassadors.
Students and hosts will meet every month or so to explore the Pittsburgh community and to get to know each other. To learn more and volunteer, see the program's website.