December 13, 2016
Rajkumar Named Fellow of National Academy of Inventors
By Catherine Graham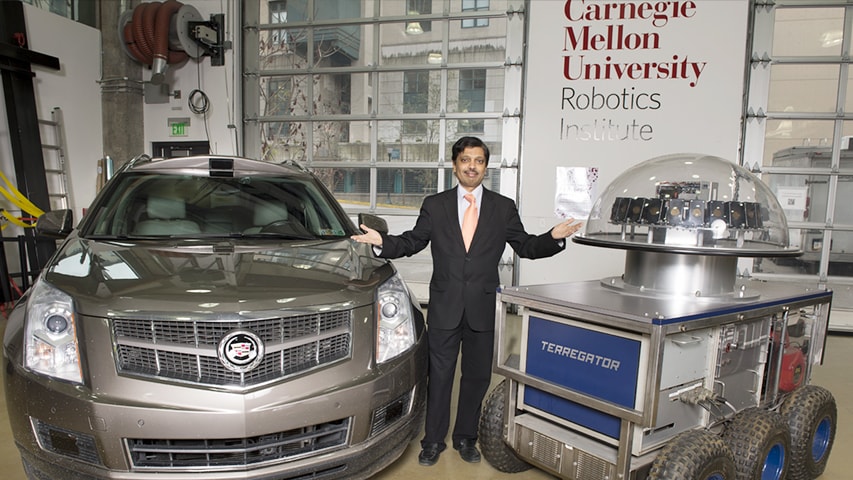 Raj Rajkumar has helped Carnegie Mellon become a research hub for driverless technology.
Raj Rajkumar, the George Westinghouse Professor of Electrical and Computer Engineering at Carnegie Mellon University, has been named a 2016 Fellow of the National Academy of Inventors (NAI).
Nominated by their peers, NAI Fellows have "demonstrated a prolific spirit of innovation in creating or facilitating outstanding inventions that have made a tangible impact on quality of life, economic development, and the welfare of society."
NAI nominees must be named an inventor on at least one patent and be affiliated with a university, government or nonprofit research institute, or other academic entity. The NAI Fellows Program represents more than 757 inventors worldwide and nearly 26,000 patents.
Rajkumar, an internationally reputed researcher in embedded real-time systems, cyber-physical systems, operating systems and wireless sensor networks, holds three patents and founded Ottomatika, astartup that commercialized his research on intelligent software for self-driving vehicles. Ottomatika was acquired by Delphi Automotive in 2016.
A leading expert in autonomous vehicle research, Rajkumar helped Carnegie Mellon become a research hub for driverless technology. He is director of two U.S. Department of Transportation National University Transportation centers (UTC), including the recently announced Mobility21 and the Technologies for Safe and Efficient Transportation National UTC on Safety. He is co-director of the GM-CMU Connected and Autonomous Driving Collaborative Research Lab and director of Metro21, a center related to smart cities.
Rajkumar was named a 2012 Fellow by the Institute of Electrical and Electronics Engineers (IEEE) for "contributions to predictable real-time systems and operating systems," and was the 2009 recipient of the IEEE's Outstanding Technical Achievement and Leadership Award. In 2011, Rajkumar received the Carnegie Science Award in Information Technology, which recognizes innovation in the development and commercialization of an information technology-based solution resulting in significant business impact.
Rajkumar joins five other Carnegie Mellon faculty members who are also NAI Fellows: President Subra Suresh, Jay Whitacre, Krzysztof Matyjaszewski, José F. Moura and Raj Reddy.
Rajkumar will be formally inducted on April 6, 2017, during the NAI's Sixth Annual Conference at the John F. Kennedy Presidential Library and Museum in Boston.