December 15, 2016
News Briefs
Last Call: Program Gives Staff View From Different Lens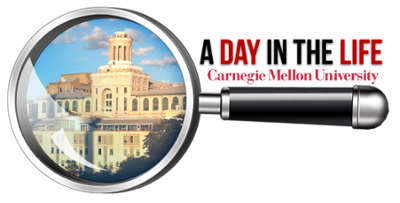 Staff members across the campus community dedicate themselves each day to supporting Carnegie Mellon's mission and goals. A new pilot-shadowing program, called "A Day in the Life," is being introduced to provide an opportunity for staff to learn about how others are contributing to CMU.

Sponsored by Staff Council and Professional Development Services, A Day in the Life is modeled after a program initiated by Amy Yearwood, associate director of Enrollment Services for Summer Studies, and successfully implemented in Enrollment Services. The program is designed to provide staff with an opportunity to experience the university through a different lens and to engage in sharing ideas and forming relationships with colleagues throughout CMU. Participants will gain a deeper understanding of the many ways in which all staff support and advance the mission of the university.

As a shadower, you will meet with a host department over the course of a semester to gain insight into how it contributes to the university. To be considered as a shadower, please email ADayintheLife@andrew.cmu.edu by Friday, Dec. 16.  

Find out more online.
Help Those Who Need it Most — Give to the United Way
At this time of giving, please consider helping those in our community who need it most by making a tax-deductible gift to the United Way of Allegheny County. Your support will provide meals for the hungry, beds for the homeless, care for young children, and new health care options for the sick and uninsured.
 
The United Way of Allegheny County addresses the most critical human needs in the region through its support of health and human service organizations and activities. That focus is one of the many reasons the Carnegie Mellon University community annually participates in the United Way Campaign.
 
CMU's annual campaign will continue through spring 2017, but please consider making your gift today!
CMU Named Among Top Military Friendly Schools

Carnegie Mellon has been ranked as a Top 10 Military Friendly School for 2017 by Victory Media for exhibiting leading practices in recruiting and supporting post-military students.
Ratings were based on academic policies and compliance; admission and orientation; culture and commitment; financial aid and assistance; graduation and career; and military student support and retention.
More than 1,200 post-secondary schools were designated as "Military Friendly®." Of the recipients, 541 schools were recognized as Top 10, Gold, Silver, or Bronze award winners for excellence in different categories.
Alumnus Rick Antolic Creates Second Pittsburgh Coloring Book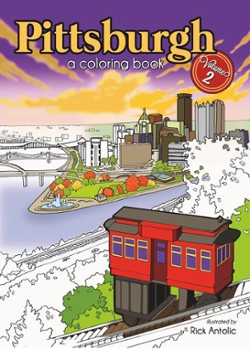 Last year, School of Art alumnus Rick Antolic published his first "Pittsburgh: A Coloring Book," which features many of the city's local charms such as the Gateway Clipper, the Farmer's Market, Kennywood, even Carnegie Mellon's Hunt Institute. The coloring book made Pittsburgh Magazine's list of top picks for holiday gift buying last year, and recently was voted "Best Pittsburgh Novelty Item" in the Pittsburgh City Paper's "Best of Pittsburgh 2016" poll. Read about the making of the first volume in this Piper article.
The book has been so successful, Antolic created a Volume 2. Both are available on Amazon.com.
CMU Supports School's STEM/Science Fair
Representatives from a dozen Carnegie Mellon departments and centers participated in the Pittsburgh Science and Technology Academy's annual STEM/Science Fair for middle school and high school students earlier this month. The Science and Technology Academy on Fifth Avenue is a part of the Pittsburgh Public Schools.
CMU representatives included:
Lisa Porter, Materials Science and Engineering Department;
Vikram Kamath, Human-Computer Interaction Institute;
Judy Hallinen and Pamela Piskurich, Gelfand Center;
Daniel Brasier, Neuroscience Student Advisory Council;
Raja Sooriamurthi, Information Systems Department;
Deborah Lange, Steinbrenner Institute and Civil and Environmental Engineering Department;
Mike Polen, Future Leaders of Science;
Anna Hoar, Society of Women Engineers;
Lorrie Cranor, CyLab;
Maya Cranor and Terry Richards, Girls of Steel;
Satya Venneti, Software Engineering Institute; and
Po-Shen Loh, Mathematical Sciences Department and founder of Expii.

New Tool for Faculty Helps with Courses Involving Student Teams
Collaborative U is a new tool for teaching students to work effectively in diverse teams. It requires less than two and a half hours of the students' time and even less of the professor's. When you create teams for projects lasting six weeks or more, assign the two OLI course modules for homework in the first two weeks. These take about 45 minutes each to cover key factors and basic skills that can improve the way teams interact.
Each module also has a brief activity (15-20 minutes) that teams do in face-to-face meetings during class. The OLI course modules work with Blackboard and feed information about student learning back to faculty. Students report the training is fun and engaging, and preliminary analysis of data from a controlled study in the Mellon College of Science shows gains in understanding and motivation.
For more information and access to a demo version of the course on OLI, email Martha Harty at mharty@cmu.edu.
Staff Discounts to Kennywood's Holiday Lights
Staff Council is offering discounted tickets to Kennywood's Holiday Lights events, 5 - 9 p.m., Friday, Saturday and Sunday through Dec. 24. Tickets are now on sale for $16 and must be purchased by Dec. 23. Purchase your tickets online.