August 04, 2016
News Briefs
PGSS Students Tie World Records for Solving Traveling Salesman Problem
A group of nine high school students participating in the Pennsylvania Governor's School for the Sciences (PGSS) at Carnegie Mellon tied eight world records for solving a version of the infamous Traveling Salesman Problem.
The problem is straightforward: What is the most efficient way to deliver packages to a set number of customers during a given time window? And, how can you minimize the number of trucks needed and the distance traveled? The students' final project tackled a version of the problem known as the Vehicle Routing Problem with Time Windows.
While the problem is simple to explain, the answer is very complex and gets increasingly more complex with each delivery added to the total number of deliveries. Even if there were only 13 deliveries to be made, the number of possible routes would be in the billions.
The students created an artificial intelligence framework, called A*. It starts with a random solution to the problem and then slightly modifies that solution by changing a route or number of trucks used. Each solution is given a score using heuristics, which quantifies routes as being good or bad and allows the computer to choose and modify the best-scoring routes until it finds the optimal solution. Their program first solved one variation of the problem as efficiently as a world-record-holding program created by researchers at Brown University. Within days, they matched world records for seven other variations of the problem, tying a total of eight world records.
"There is no doubt about it, this is one of the most impressive results we've seen from a PGSS group project," said Barry Luokkala, PGSS program director and teaching professor of physics at CMU.
Art Exhibit Documents Student Work To Revive Art Schools in Cuba
Twelve students and three faculty members — Hal Hayes, Dick Block and Kathryn Heidemann — traveled to Cuba this past Spring to investigate how Cuba's National Art Schools, five buildings on the grounds of a former Havana Country Club, could be preserved, renovated and reused.
Their journey is documented in an art exhibit, titled "[in]COMPLETION: [in]TRANSITION: The Redevelopment of Cuba's Landmark National Arts Schools." The exhibit is on display through Aug. 28 at the Future Tenant gallery, 819 Penn Ave. in Pittsburgh. A closing reception will be held at the gallery Aug. 31.
The students in CMU's Theater Architecture course developed design solutions to preserve, renovate and add to the complex to maintain the site's character, fully support the academic and performance programs of the schools, and to expand their outreach into the surrounding neighborhoods.
Register Your Child for the Gelfand Center's Fall Saturday Series
As a member of the CMU community you are receiving early notification to register your children for the Gelfand Center's Fall Saturday Series.
Classes in the Saturday Series for K-12 students are developed by CMU faculty and staff to be fun, engaging, rigorous and hands-on. Students are grouped in three divisions: primary division (grades K-2), middle division (grades 3-8) and an upper division (grades 9-12). Classes are STEM focused and highlight the research and work of faculty, staff and students. Register today.
Craig Street Crawl Returns Saturday, Aug. 27
To celebrate the new academic year, Carnegie Mellon will once again host the Craig Street Crawl from 3-5 p.m., Saturday, Aug. 27 on Craig Street between Forbes and Fifth avenues.
Join the block party and explore CMU's nearest off-campus restaurants and shops. The party will include live music and dancing, balloon artists, food samples, air brush tattoos, photos with CMU's Scotty Dog mascot and free giveaways.
The event is for the entire CMU community, undergraduate and graduate students, faculty, staff, friends and families.
Grable Grant To Fund PSC Education Program
The Pittsburgh Supercomputing Center (PSC) has received a $10,000 grant from the Grable Foundation to fund the PSC's BEST (Bioinformatics Education for STudents) program, which includes a summer bioinformatics workshop for secondary science, math and technology teachers in participating districts in southwest Pennsylvania.
The program will prepare participants to teach a full-year curriculum in bioinformatics, or to incorporate the concepts in existing courses. All materials are provided free of charge to participants and their districts.
High school teachers will get training in advanced computing technologies in the biological sciences and bioinformatics.
"This training is critical to equip single-subject teachers to address and teach multidisciplinary concepts in bioinformatics," said Pallavi Ishwad, PSC's education program director. "The workshop will fortify teachers with all the needed multidisciplinary content knowledge; it will also develop feedback and evaluation strategies as the lessons progress."
Goals for this new funding for BEST will include increasing the number of schools offering the bioinformatics curriculum, training more teachers to teach such courses and increasing the number of students introduced to bioinformatics.
CMU Stars in Quantum Theatre's Production of Peribañez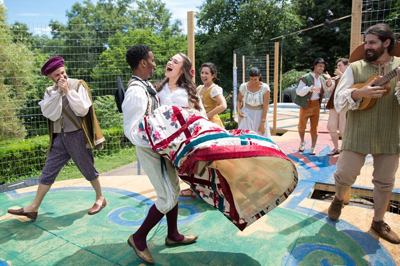 Four students, three alumni and three School of Drama faculty members are part of the upcoming Quantum Theatre production of Peribañez, Aug. 5-28 at the Rose Garden in Mellon Park in Shadyside.
The story centers around Peribañez and Casilda — young farmers in a strongly connected rural community — who have just been happily married. However, the commander's obsessive love for Casilda pushes the young couple to make painful sacrifices as they strive to preserve their marriage on the brink of war.
Student actors in the performance are Freddy Miyares, Siddiq Saunderson and Isabel Pask. Student Emily Ernst is the director's assistant.
Alumni in the production are actor Ethan Saks, Samantha Pollack (costume design), DeLisle Merrill (associate costume design) and Britton Mauk (scenic designer).
Faculty in the show are C. Todd Brown (lighting designer), Megan Monaghan Rivas (director) and Lisa Velten Smith (vocal coach).
Student tickets for the performances are $18. Faculty and staff can get a $5 discount off the price of tickets, which vary based on the night of the performance. 
Learn more and purchase tickets. Watch the trailer.
2016-17 Wall Calendars Now Available at the University Store
The 2016-17 official Carnegie Mellon wall calendars are now available for purchase in the University Store at a cost of $2.09. For quantities under 50, visit the lower level of the store to place your order. Bulk orders of 50 or more can be delivered on campus or sent via campus mail. If you are located off-campus, there will be an additional charge for a mailing tube.

To place a bulk order, copy and complete the order form below and send it to art-store@andrew.cmu.edu. Please coordinate with your department before placing an order, to determine if a bulk order is being placed.
BULK ORDER FORM (for orders of 50 or more)
1) Your Name:
2) Department Name:
3) Campus Address:
4) Phone Number:
5) Oracle String:
Contact Amy Daly with questions at adaly@andrew.cmu.edu.