August 25, 2016
Meeting To Discuss Forbes Safety Improvement Project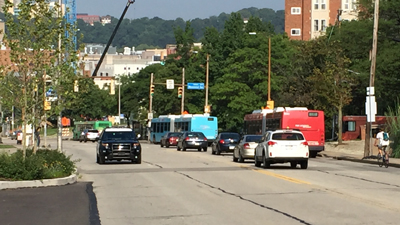 Carnegie Mellon and PennDOT are hosting a public meeting at 5 p.m., Wednesday, Aug. 31, in Rangos 3 of the Cohon University Center to discuss proposed safety improvements to Forbes Avenue.
PennDOT officials will present the two-part project, which will include pedestrian-crossing enhancements at Forbes intersections, such as countdown timers and audible signals for the visually impaired, and the repaving of Forbes between the Birmingham Bridge and Beeler Street. The repaving component will include new lane configurations between South Craig Street and Beeler Street.
The safety improvement project is a collaborative effort between PennDOT, the City of Pittsburgh, the Oakland Transportation Management Association and CMU. It is scheduled to begin in the fall of 2017 and continue through the summer of 2018.