August 11, 2016
News Briefs
Psychology Department Celebrates 100 Years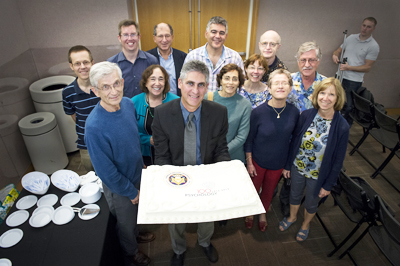 In Pittsburgh, the City of Champions, where sports teams are lauded for repeat victories and daring displays of athleticism, there is one team that is often overlooked.
Carnegie Mellon's Department of Psychology has spent the past 100 years redefining academic and research success. Just as there would not have been an immaculate reception without Pittsburgh Steeler Franco Harris, the field of cognitive psychology and big data's intersection with education, language and brain sciences would not exist as they do today without CMU Psychology.
Over the past year, the department celebrated its past, present and future by inviting alumni back to campus for several events. There was, of course, cake. A banner hung proudly from Baker Hall's windows. And, current and past faculty members, students, staff and friends of the department had a chance to reconnect and reflect.
"The most gratifying part about being a teacher is watching your former students succeed. In the Psychology Department, we are spoiled. Our graduates are at the top of many different industries and fields, and that is our real legacy," said Marcel Just, the D.O. Hebb University Professor of Psychology who organized a two-day symposium for graduates of the Ph.D. program.
Pictured above is Michael Tarr, head of the Psychology Department, holding a 100th anniversary cake with several faculty members ready to lend a hand.
Parking Assignments Now Available
Parking assignments for 2016-17 are now available at https://parking.campusservices.cmu.edu/auth/permit.php.
Permit holders can pick up their permits as follows:
Location: Dithridge Garage Lobby for these parking areas only: 300 S. Craig, Dithridge, Fifth & Craig, 4700 Fifth Avenue, GATF, Henry Street, Whitfield, Zebina
Date: Aug. 16, 9 a.m. — 1 p.m.
Location:  Cohon University Center Lower Level, next to FedEx/Kinkos: for all parking areas
Dates: Aug. 17, 18 and 19, 9 a.m. — 3 p.m.
Your Carnegie Mellon ID is required to pick up your parking permit.
Parking permits also may be picked up at the Parking and Transportation Services Office on the lower level of the Cohon University Center during normal business hours any time prior to Aug. 31.  Permits that are not picked up by Aug. 31 will be considered unclaimed and will be cancelled and removed from our database.
Questions? Send email to parking@andrew.cmu.edu or call 412-268-2052 between 8 a.m. and 4:30 p.m., Monday through Friday.
CMU-Q Students Among Winners of Harvard Coding Contest
A team of rising sophomores at Carnegie Mellon in Qatar was among the winners of Harvard University's CS50x Coding Contest 2016 last weekend. The four computer science students on the team were Mohammed Abdullah Khan, Abubaker Omer, Mohammed Hashim Qusai and Julian Sam.
There were 659 teams from 89 countries that participated in the contest. Teams were given 72 hours to tackle 10 problems created by scholars at Harvard, MIT and Yale. CMU-Q was one of 12 teams to tie for first-place.
"I tribute this success to the amazing experience that enriched us in our first year in CMU-Q, and hopefully, this is the first of many to come," Omer said.
"CMU-Q has a tradition of competing with tenacity and ingenuity in international contests. Congratulations to each member of the winning team; I know we will continue to see great things from them," said CMU-Q Dean and CEO Ilker Baybars.
Staff Council Offers Discounted Tickets to Pittsburgh Renaissance Festival
Staff Council is offering discounted tickets to the Pittsburgh Renaissance Festival, Aug. 20 – Sept. 25 (weekends only including Labor Day) in West Newton, Pa. The festival takes you on a magical tour through time and legend. As you wander down the village streets and pathways of the festival, you will revel with master revelers, watch artisans create original works of their ancient craft and be taken in by the tantalizing aromas of roast turkey legges, steak on a stake, fresh baked goods and much more. You'll meet all kinds, from jousters to jugglers to minstrels to maidens faire, all schooled in the art of interactive theater!

Register Your Child for the Gelfand Center's Fall Saturday Series
As a member of the CMU community you are receiving early notification to register your children for the Gelfand Center's Fall Saturday Series.
Classes in the Saturday Series for K-12 students are developed by CMU faculty and staff to be fun, engaging, rigorous and hands-on. Students are grouped in three divisions: primary division (grades K-2), middle division (grades 3-8) and an upper division (grades 9-12). Classes are STEM focused and highlight the research and work of faculty, staff and students. Register today.
Craig Street Crawl Returns Saturday, Aug. 27
To celebrate the new academic year, Carnegie Mellon will once again host the Craig Street Crawl from 3-5 p.m., Saturday, Aug. 27 on Craig Street between Forbes and Fifth avenues.
Join the block party and explore CMU's nearest off-campus restaurants and shops. The party will include live music and dancing, balloon artists, food samples, air brush tattoos, photos with CMU's Scotty Dog mascot and free giveaways.
The event is for the entire CMU community, undergraduate and graduate students, faculty, staff, friends and families.
2016-17 Wall Calendars Now Available at the University Store
The 2016-17 official Carnegie Mellon wall calendars are now available for purchase in the University Store at a cost of $2.09. For quantities under 50, visit the lower level of the store to place your order. Bulk orders of 50 or more can be delivered on campus or sent via campus mail. If you are located off-campus, there will be an additional charge for a mailing tube.

To place a bulk order, copy and complete the order form below and send it to art-store@andrew.cmu.edu. Please coordinate with your department before placing an order, to determine if a bulk order is being placed.
BULK ORDER FORM (for orders of 50 or more)
1) Your Name:
2) Department Name:
3) Campus Address:
4) Phone Number:
5) Oracle String:
Contact Amy Daly with questions at adaly@andrew.cmu.edu.