April 05, 2016
Olympic Opportunity
CMU To Host Special Games for Athletes, Campus Community
By Bruce Gerson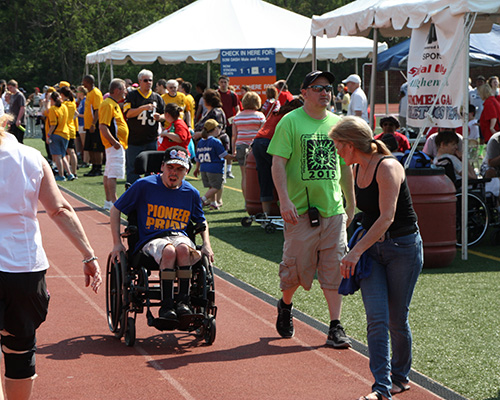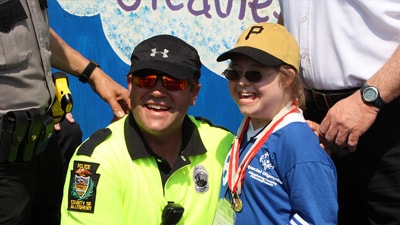 Working with Special Olympics Pennsylvania (SOPA) for the past eight years has been a life-changing experience for CMU Police Lieutenant Joe Meyers. And now, he's helping to share that experience with hundreds of others in the university community.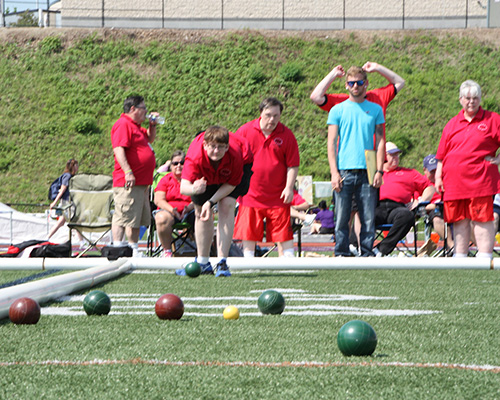 Special Olympics brings intellectually and often physically challenged athletes, ranging in age from 8 to 60, together to compete in athletic competition. Meyers, along with Athletic Director Josh Centor and the Student-Athlete Advisory Council (SAAC), are partnering with SOPA to host its Western Sectional Spring Games on Saturday, April 30, on CMU's Pittsburgh campus.
Meyers is amazed at the dedication, commitment and sportsmanship he witnesses at the games.
"I watched a 100-yard dash in which a runner fell and a competitor stops, goes back, picks him up and helps him across the finish line. That's what you typically see. It's an emotional experience, something you'll never experience anywhere else," Meyers said.
"You'll walk away at the end of the day and say 'Wow!' It's something you'll never forget."
The Western Sectional Spring Games will include about 400-500 athletes from 15 counties in Western Pennsylvania. Each county, from Greene to Erie, will bring a team to the games.
Meyers leads the university's police force support of SOPA through various annual fundraisers, including the annual Law Enforcement Torch Run and Polar Plunge efforts. CMU's Polar Plunge team has raised more than $20,000 for SOPA over the last two years.
Centor said NCAA Division III, of which CMU is a member, has a partnership with Special Olympics, so this was a natural fit for the Department of Athletics.
"We were looking for a meaningful way to get involved because community service has been a hallmark of our Student-Athlete Advisory Council mission. When Joe came to me with the idea, I said it was perfect because our student athletes are always looking for opportunities and always enjoy working with other athletes," Centor said.
Centor said he wants to get the general student body involved as well, so he is working with Student Affairs and Student Activities.
"Josh jumped in and it's taken off," Meyers said. "We are reaching out to faculty and staff as well. We want this to be a CMU community event."
The SAAC, led by a pair of swimmers, junior Dustin Ferzacca and sophomore Mary St. John, is busy recruiting students, faculty and staff to volunteer for the various aspects of the games, from the opening ceremony in Gesling Stadium to the competitions in basketball, track & field, swimming, tennis, bocce and golf.  
About 400 volunteers are needed.
"We will be working closely with other campus organizations, including Greek life, to get as many volunteers as we can to ensure the event runs smoothly," said Ferzacca, SAAC's community service chair. "This is a daunting task, given how large this event will be, however I cannot overstate how ready and willing the student athletes at CMU are.
"I have full confidence that if any group can pull it off, it is the incredibly involved and proactive athletes here. Everyone I know who has worked with Special Olympics has told me that it is an incredible experience. I look forward to learning that firsthand," he said.
St. John is looking forward to meeting and interacting with the competitors and volunteers.
"I got involved with the event because I know large events like this bring the communities together. As students with heavy workloads, it's easy to get trapped in the CMU community, and we miss events like this happening in Pittsburgh," she said.
"Since this is happening on campus, it's a great way for us as students to meet and interact with people we may never have gotten the opportunity to meet otherwise."
Jessica DiVito, director of development for SOPA, is impressed with CMU's student participation and the athletic facilities on campus.
"Everyone has been so accommodating and willing to support this effort. We are incredibly lucky to have the chance to work with this group.
"We have toured the campus and it's completely impressive. Not only beautiful, but everything is incredibly accessible, which is most important for our athletes," DiVito said.
Meyers said the 30-minute opening ceremony will begin at 9:30 a.m. Games will follow until a noon lunch break.  Following lunch, which is being provided by Sheetz, the games will resume through the afternoon until around 6 p.m.
Olympic-style award ceremonies for individual and team events will be ongoing throughout the day.
This will be the first time CMU hosts this event, but all involved hope it won't be the last.
"My hope is that this becomes a regular occurrence and tradition at CMU, part of what we are, and also an important experience and opportunity for our students," Centor said.
"I'm excited. CMU is the right type of place to be home to something like this. Our facilities, the Cohon Center, the stadium, the pool; if it's a nice day we're tailor-made for an event like this."
"It can't be more perfect," Meyers said.
Students, faculty and staff who would like to volunteer should contact the SAAC at SpecialOlympicsCMU@gmail.com.
Above photos: The Special Olympics games include track and field and bocce. Allegheny County Police Officer Scott Moffat celebrates with athlete Shay Moffatt of Brookline.