April 05, 2016
CMU Helps Pittsburgh Become Smart City Contender
By Kelly Saavedra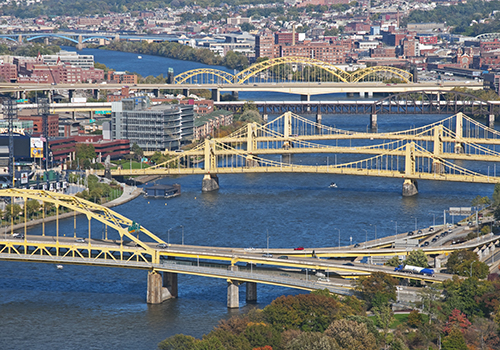 The U.S. Department of Transportation imagines a city where gridlock is a thing of the past. Red lights turn green when you approach. Traffic flows smoothly as cars talk to each other to avoid crashes.
And that's not all. How about your driverless taxi showing up just as your train pulls into the station? Or arriving home from work to find your grocery list delivered just in time for dinner, from the farm to the table?
That's their plan, and with traffic light sensors in some local neighborhoods that are already reducing congestion and mitigating pollution, Pittsburgh, in partnership with CMU and the University of Pittsburgh, is well on its way to realizing the vision.
Building on existing work done by CMU's Traffic21 and Metro21 initiatives, the Pittsburgh team applied for the U.S. Department of Transportation's "Smart City Challenge" grant, which will award the winning city $50 million to build technology-based systems for addressing mounting transportation problems.
In March, Pittsburgh was named one of the top seven finalists, along with Austin, Columbus, Denver, Kansas City, Portland and San Francisco.
At a press conference at CMU, Mayor Bill Peduto and CMU's Raj Rajkumar, director of Metro21 and the Center for Technologies for Safe and Efficient Transportation (T-SET), said Pittsburgh has a good chance at winning the challenge.
Peduto said Pittsburgh's bid is different from the others because it includes components in energy, sustainability and information sharing. And it also incorporates an education component that will train workers who will install the sensors throughout the city.
"Number one, we don't look at just transportation, we are looking at transportation and energy," Peduto said.
"Number two, they want to see ways sustainability is a factor, and we have that baked right in. We're also creating an open platform, so the information that's created from this will be able to be shared with cities around the country, which would be a benefit to the Department of Transportation. And fourth, we have the technology, because of the talent we have in the city, to be the leaders," Peduto said.
Rajkumar noted the plan will use many types of sensors.
He said the Pittsburgh team's plan calls for "smart spines" or corridors through the city that will use intelligent transportation systems and smart city technologies. He said, among other aspects, these technologies will:
make traffic flow smoother;
enable vehicles to communicate with one another and with traffic signals to improve safety;
make travel information services available to the public so that citizens can be involved and engaged;
support vehicle electrification to begin having a positive impact on the climate; and
deploy pilot studies of automated vehicles.
"The City of Pittsburgh and the mayor are very forward-looking and are very accepting of using technologies to help make Pittsburgh one of the smartest cities not just in the nation but also in the world," Rajkumar said.
As a finalist, the team was awarded $100,000 to finalize its application, which is due this month.
"The solutions we propose must be sustainable, scalable to larger cities and adoptable by other similar-sized cities," Rajkumar said. "Active support and participation from partners in the public sector, private sector, nonprofit foundations and user communitis will be crucial. We expect the competition to be tough, and hope that we can rise to the top." 
Nearly 80 cities applied for the challenge. The winning city will be announced in June.
Peduto said Pittsburgh has the opportunity to create a new model for cities around the world. 
"Cities that start to advance the ability to change transportation will be the ones that will be in the lead, not only in creating more effective and efficient and equitable routes and modes of transportation, but also in leading industry and helping to change the economy," he said.