April 05, 2016
Students Go Digital To Improve Public Safety
By Katelyn Howard and Chuck Finder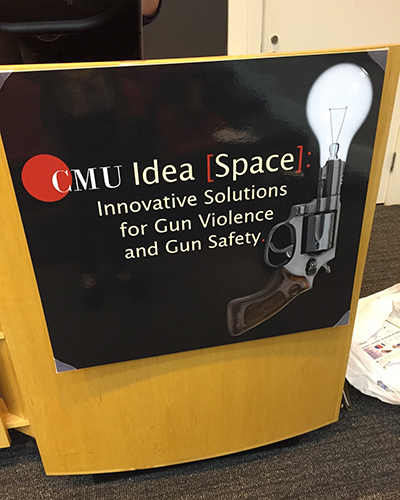 There's nothing like a little competition to bring out the best in people.
In March, MBA candidate Liza Tresser challenged the community to demonstrate how technology, robotics and innovation can bring new ideas to gun safety in CMU's second Idea Space Competition.
The challenge was embraced by CMU, the Pittsburgh Police, the University of Pittsburgh, the Tepper School of Business and others around the community.
The winning team included Tresser's Tepper classmates Randy Cohen and Adrian West; Ryan Farkas, (HNZ 2016); and Eric Duffy, a Carlow University student and art teacher in the Pittsburgh Public Schools.
Their idea — the CRO Digital Community Platform — provides dynamic three-way communications between community resource officers, community groups and community members to improve policing efforts and build trust. The Digital Community Platform collates communications, surveys, data, productivity tools and forums among these groups, making community members more aware of events and initiatives, and helping them voice their concerns.
The system can provide support to community resource officers and improve their productivity. The interface — hosted via mobile applications, websites, cloud services and existing standard messaging platforms — also can be customized to meet the safety needs of school districts, universities or large corporations.
The weekend-long competition impressed officials from sponsor Zero Eight Six so much that they ultimately decided to extend their offer to incubate not only the first-place team in the competition, but also the second.
The second-place team, which included Tepper students Jameel Francis, Nikhil Jain, Mallika Khanna,  and BXA student and University of Pittsburgh students Andrew Wells and Drew Brumbaugh, used technology to address the issue of lost and stolen firearms. They introduced the concept of Guntrac_r technology, which incorporates a chip that can be attached to a firearm that will transmit signals through a connected wire. This allows owners to access GPS tracking of their gun, including mobile alerts of the gun's location, and the ability to lock the weapon remotely.
"The fact that we were working on potentially life-saving ideas made this feel much different from other competitions that I have been a part of," Tresser said.
Remarks from former Pittsburgh Steeler Charlie Batch, founder of the Best of the Batch Foundation, and Bill Valenta, assistant dean at the University of Pittsburgh Katz Graduate School of Business and former Pittsburgh Police Commander, opened the event.
"Having Charlie Batch and Bill Valenta there to kick off the event brought both an emotional, inspiring side to it, as well as a very experienced side," Tresser said. "Both of them infused the place with a great deal of energy."
Batch spoke candidly about why he started his charity — to pay tribute to his sister, Danyl Lynn Settles, who lost her life to gun violence in 1996 in their Pittsburgh area neighborhood of Homestead, Pa. The Best of the Batch Foundation is a nonprofit organization that offers scholarships, educational assistance and mentoring, as well as programming that couples sports with learning.
Valenta, who served 22 years on Pittsburgh's police force, shared stories about how he used critical problem-solving to address safety issues in the city. He told the participants about being tasked with cutting back on drug activity in Pittsburgh's Hill District. Valenta and his team spent several weeks observing what factors made the Hill District such a high-traffic area for drug use, and then came up with innovative solutions to eliminate these factors, such as turning a busy thoroughfare into a one-way street heading the opposite direction.
"You could feel throughout the weekend that the participants were really focused," Tresser said. "And the judges and coaches have all said that they were really impressed with the quality of the work and the feasibility of the ideas that came out of the competition."
The CMU Idea Space competition, founded last year by alumnus Alex Brown, is intent on crafting solutions to social issues via innovative technology ideas.