September 04, 2015
TCS Invests in CMU's "Secret Sauce"
TCS Invests in CMU's "Secret Sauce"
By Bruce Gerson, Kelly Saavedra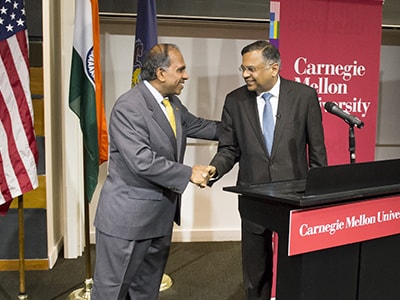 Tata Consultancy Services (TCS) is the latest company to get a taste of Carnegie Mellon's "secret sauce." And it wants a whole lot more.
Millions of dollars' worth, in fact.
TCS — the fastest growing global IT and consulting company with offices in more than 46 countries and clients in every major industry — is tapping into the university's recipe for success with
a donation of $35 million to fully fund a new facility on CMU's Pittsburgh Campus and support students through CMU's Presidential Scholarships and Fellowships program.
It's the largest gift TCS has ever given to a university and CMU's largest corporate gift.
The company's CEO and managing director, Natarajan Chandrasekaran, said partnerships like this are critical in today's world of rapid technological advances, and CMU researchers would give TCS great opportunities to tackle many industry problems.
"CMU is known for the best in education and research in machine learning, robotics, driverless cars, statistics, information management and other disciplines, and how these technologies can impact businesses," Chandrasekaran said.
The facility that will bear the TCS name will focus on education and research and provide collaborative space for faculty, students and TCS staff. It will be built along the Forbes Avenue corridor — between Morewood Avenue and Craig Street — that also will feature the new Tepper Quad and a new mixed-use facility across the hollow from the Robert Mehrabian Collaborative Innovation Center.
"Whether you're running a university or a global company, you want to find the best and the brightest people to do cutting-edge things," said CMU President Subra Suresh.
"With our shared commitment to education and research in areas that help address many challenges of our time, TCS' support of Carnegie Mellon is both natural and extraordinarily promising," he said. "Together, our two organizations have the capabilities to make breakthrough discoveries and the capacity to make societal impact on a global scale."
Pennsylvania Governor Tom Wolf attended the official announcement ceremony, held in late August, with several local government officials, including Congressman Mike Doyle, Allegheny County Executive Rich Fitzgerald and Pittsburgh Mayor Bill Peduto.
Wolf said the partnership "reflects well on CMU, one of the premier universities in the world; on TCS, one of the most distinguished companies in the world; and on Pittsburgh and Pennsylvania."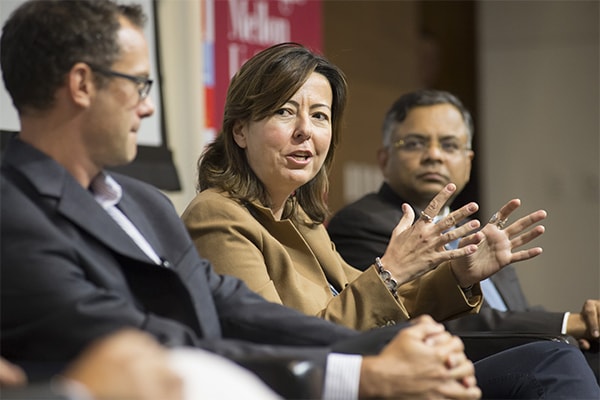 Wolf called CMU a "magnet" and a "catalyst" for leading businesses and organizations "that want to feast at CMU's academic table." He predicted that the partnership will foster ideas, products and services that will transform the world.
Following the announcement, Dietrich College Dean Richard Scheines moderated a panel discussion on "Industry-Academic Partnerships: A New Global Era." 
Scheines led CMU professors and entrepreneurs Jay Whitacre and Jelena Kovacevic, and TCS's Chandrasekaran in a discussion about partnerships. Topics included what role government should play, intellectual property, culture and engaging students.
Kovacevic, who is working with UPMC Children's Hospital to develop mathematical models and software that can be used to diagnose middle ear infections, said industry-academic partnerships provide a mutually beneficial experience.
"Partnerships provide an opportunity for companies to get access to top talent and for faculty to get funding for research. It's a symbiotic relationship," she said.
Whitacre said he left his job at NASA's Jet Propulsion Lab to come to CMU because he wanted to work on something that had more of an immediate impact on society. In just six and a half years, he grew his idea for manufacturing sustainable energy storage systems into a multinational organization with 160 employees.
His company, Aquion Energy, is now producing clean and sustainable saltwater batteries that outperform traditional batteries and shipping them around the world.
"It's a dance to find the shortest path between invention and product," Whitacre said. "The key thing was recruiting the best possible teammates to move to Pittsburgh and make this happen, and continuing to garner the interplay between the stuff coming out of the university, the stuff happening at the research and development lab, and the stuff happening at the factory."
 President Suresh echoed this team sentiment when he called innovation a "contact sport."
 "[If] you increase contact, you increase innovation, and diversity brings different vantage points. Innovation is enriched and enhanced by diverse perspectives," Suresh said.
 TCS joins a growing group of major technology companies moving to the Pittsburgh region in recent years. More than 350 companies now have partnerships with CMU.
 Among the nation's major research universities, Carnegie Mellon ranks first in startups per research dollar, according to the Association of University Technology Managers. Since 2008, CMU faculty, students and alumni have created 215 new companies.
"With highly talented faculty, highly talented students, and with right conditions and resources, magic happens," Suresh said. "That's our secret sauce."
Top photo: President Subra Suresh (left) and TCS CEO Natarajan Chandrasekaran celebrate the new partnership.

Bottom photo: Jelena Kovacevic (center) makes a point during the panel discussion with Jay Whitacre (left) and Chandrasekaran.