September 28, 2015
Strategic Plan Will Live, Evolve on the Web
By Bruce Gerson / bgerson@cmu.edu


Provost Farnam Jahanian, Heinz College Dean Ramayya Krishnan and College of Engineering Dean Jim Garrett (l-r) listen to Rick Siger's presentation at the Strategic Plan Update meeting.


Carnegie Mellon's Strategic Plan will be unlike any other.
It won't be bound. It won't be in a slick and glossy publication.
Instead CMU's new 10-year strategic plan, which will guide the university's growth to 2025, will live and breathe on an innovative website that allows users to see the connections across a rich web of goals and strategies. The Web presentation will change and evolve over time, reflecting plans for realizing these ambitions, and progress toward goals.
Rick Siger, director of Strategic Initiatives, gave an update to the university community at a town hall meeting last Thursday (Sept. 24) in Posner Hall. He said the plan, which now resides on a staging server, is still being completed in preparation for review by the Board of Trustees in late October.
If approved by the board, he expected the plan to launch on the Web sometime in November.
After more than 100 committee meetings, 125 comments and questions from the university community, and participation from more than 1,200 individuals, the plan was drafted to include three categories, 12 goals and 24 strategies, to achieve those goals.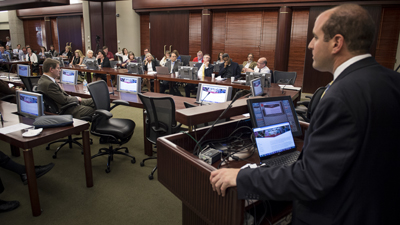 Rick Siger said the plan will be reviewed by trustees in late October.
"Each goal has very specific, concrete action items, and the strategies can support several goals," said Siger, who noted that most university plans are not as detailed.
The three categories are Individual Experience, University Community and Societal Impact.
Siger said existing measures and new metrics will be established to track progress toward each goal, which will be recorded on the website. He said individual strategies will have their own metrics, and some core metrics will be relevant across the board. Senior leadership will meet annually to evaluate the progress.
In closing the meeting, Provost Farnam Jahanian thanked Siger, the Faculty Senate Working Group, and the many members of the CMU community who were involved in the strategic planning process.
"The process and journey are just as important," Jahanian said. "The real product is the conversation that has taken place in the process. The outcome reflects the robust interaction that has taken place across this campus.
"The hard part is now implementation," he said. "The only way this will work is if it is embraced by faculty and staff."
College of Engineering Dean Jim Garrett agreed.
"We all have to participate in making it happen. It can't just be top down," Garrett said.