September 17, 2015
News Briefs
CMU, ETC Host Themed Entertainment Conference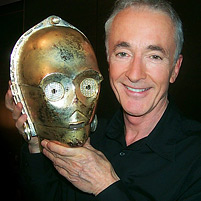 Carnegie Mellon and its Entertainment Technology Center (ETC) are partnering to host the Themed Entertainment Association's (TEA) annual SATE (Storytelling + Architecture + Technology = Experience) Conference, today and tomorrow, Sept. 17-18. Shirley Saldamarco, president of Interactive Media Productions and an ETC faculty member, is co-chair of the event with Loren Barrows, director of Business Development at Alcorn McBride.
The conference will feature "A Conversation With ... Anthony Daniels" — a take on "Inside the Actors Studio" — and will incorporate a live, onstage interview with a meeting of the minds between Daniels, the actor known worldwide for his role as C3PO in "Star Wars," and Walt Disney Imagineering's Scott Trowbridge, who is dedicated solely to the "Star Wars" franchise. Daniels is a visiting professor at the ETC. The two-day event is a unique educational conference for the international themed entertainment industry.
"This year's SATE is changing the rules, and all of our speakers will focus their presentations on how various combinations of story plus architecture plus technology equals experience," Saldamarco says. "It's all about the experience with a capital 'E' and how merging the topics provides a more cohesive experience."
Pictured above is Anthony Daniels and his C3PO mask.
Department of Education Renews Funding for PIER
The Department of Education has funded CMU's Program in Interdisciplinary Education Research (PIER) for the third time with a grant of $3.67 million. The program, founded 11 years ago, trains the next generation of education research leaders through a scientifically based and rigorous Ph.D. curriculum across several departments, including Psychology, Computer Science, Human-Computer Interaction (HCII), Philosophy and Statistics.
"Carnegie Mellon is among just a handful of universities whose training grants have been funded continuously since 2004. We have built a vibrant interdisciplinary education research community with a focus on cognition and student learning, math and science education, and education technology," said David Klahr, PIER director and the Walter van Dyke Bingham Professor of Cognitive Development and Education Sciences.
From the outset, PIER's training has gone beyond traditional experimental design and statistics and has emphasized cognitive modeling, process-tracing tools and advanced statistical techniques for complex data sets in real educational and instructional contexts. PIER's emphasis on powerful analytic tools applied to education laid some of the groundwork for CMU's Simon Initiative.
To date, PIER has trained 28 doctoral students who are now working in many different areas of education, from top universities to educational startups, think tanks and curriculum design companies. Find out more.
Tepper School Alum Heads BNY Mellon Wealth Management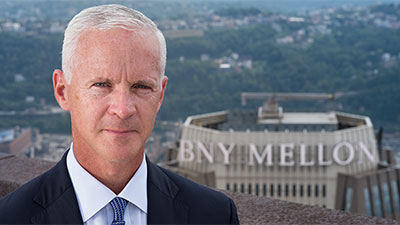 Don Heberle (right), a 1994 graduate of the Tepper School of Business, recently took the reins of the Wealth Management Division of BNY Mellon, which was formed in 2007 when the Bank of New York merged with Mellon Financial. The financial institution is the fifth largest bank in the United States and Heberle's division oversees nearly $200 billion in private client assets.
Find out what Heberle says about investments and life.  
Webcast Features Financial Tips for New Grads
Negotiation expert Ayana Ledford will be featured on a live webcast titled "Financial Freedom: Standing on Your Own Financial Feet After Graduation" from 4 to 5 p.m. EDT, Tuesday, Sept. 22.
This is Ledford's third appearance as part of "Closing the Gap: 50 Years Seeking Equal Pay," a national, two-year multimedia campaign sponsored by WQED and the YWCA of Greater Pittsburgh exploring why the gender pay gap persists and how to address it.
Ledford is the founding executive director for the Program for Research and Outreach on Gender Equity in Society (PROGRESS) at the Heinz College.
View current and archived webcasts, expert bios and related content.
Seeking Volunteers for Research Study
Rémi A. van Compernolle, an assistant professor of second language acquisition and French and Francophone Studies, is seeking volunteers for a research study that is exploring people's abilities to deduce and learn language patterns in a new language.
The study includes an audio and video component, so participants will need to use earphones while watching and listening to a short video to complete the study.
The study involves answering multiple-choice questions about your background and attitudes about language, and then a short language test (in a language called "Ravenese"). You will be asked to try to figure out a language pattern first, and then to watch a short video tutorial that explains how the language works, before continuing on to another short language test. At the end, you will be asked to provide your email address to participate in a follow-up portion of the study.
Participation is completely voluntary, and you must be at least 18 to participate. There is no compensation for participation in this study. To participate go to https://www.surveymonkey.com/r/BJSJ6VC.
Music Offers Comp Tickets for Faculty and Staff

As the school year moves into full swing, the School of Music reminds CMU faculty and staff that they are eligible for two (2) complimentary tickets for each concert/production. Students also receive free tickets to School of Music performances.
Eventbrite
The majority of School of Music ticketed performances are available on Eventbrite. To secure comp tickets in advance for these performances, go to cmumusic.eventbrite.com and use the code "CMUFaculty" or "CMUStaff" during checkout for the selected event.
In addition, the school is now on Eventbrite's mobile app. Available for iPhones and Androids, users will be able to easily secure tickets in advance, share events with friends and family via social media or email, and go green by having your mobile ticket scanned on your smartphone.
Productions in Chosky Theatre
To reserve tickets for performances in the Chosky Theatre, stop by the box office, located in the lobby of the Purnell Center for the Arts, at least 30 minutes prior to the performance you would like to attend. Tickets to opera/musical theatre productions also can be secured by calling the School of Drama box office at 412-268-2407.
Save the Date: Dietrich Undergrad Colloquium Set for Nov. 6
The third annual Dietrich Undergraduate Colloquium (DUC) will begin at 3 p.m., Friday, Nov. 6. The DUC is a unique opportunity for undergraduates in the Dietrich College to present their research and creative work in a formal, but low-stakes setting.
The colloquium is open to any undergraduate majoring (primary or secondary) or minoring in an area of study in the Dietrich College. The research proposal can have any content, it can be ongoing or past, or creative work can be proposed.
Proposals are due Oct. 10 and guidelines are available online. For more information, questions, or if you are interested in volunteering for the event, contact Bonnie Youngs (byoungs@cmu.edu) or Margaret Marchese (mmarches@andrew.cmu.edu).
Discounted Tickets Offered for Hallowboo
Staff Council is offering discounted tickets to Idlewild Park's Hallowboo. The tickets are valid any Saturday and Sunday, Oct. 3-25, from 11:30 a.m. – 6 p.m. Tickets are $26.99/each (gate price is $36.99).
Purchase tickets online. In the top right-hand corner of the webpage enter PROMO CODE: HB2015. Please make sure you choose a ticket valid date from the calendar. Tickets used before the valid start date require a $7 surcharge. There is a 7-day advance purchase requirement.
If you have any questions, please contact Sharon Cavlovich at sharonw@cmu.edu.
PSO Offers Discounts for CMU
The Pittsburgh Symphony Orchestra (PSO) is offering discounts to CMU students, faculty and staff for its upcoming shows at Heinz Hall. Students can purchase tickets for $15, and faculty and staff tickets are available for $25.
At 8 p.m., Friday, Sept. 18, and at 2:30 p.m., Sunday, Sept. 20, Pittsburgh Symphony Music Director Manfred Honeck opens the season with an Italian flair with performances of Mendelssohn's Symphony No. 4 "Italian" and Tchaikovsky's Capriccio italien. Russian pianist Daniil Trifonov joins the PSO for his first of two appearances this season, playing the Pittsburgh premiere of his own composition Concerto in E-flat minor for Piano and Orchestra.
ORIC Offers Research Conduct Brown Bag Sessions
CMU's Office of Research Integrity and Compliance (ORIC) is sponsoring Responsible Conduct of Research (RCR) Brown Bag Sessions during the fall semester for faculty, students and staff members. All sessions for the fall semester are from 12 – 1 p.m. in the Cohon University Center. Here's the schedule:
Wednesday, Sept. 23: Overview of Research Compliance and Research Misconduct;
Wednesday, Oct. 14: Data Management.
Wednesday, Oct. 21: Intellectual Property at CMU;
Wednesday, Oct. 28: Protecting America's Proprietary Information and Sensitive Technologies in an Age of Globalization (presented by a special agent of the FBI); and
Wednesday, Nov. 11: Using the IRB and Ethical Issues with Research Involving Human Subjects.
Gelfand Center Offers New Classes for K-12 This Fall
The Gelfand Center is offering new classes for K-12 students this fall, including, for the first time, classes for 10th, 11th and 12th graders. Classes are developed by CMU faculty and staff to be fun, engaging, rigorous and hands-on.
Some of the available classes include CSI CMU: DNA Detection (grades 10-12), The Magic of Heredity: DNA (grades 10-12), Wearable Computers (grades 7-9), Brownfields are like Transformers (grades 6-7), and Reimagining Houses (grades K-1).