September 10, 2015
News Briefs
Inaugural Class of Presidential Fellows and Scholars Named
President Subra Suresh has announced the first class of Presidential Fellowships and Scholarships recipients.
"This program addresses one of the most pressing challenges for CMU as we compete globally for the best students as well as attract and retain the faculty who mentor them," said President Suresh, who launched the program in 2014.
The inaugural group consists of 90 undergraduate scholars and 55 graduate fellows across all of CMU's seven colleges and schools. A list of recipients and more information about the program is available online.
The new university effort will be used as a tool to successfully recruit and retain outstanding students with highly competitive tuition and academic support packages.
Suresh said endowed funds of more than $150 million have already been set aside to support this and future classes of Presidential Fellows and Scholars. These funds include the market value of contributions invested in the endowment as of July 15, 2015, and all outstanding legal pledges.
Freshman Seminar: Philosophy and "The 100"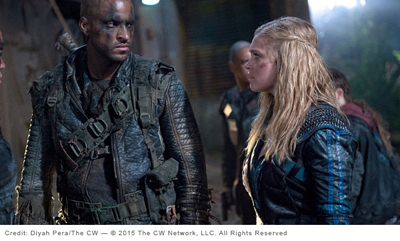 Science fiction meets philosophical scrutiny in a Carnegie Mellon classroom this semester.
Students in the Freshman Seminar "Philosophy and The 100" will examine issues the popular television show raises. "The 100," which airs on the CW, is set decades after most life is eliminated from earth, and survivors on space stations decide to send 100 juvenile delinquents back to the planet to see if it is habitable.
If this sounds gimmicky or like an opportunity to take a class just to watch television, it's not. Mara Harrell, associate teaching professor of philosophy, frequently uses science fiction as topics for freshman seminars. Previously, Harrell drew on "The Matrix," "Star Trek," "The Minority Report" and others to address questions about behaving morally, the value of life and if humans are ultimately free.
"Really good science fiction is a genuine reflection of the human condition, and the way that the people think and behave resonates," she said.
Music Offers Comp Tickets for Faculty and Staff

As the school year moves into full swing, the School of Music reminds CMU faculty and staff that they are eligible for two (2) complimentary tickets for each concert/production. Students also receive free tickets to School of Music performances.
Eventbrite
The majority of School of Music ticketed performances are available on Eventbrite. To secure comp tickets in advance for these performances, go to cmumusic.eventbrite.com and use the code "CMUFaculty" or "CMUStaff" during checkout for the selected event.
In addition, the school is now on Eventbrite's mobile app. Available for iPhones and Androids, users will be able to easily secure tickets in advance, share events with friends and family via social media or email, and go green by having your mobile ticket scanned on your smartphone.
Productions in Chosky Theatre
To reserve tickets for performances in the Chosky Theatre, stop by the box office, located in the lobby of the Purnell Center for the Arts, at least 30 minutes prior to the performance you would like to attend. Tickets to opera/musical theatre productions also can be secured by calling the School of Drama box office at 412-268-2407.
PSO Offers Discounts for CMU
The Pittsburgh Symphony Orchestra (PSO) is offering discounts to CMU students, faculty and staff for its upcoming shows at Heinz Hall. Students can purchase tickets for $15, and faculty and staff tickets are available for $25.
At 8 p.m., Friday, Sept. 18, and at 2:30 p.m., Sunday, Sept. 20, Pittsburgh Symphony Music Director Manfred Honeck opens the season with an Italian flair with performances of Mendelssohn's Symphony No. 4 "Italian" and Tchaikovsky's Capriccio italien. Russian pianist Daniil Trifonov joins the PSO for his first of two appearances this season, playing the Pittsburgh premiere of his own composition Concerto in E-flat minor for Piano and Orchestra.
Engineering Launches Outreach Website
The College of Engineering has launched its Engineering Outreach website. This site will familiarize the CMU community, as well as outside visitors, with the new and ongoing programs and opportunities that the college offers in K-12 STEM outreach. It also features the work of the college's faculty who are actively involved in outreach endeavors, and offers parents, teachers and students links to the college's educational videos, as well as links to other STEM educational sites.
For more information about current and future outreach possibilities in the college, contact Broader Impacts Manager Alicia Angemeer at adbrown@andrew.cmu.edu.
ORIC Offers Research Conduct Brown Bag Sessions
CMU's Office of Research Integrity and Compliance (ORIC) is sponsoring Responsible Conduct of Research (RCR) Brown Bag Sessions during the fall semester for faculty, students and staff members. All sessions for the fall semester are from 12 – 1 p.m. in the Cohon University Center. Here's the schedule:
Wednesday, Sept. 23: Overview of Research Compliance and Research Misconduct;
Wednesday, Oct. 14: Data Management.
Wednesday, Oct. 21: Intellectual Property at CMU;
Wednesday, Oct. 28: Protecting America's Proprietary Information and Sensitive Technologies in an Age of Globalization (presented by a special agent of the FBI); and
Wednesday, Nov. 11: Using the IRB and Ethical Issues with Research Involving Human Subjects.
Gelfand Center Offers New Classes for K-12 This Fall
The Gelfand Center is offering new classes for K-12 students this fall, including, for the first time, classes for 10th, 11th and 12th graders. Classes are developed by CMU faculty and staff to be fun, engaging, rigorous and hands-on.
Some of the available classes include CSI CMU: DNA Detection (grades 10-12), The Magic of Heredity: DNA (grades 10-12), Wearable Computers (grades 7-9), Brownfields are like Transformers (grades 6-7), and Reimagining Houses (grades K-1).